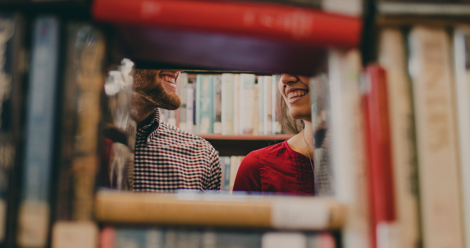 How To
Book-Inspired Date Night Ideas to Get You Out of a Rut
This content contains affiliate links. When you buy through these links, we may earn an affiliate commission.
Planning quality date nights – those that are engaging, lively, and allow you to better know your partner – can be difficult in today's fast-paced, cheap entertainment-obsessed culture. Throw kids into the mix, and it can be downright irritating to plan an original evening. So we often fall back on the classic date night routine: dinner and a movie. Food and films can be fun, but over time they can also get a little stale. Conversations often quickly devolve into mindless chatter about work or going over your upcoming to-do list for the kids or thoughts on the movie. So if you're looking for an original date night sure to spark more conversation and intimacy, look no further than your bookshelf! Couples that read together stay together, or so the saying goes.
Here are five book-inspired date nights to get you started.
Set the stage and real aloud to each other

Candles. Check. Hors d'oeuvres. Check. Great book. Check. You now have all the ingredients you need for a great date night. Reading aloud to one another is a stimulating, intimate and affordable way to spend quality one-on-one time together. The great thing about reading aloud is you don't necessarily have to have the same taste in books. Perhaps you take turns reading books that have impacted you personally. Or take a walk down memory lane by reading your old childhood favorites that have shaped who you've become. Relationship books (think Gary Chapman's The Five Love Languages) are always a quirky choice. And reading about relevant current events is a surefire way to spark in-depth conversation. The possibilities are endless.
Attend a book reading

If you're the go out and mingle type, peruse local bookstores, universities, and libraries for events featuring guest readers, authors, and literary icons. You can meet an author you admire, discover an up-and-comer, or listen to excerpts of a much-anticipated novel.
Go to a bookstore and test each other's taste in books

They say you are what you read, so now let's put it to the test. Quizzing your partner on how well you know each other is always a fun game, and all you'll need to play is a visit to a bookstore. Give each other a few minutes to seek out books you think the other person would pick up for him or herself. Meet in the middle, grab a cup of coffee, and see how well you know your partner's tastes. You might be amused or impressed by what the other picks out.
Read a book, watch the movie, and laugh about how much better the book was

There are two camps of people – those who prefer the book and those who favor the movie. Find out whether you are a house divided by reading the book, watching the film and discussing your findings. Spoiler alert! This is always an amusing experience to enjoy with those who prefer movies without reading the book.
Buy a new cookbook and prepare a meal together

The great thing about books is their ability to expose you to new experiences. If you're a hands-on type, make your date night special by picking out a new cookbook and experimenting with new recipes together. You can find a range of cookbooks featuring anything from French-themed culinary masterpieces to sumptuous vegan table spreads. You might even decide to skip dinner altogether, and dive into luxury wine tasting books, paired with cheese and chocolate, of course.
What are some of your favorite ways to incorporate your love of books into your relationships?