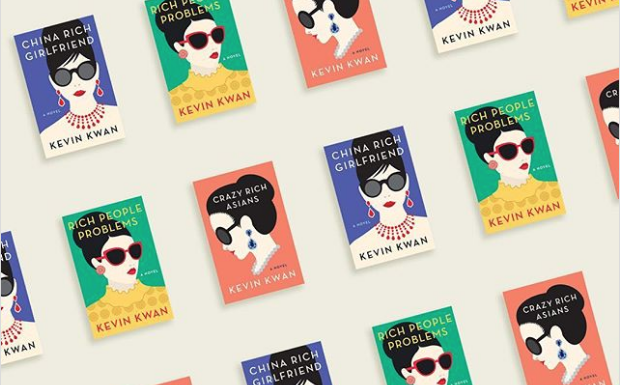 Lists
23 Book Cover Designers to Follow on Instagram
This content contains affiliate links. When you buy through these links, we may earn an affiliate commission.
Admit it: we all judge books by their covers. Thank goodness there are so many talented book cover designers out there creating swoon-worthy jackets that make me want to read everything. Here are 23 you can follow on Instagram.
Joan Wong's impressive portfolio includes covers for Chimamanda Ngozi Adichie's Americanah, We Should All Be Feminists, and Purple Hibiscus; Samantha Irby's Meaty and We Are Never Meeting in Real Life; and this series you may have heard of called Crazy Rich Asians. Did I mention she did that last one in her first year at Vintage and Anchor Books? What a boss.
Jenna Stempel-Lobell designs YA book covers, most notably the one for Angie Thomas's The Hate U Give. Her Instagram is full of covers, typography, digital illustrations, and the occasional adorable reposted photo of a cute kid holding a book she designed:
Another cover queen with a notable YA portfolio, Erin Fitzsimmons designed for They Both Die at the End, Caraval, and The Poet X (which is in my top five for best book and best cover of 2018 so far). In addition to covers and typography, her Instagram features split images that show off full dust jackets. Here's a cover she designed for 2019 debut Opposite of Always, featuring the work of illustrator Stephanie Singleton (who is also definitely worth following!).
Isabel Urbina Peña designs most of her book covers from scratch, doing everything from the illustrations to the lettering. Follow for the results of her design process, plus typography and the occasional "killed cover"—designs that didn't make the cut.
You know him for his iconic cover of The Fault in Our Stars, but he's also designed book covers for Lauren Groff, Jeffrey Eugenides, and Chuck Palahniuk. His Instagram regularly features killed covers for #RejectFriday. Here's an animated version of his cover for John Green's newest book, Turtles All the Way Down.
London-based designer Heike Schüssler wants you to judge her by her covers (see her Instagram username). They are all, of course, gorgeous, and interspersed with aesthetic design inspiration.
Zoe Norvell is a full-time freelancer who travels all over the world, taking her work with her. The result is an Instagram full of beautiful covers and beautiful places.
Jaya Miceli was the genius behind the covers for An American Marriage, Little Fires Everywhere, My Absolute Darling, and The Incendiaries. She's also been involved in the creation of countless other iconic covers as the art director at Scribner.
Kimberly Glyder is a designer, illustrator, and letterer creating artful book covers like the ones below. Follow her on Instagram for more covers, illustrations, and the occasional cat.
Coralie Bickford-Smith is best known for her clothbound covers of Penguin Classics (you know, those mantle-worthy editions way too pretty to lend to friends).
If you follow Nicole Caputo on Instagram, you'll see more covers like this plus cute animals!
Tyler Comrie designed that Tommy Orange cover we've all been swooning over. He also does illustration for newspapers and magazines, so you'll get to see those spreads on his Instagram as well.
I want a print of this cover by London-based designer Clare Skeats to frame and hang in my kitchen. (See also her bold, iconic cover for a cookbook about eggs).
Catherine Casalino is killing it on Instagram with her covers and aesthetic snapshots of design and typography inspiration.
Jenny Carrow is another designer using her Instagram to both showcase covers and document her inspiration.
Follow for vintage design inspiration, works-in-progress, and, of course, beautiful book covers. The story behind this one is so sweet:
Holly Ovenden designs eye-catching covers and draws stunning illustrations in pen and ink.
Adalis Martinez's Instagram is part book cover and illustration portfolio, part personal profile, and wholly aesthetic.
Check her out for book covers, illustrations, and—because she's a woman of many talents—folk music!
A mix of covers, illustrations, posters, and more, Alicia Tatone's Instagram bursts with color.
Kate Forrester is a designer and illustrator whose beautiful hand lettering graces most of her covers.
BRB, swooning over the hand lettering she did for Laura van den Berg's The Third Hotel.
If you scroll down Will Staehle's Instagram, you'll recognize some of his most iconic covers, including the ones for Vicious by V.E. Schwab, Stephen King's It, and Madeline Miller's Circe (major heart eyes):
This account is dedicated to showcasing book covers designed by some of the industry's most talented women. Follow them to catch covers from some of the book cover designers who don't use Instagram to share their work.
Have any more recommendations for book cover designers to follow on Instagram? Let us know in comments! Then check out even more great bookish content on Instagram.