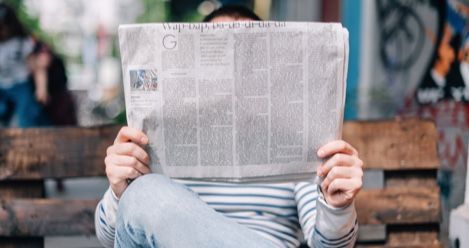 Read Harder
Read Harder: A Book by a Journalist or About Journalism
This content contains affiliate links. When you buy through these links, we may earn an affiliate commission.
The 2019 Read Harder Challenge is sponsored by the Read Harder Journal. Get the full list of tasks here.
Created by Book Riot, this smartly designed reading log consists of entry pages to record stats, impressions, and reviews of each book you read. Evenly interspersed among these entry pages are 12 challenges inspired by Book Riot's annual Read Harder initiative, which began in 2015 to encourage readers to pick up passed-over books, try out new genres, and choose titles from a wider range of voices and perspectives. Indulge your inner book nerd and read a book about books, get a new perspective on current events by reading a book written by an immigrant, find a hidden gem by reading a book published by an independent press, and so much more. Each challenge includes an inspiring quotation, an explanation of why the challenge will prove to be rewarding, and five book recommendations that fulfill the challenge.
---
Before the current presidential administration declared a war on journalists and began calling the media an enemy of the people, journalism was considered a dying business. With most people seeking news on social media or other digital outlets that were decidedly not behind a paywall, media, and, with it, journalism was—as of five years ago—a dying industry. In what is probably a too-optimistic silver lining view of the situation, I hope/believe that Trump's outright war on the media has caused more people to actually seek out reputable journalism and to pay for it.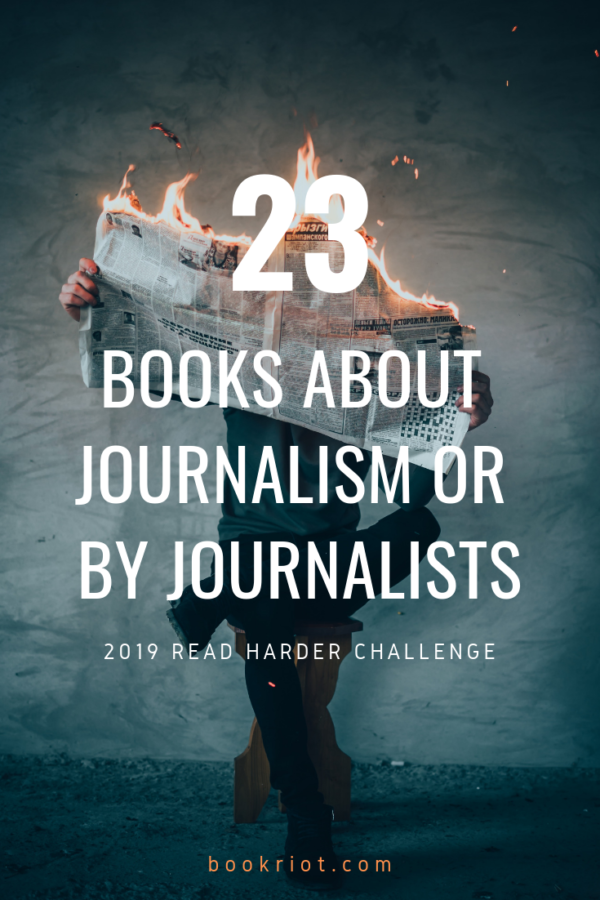 But Journalism as a profession with a capital J isn't necessarily one we're thinking about explicitly as under fire. Reporters, editors, photographers, and production people (along with a huge swath of other journalism-adjacent jobs) are still working hard to put out news in its various forms on a variety of platforms. And lots of them are writing books on the side.
To help fill your task to read a book by a journalist or about journalism, I've broken down the recommendations into fiction and nonfiction, and I will indicate in the descriptions whether the author is a journalist and if the book is about journalism.
Fiction
Forever by Pete Hamill
I can't begin this list without including one of my very favorite books of all time. Pete Hamill is a New York City journalist with a long and storied career that began in the 1960s as a reporter for the New York Post. Hamill puts this deep love and knowledge of NYC to use in this epic love story to the city. Cormac O'Connor is granted immortality as long as he never leaves the island of Manhattan, and through his eyes, we meet New York—a beautiful and complicated character in its own right.
If you somehow missed these massive bestselling books written by crusading journalist Larsson (not dissimilar from his protagonist), this is a perfect opportunity to give them a try. At the center of the Millennium series is Mikael Blomkvist, a journalist whose career is in the process of being upended by lawsuits and scandal when he is hired by a wealthy family to investigate a 40-year-old crime.
Lippman spent 20 years as a journalist, 12 of them at the Baltimore Sun, and her long-running Tess Monaghan series (of which Baltimore Blues is the first) features the main character as a former-journalist-turned-PI investigating the murder of an attorney against a gritty Baltimore background.
Set in Rome, where Rachman was stationed as a correspondent, his debut novel follows the twists and turns of the private lives of the people running an international English-language newspaper. In the dawning of digital media, this paper struggles to find its footing and its staff seems equally as unsure, which makes for a delightfully original story.
While Rowell is best known for her YA novels, this contemporary romcom is one of my very favorites. Beth and Jennifer, colleagues and friends at a newspaper, know someone at the company is monitoring their email, but they just can't seem to care enough to stop trading messages about their personal lives. Lincoln's sole job is to read the emails of his colleagues, and even though he knows he should report Beth and Jennifer's personal use of company email, he enjoys his peeks into their lives. Until he realizes he's falling for Beth. And then it might be too late.
Whitehead's sophomore novel following The Intuitionist, this book is on one hand a reimagining of the story of John Henry, and on the other it's about a disaffected, middle-aged black journalist on a mission to set a record for junketeering who attends the annual John Henry Days festival. And before you get an idea that Whitehead suffered from Second Novel Syndrome, which is why this is not one of his more well-known novels, John Henry Days was a Pulitzer Prize finalist. Well worth the backlist exploration.
This fun contemporary novel is best described as The Devil Meets Prada on the set of Good Morning America. Amanda Gallo lands her dream job as an on-air reporter for a major news network, finally making the kind of money she's only fantasized about, but when she's caught up in the chase for ratings in the midst of a heated political campaign, she's forced to examine what she's willing to give up for her journalistic integrity.
Rukhsana is an anti-Taliban journalist working for the Kabul Daily in Afghanistan when she is summoned to the Ministry of Propagation of Virtue and Prevention of Vice. The Minister has two goals: to threaten her for her anti-Taliban reporting and to announce a cricket tournament, the winner of which will represent Afghanistan in an international tournament. But no one in Afghanistan plays cricket…no one except for Rukhsana.
"New York, 2005. Chinese expatriate Feng Danlin is a fiercely principled reporter at a small news agency that produces a website read by the Chinese diaspora around the world. Danlin's explosive exposes have made him legendary among readers—and feared by Communist officials. But his newest assignment may be his undoing: investigating his ex-wife, Yan Haili, an unscrupulous novelist who has willingly become a pawn of the Chinese government in order to realize her dreams of literary stardom."
Winner of the Pultizer Prize, Proulx's second novel follows Quoyle, a "third-rate newspaper hack," and his two daughters as they decamp to Newfoundland after his cheating wife gets her due. Trying to cobble together a new life, Quoyle takes a job as a reporter on the shipping news beat for his local weekly paper, and in the process confronts his past and his family's future.
Nonfiction
Carr's examination of his own drug addiction and journey through the deepest holes of addiction redefines the concept of memoir. As a beloved journalists with The New York Times, Carr used the tools of his profession to uncover the real story of his addiction, culminating in the event that led his best friend to pull a gun on him. Fact-checking the past, Carr reexamines all his own stories, drawing on court records, interviews, and investigative reporting to create a memoir like no other.
Though Coates is not usually thought of first as a journalist, his role as a Senior Editor at The Atlantic certainly qualifies him for this list. And if you haven't yet picked up his breathtaking examination of race in America, constructed as a letter to his son, do it right this instant.
Not only do journalists covering the White House in the age of Trump have it tough, journalists of color are in a particularly difficult position. With the perspective of two decades of White House reporting under her belt, April Ryan takes readers behind the scenes of a Trump administration from the front row of the briefing room.
A longtime Univision anchor and Emmy-winning journalist, Jorge Ramos's manifesto examines what it's like to be a Latino immigrant in Trump's America. Ramos's perspective is all the more powerful considering he was forcibly removed from a 2015 press conference by then-candidate Donald Trump after asking about his illegal immigration policy and plans.
Though it was published in 2012 (which seems like a lifetime ago in political time), Rachel Maddow's examination of America's strange comfort with perpetual war and the systems set up to support this ongoing militaristic state is still relevant and powerful. If you're a fan of Maddow's from her MSNBC role, you'll find the same serious tone cut with wit and humor in this slim volume.
As the South Side reporter for NPR station WBEZ in Chicago, Natalie Moore is intimately familiar with the neighborhood. She uses this familiarity to uncover in a series of reported essays about the people who live there, the deeper issues of segregation, and its systemic causes.
In this definitive biography, Giddings tells the story of Ida B. Wells, the journalist and activist who was one of the very first Black female reporters and who campaigned against lynching and faced death threats and violence for her cause. Wells's narrative is often lost in the history of journalism, activism, feminism, and civil rights, but her place is firmly cemented in this biography along with her peers of the times.
Farrow, the Pulitzer Prize–winning journalist who was one of the journalists responsible for breaking the Harvey Weinstein story earlier in 2018, draws on his firsthand experience in the State Department working for diplomat Richard Holbrooke to argue that diplomacy as a legitimate and valuable tool in foreign policy and statecraft has fallen by the wayside.
As a journalist training other journalists in the capital city of Rawanda in the wake of the country's genocide, Sundaram pulls apart the layers of a government that still punishes the voices of dissent, despite its reputation of regrowth.
Anderson Cooper of CNN is the guy they send when everything's going to hell. His memoir about his life and his time as a journalist is a fascinating look at how this now iconic correspondent got to where his is.
After years reporting in rural Virginia for The Roanoke Times, Beth Macy's long form reporting focus has turned to the opioid epidemic, the faces of addiction, and the systemic causes for this crisis. It's an incredible piece of reporting and a must-read.
While any of Politkovskaya's books would work for this task (and are absolutely worth reading), this personal diary had just been completed when she was murdered in a contract killing in Moscow. As a journalist and activist, Politkovskaya was a strident critic of Putin and the Chechen conflict, and her journal (covering Dec. 2003–late 2005) is a devastating look into her last months.
The other half of the reporting team (with Ronan Farrow) that broke the Harvey Weinstein story for The New Yorker, Mayer is a formidable journalist in her own right, a skill that's fully on display in this frankly terrifying dive into the funders of Republican politics. The Koch brothers are just the tip of the iceberg, and Mayer pulls apart the strings of this very knotty knot to uncover the money and influence that helped lead to the rise of politicians like Donald Trump (and most of the GOP). You'll want to put this book in the freezer, it's that scary.
For more recommendations, check out these other Book Riot posts (don't forget that not all books in these posts may fit the task prompt):
50 Great Narrative Nonfiction Books