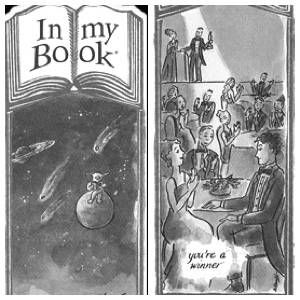 Sites We Like
"In My Book": Bookmarks and Greeting Cards in One, Oh My!
Here's some logic for you:
If you read print books, you're going to need bookmarks.
If you have loved ones, you're going to need greeting cards.
Why not combine these two things into one awesome literary gift? I have good news for you: the In My Book site does just that.
Since the year 2000, In My Book has provided these bookmarks/slash/greeting cards, and they make a cute gift for people who you know love to read. We all love getting email, but it's true that getting a card in the mail with a personalized message from someone you care about is a different experience altogether. And the best part of THESE cards is that you can reuse them to hold your spot in your favorite book. It's win-win.
Plus, the designs contain BOOK PUNS! What more could you ask for?
Here's what the New Yorker had to say about In My Book.
PLUS, they are offering a special right now for Mother's Day: anyone in the US or Canada who purchases two cards will receive a free "In my book, you're novel" card (shown above) to send to your mother (or, really, to anyone else you'd like to "greet"). You have until May 7th to take advantage of this offer! Just use the code "MOMCARD" when you check out.
Happy bookmarking!