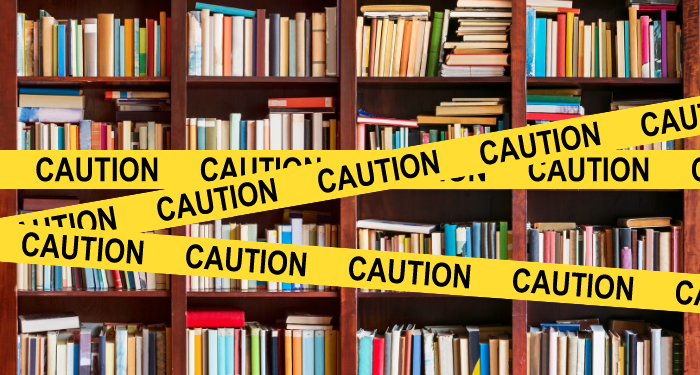 In the wake of the increase in book bans and challenges in school libraries, school librarians are buying fewer books. As a Washington Post article explains, many school librarians are facing new restrictions that make it difficult to get in new books, requiring a lengthy parental approval process (Texas), the principal's okay (Pennsylvania), review from a subcommittee (Florida), or any number of other red tape labyrinths put in place by states, districts, and individual schools.
Some schools, particularly in Florida, haven't been able to acquire new books at all this school year, while others have seen their numbers drop significantly: in a Texas school district, libraries ordered 6,000 fewer books than they did last year, while a Pennsylvania school librarian reported ordering just 100 titles this year instead of their usual 600. OverDrive, which supplies ebooks and audiobooks to roughly half of the schools districts in the U.S., has they've "lost millions of dollars in sales in 2022" from school libraries.
A school librarian in Florida stated that student interest in the library has dropped dramatically since recent laws restricted her ability to stock new books: "Students checked out nearly 3,000 titles between August and December 2021, but just 1,800 between August and December 2022."
The article included photos of several handwritten lists of books that students have requested their libraries bring in. Normally, librarians would order these right away to keep students' interests, as long they are a good fit for the collection. Now, librarians are holding onto these long lists in the hopes they can order them in the future — in the meantime, though, many students have gotten tired of waiting and stopped going to the library at all.
A Florida school librarian shared that she had a manga-loving student who checked out over 300 books the previous year, and came in daily to see if he was still the #1 user of the school library. When new restrictions brought in on a state level meant that the librarian could no longer order new manga, this student quickly ran out of material, and "after a few weeks, he stopped coming to the library."
Even when not facing formal restrictions of their ability to order books, school librarians in districts that have experiences book bans and challenges are less likely to order in books that might be challenged later. LGBTQ books, books addressing racism, and sex education books are the most likely to be left off their order sheets. Librarians also mentioned being reluctant to order in graphic novels and manga, since they're being challenged the most often — even though this format is precisely what students are most excited to read.
According to a study of 6,000 school libraries, school districts that had a book challenge last year were 55% less likely to stock new LGBTQ books the following year, showing that self-censorship and "quiet censorship" is just as important to consider as the formal laws and restrictions that have been put in place. As an article at EdWeek put it, "Each new book challenged in a district reduced the probability that the district would buy a new book about LGBTQ characters by 4 percent."
To learn more, read the Washington Post and EdWeek articles, which include interviews with school librarians.
If you would like to fight back against book bans and censorship in your community, check out our anti-censorship tool kit and sign up for the Literary Activism newsletter to stay informed.
Find more news and stories of interest from the book world in Breaking in Books.