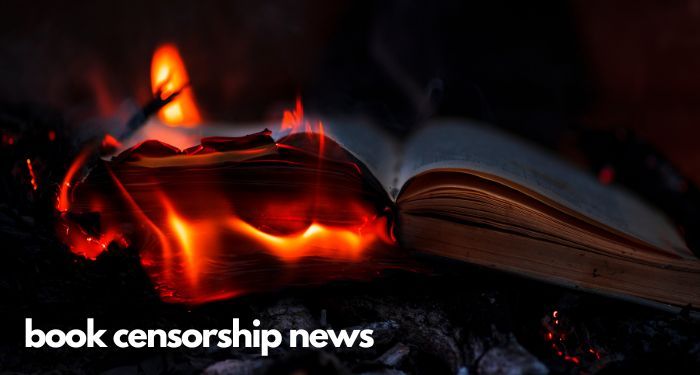 Censorship
Proposed Legislation in Several States to Eliminate LGBTQ+, "Obscene" Books: Book Censorship News, January 20, 2023
Right-wing politicians got the new legislative year off to an impressive start with several new bills across the country directly targeting books, reading, and intellectual freedom. Of course, we know that these bills aren't about the books at all, but instead are another avenue to chip away at the rights of marginalized populations: people of color, queer people, and young people.
Here are some of the bills of concern, and this is not comprehensive. If you live in these jurisdictions, it is crucial to begin calling and writing your representatives. If you live in these areas and are part of an anti-censorship group, it is time to begin mounting an information campaign and engaging your community to respond. This is tiring and exhausting work, but you cannot give up now. Consider creative ways to have your voice heard — at a library in British Columbia facing pushback for a drag story time, supporters threw a fabulous party in support of the event, making their position and beliefs heard loud, clear, and in a downright fun way (as, of course, is the entire point of these events).
It also never hurts to name and shame the bill creators and their supporters. Their jobs should always be on the line.
Note: none of the things these representatives suggest is happening in libraries and schools is actually happening. This is a waste of taxpayer money and pandering to a very specific niche of constituents.
Last year, Indiana policymakers tried to create a bill that would allow prosecution of anyone giving "harmful material" to minors. They're reviving the bill this year, and it would also outlaw drag performances and book displays.
Excluded under this bill would be people doing things like taking tickets, turning on a projection screen for a film, and similar. We are really at a point with how ridiculous these bills are that jobs like this are laid out in legislation as outside of the law. But go get those librarians and teachers, sure.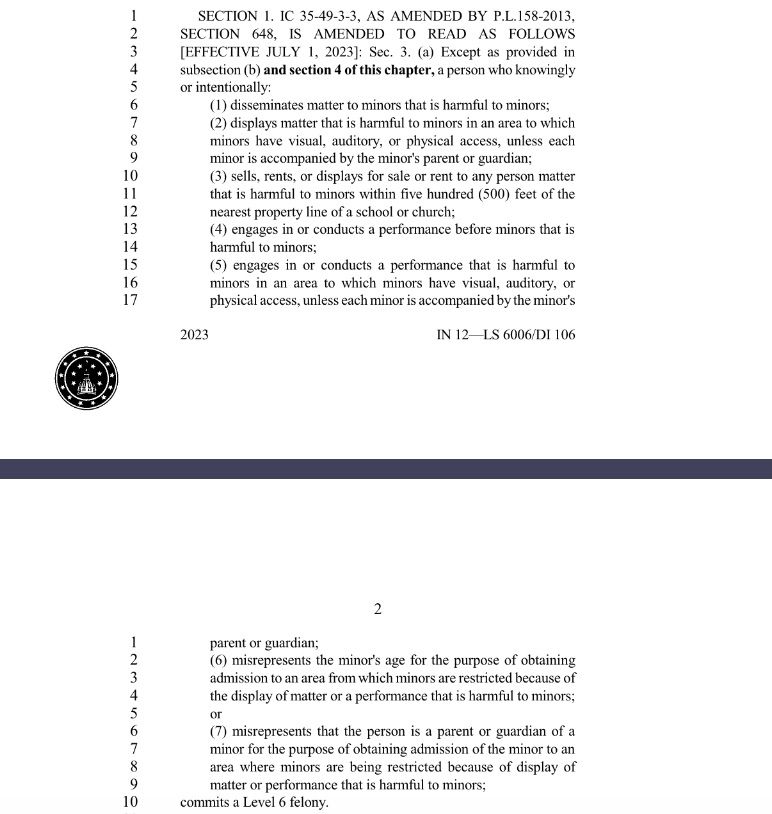 At least one community in Indiana plans to vote on supporting the resolution, despite the fact their own public library does not agree with it. The book that reignited this? It's Perfectly Normal, a book for children about sex.
This new bill would not allow any instruction or material about sexual identity or orientation for kindergarten through 3rd grade students. Representative Skyler Wheeler (Republican) stated this would not mean students who have same sex parents could not state that fact, but that would be the extent to which those conversations could happen.
"If a kid has, you know, same-sex parents, nothing prevents them in this bill from mentioning that in class," Wheeler said. "It just simply says to the teacher, 'Hey, we're going to stick to what we've been teaching.'"
Mississippi wants to legislate what books, materials, and events are made available in public libraries across the state. This is a blatant anti-trans and anti-LGBTQ bill. It opens the doors for suing library workers for "damages" caused by such books and events.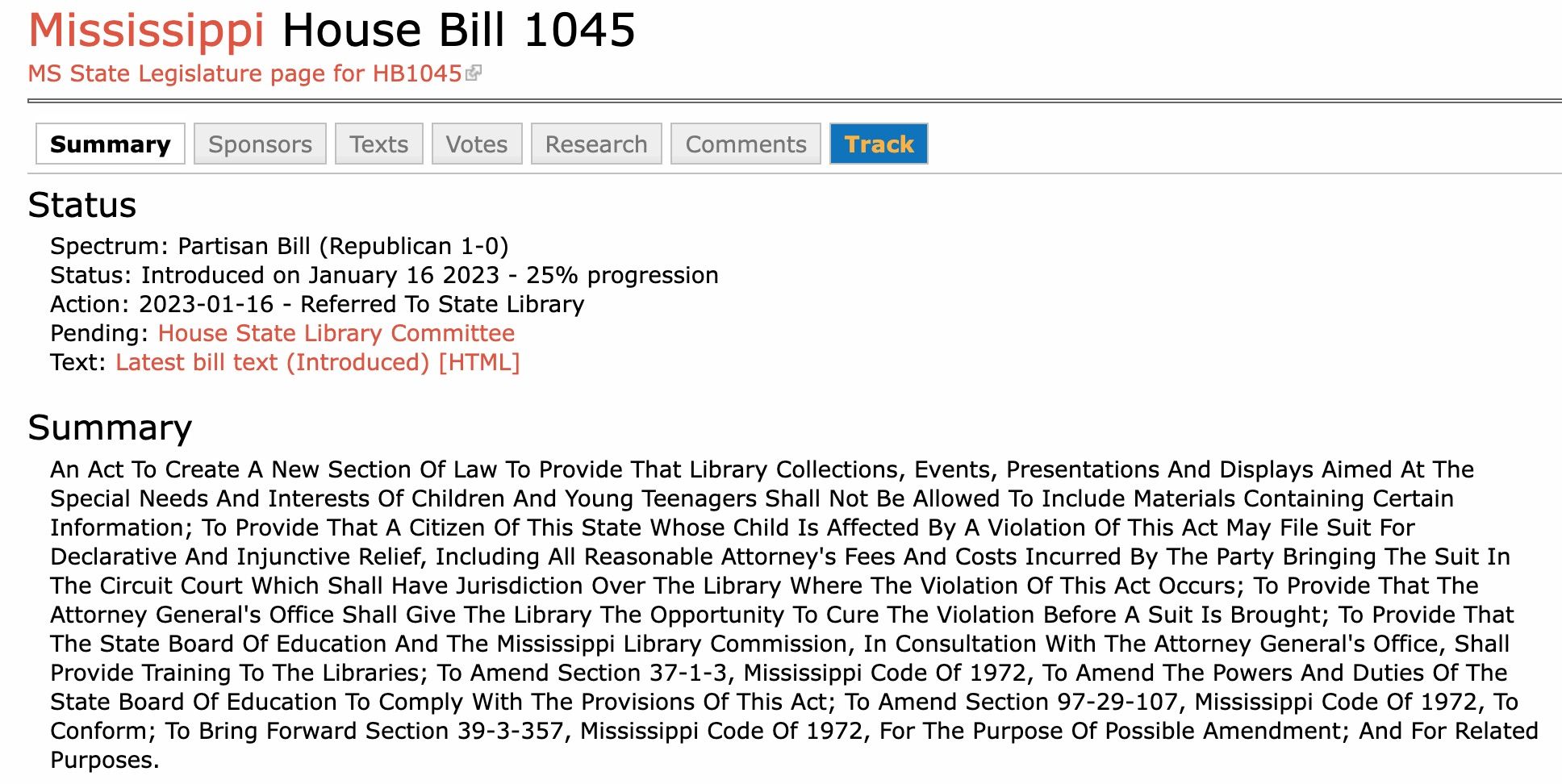 Missouri's proposed bill would create easy avenues for objecting to books and materials in classrooms and libraries, with a bonus for putting a bounty on individuals who offer these "objectionable" lessons. Note how fuzzy the language is here — as long as someone objects to something for whatever reason, it is subject to investigation and potential litigation. What do you imagine happens if parents object to Christian nationalism being the foundation of the educational curriculum? I suspect they don't get to exercise their rights in quite the same way…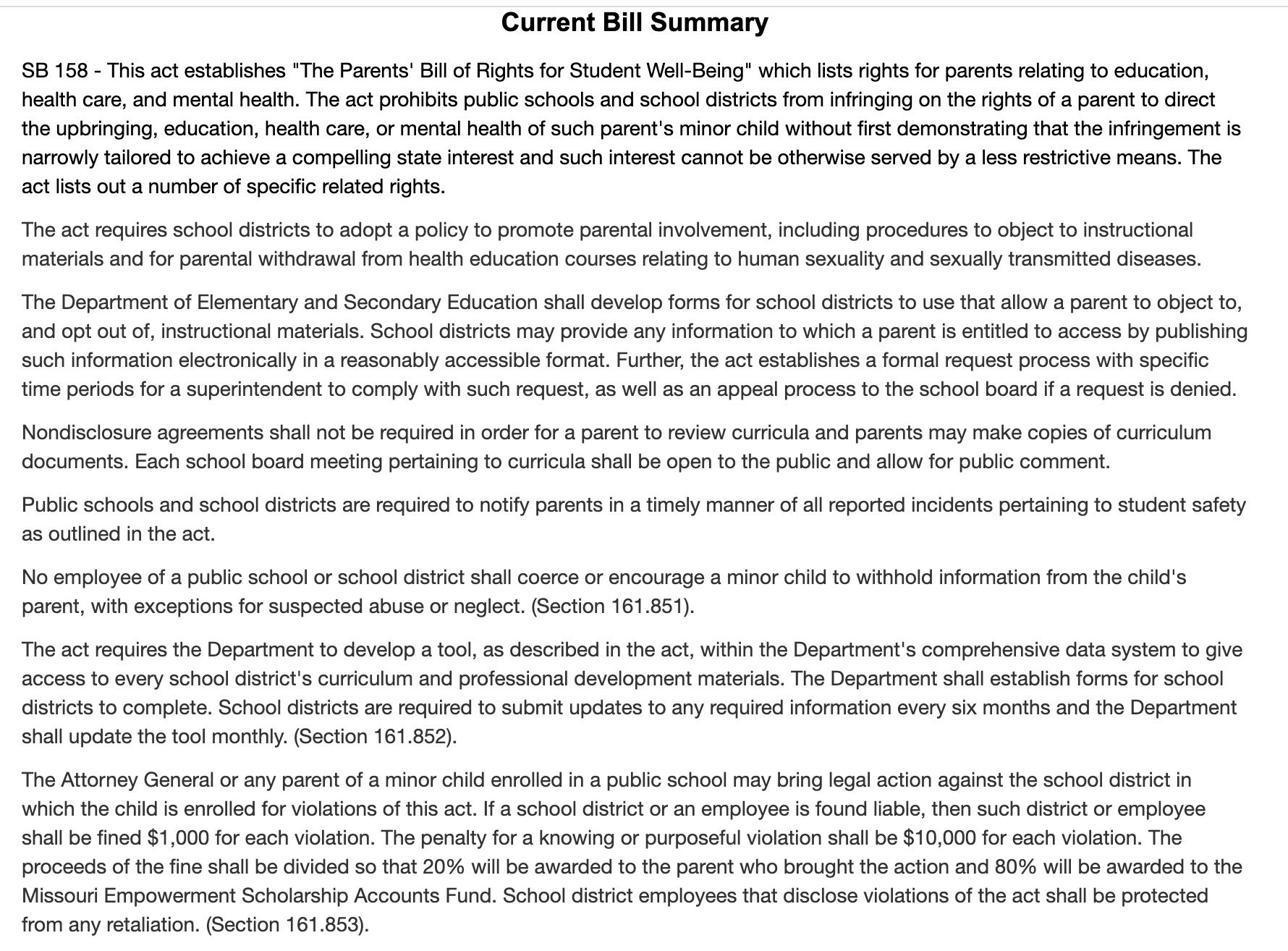 Not yet a formalized bill, this proposal from the Office of Public Instruction expands upon laws in the state which dictate how human sexuality can be taught in schools. The expansion would put a penalty on educators who do not give at least 48 hours notice of upcoming lessons as well as potentially giving any materials — including books for free reading — which may fall under whatever legislators deem "human sexuality instruction."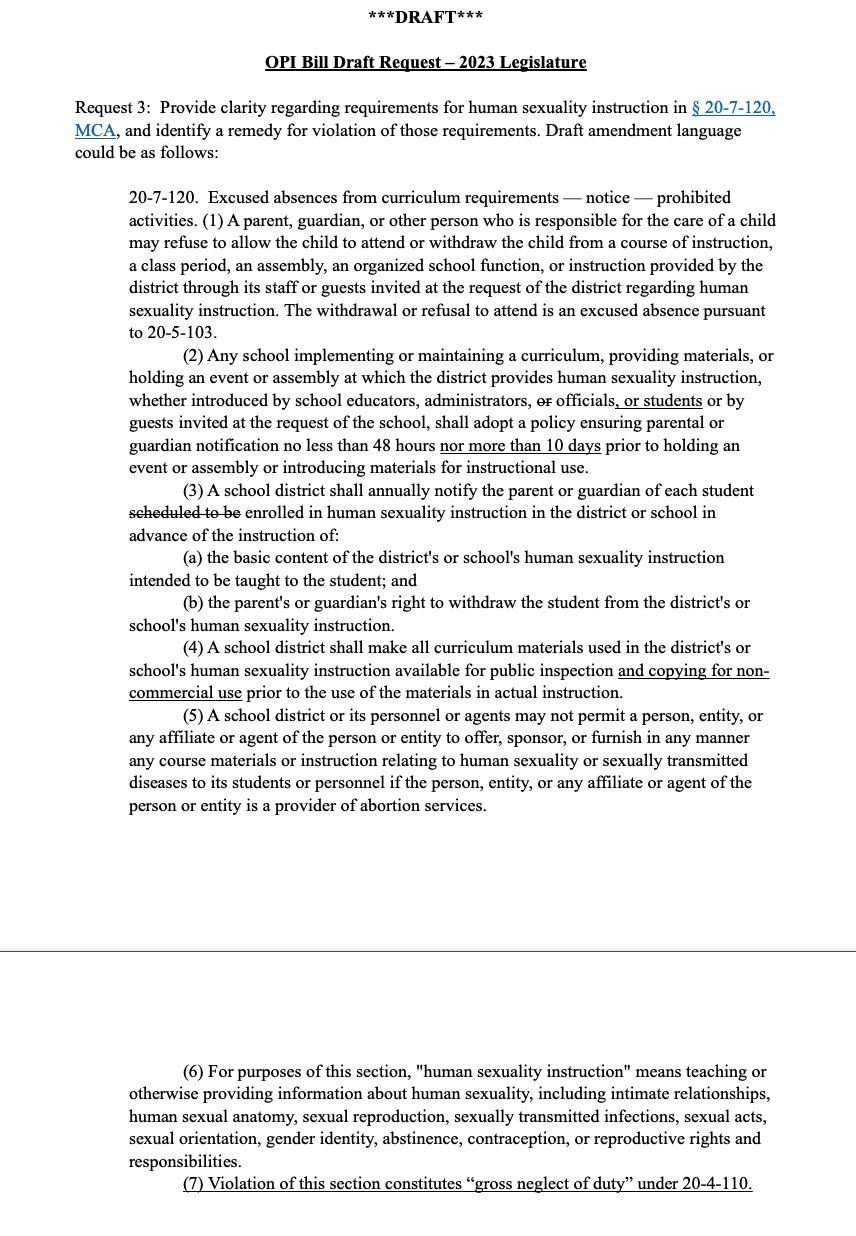 What began as a bill giving parents more input into the books available to students in schools, requiring time for them to approve texts prior to use (LB 71), grew into an even larger and more ghoulish bill in LB 374. Both would also make it even easier to file book challenges and ban books.
According to the Journal Star, "The bill [LB 374] would require school districts to develop and adopt policies outlining how parents can inspect curriculum materials in an online portal and object to any learning materials they believe harm their 'firmly held beliefs, values, or principles,' and withdraw their children from those classes or activities."
What if a parent's "firmly held beliefs" are that queer people and Black people are real and deserve to be represented? Does that matter here?
Another part of this bill? A gag order on educators on topics of race and racism. This is a "Critical Race Theory" ban.
Any books featuring gay or trans humans would be banned in public libraries under HB 1205 bill. What is especially disturbing about this one is the level of detail going into what is or is not allowed on shelves in public libraries. Who is spending this much time thinking about these things in a legal capacity?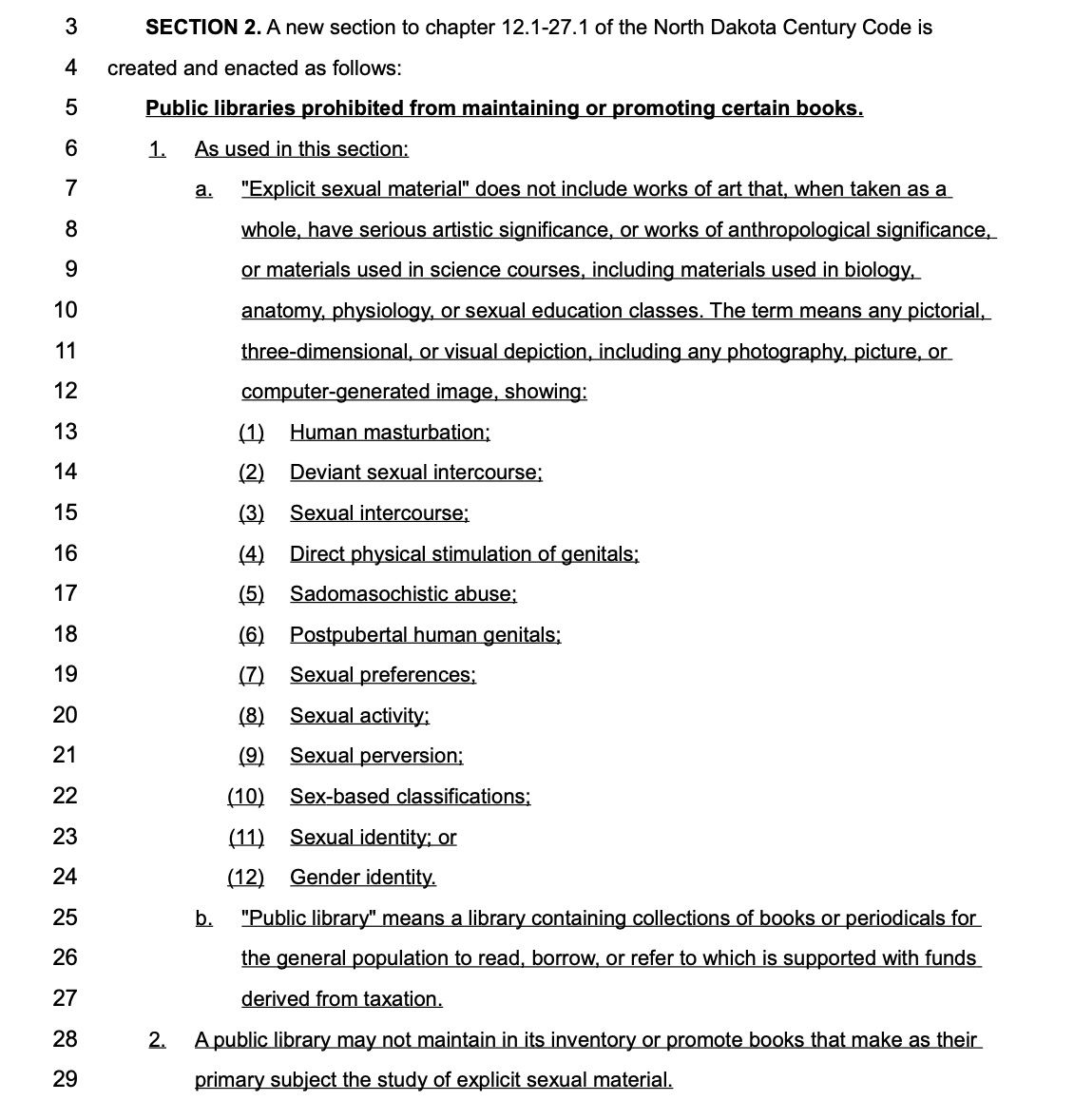 Again: any book about "sexual" or "gender" identity would be illegal in public libraries.
The bill proposed in the North Dakota Senate is similar, and it strips away protections that allow educational institutions — schools, libraries, museums, and similar — to bypass the law.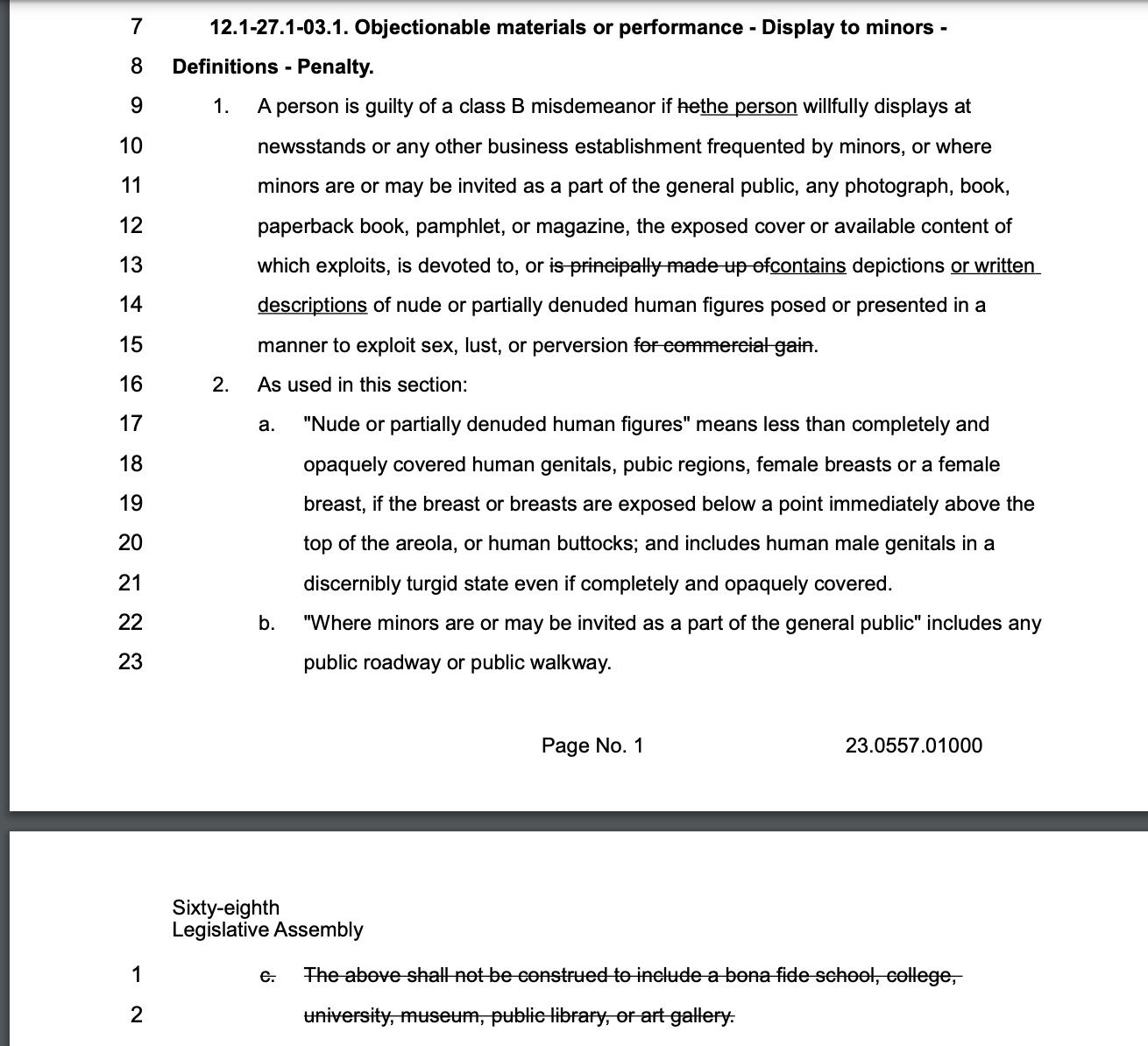 It is disturbing to think that legislators are describing the states of "female" breasts are allowed to be depicted and the state in which "male" genitals can be illegally represented.
Texas takes up their own "Don't Say Gay" bills with these two proposals. The first, HB 361, comes from Steve Toth, and the second from Jared Patterson, who demanded state institutions not purchase materials from any vendors who sell Gender Queer (and who has been targeting Prosper ISD and Frisco ISD school libraries himself).
This part of HB 361 is noteworthy — what does "age appropriate or developmentally appropriate" mean? I suspect we know what won't be talked about in those lessons.
Speaking of Patterson's take on disallowing purchases from vendors selling books he doesn't like, that's the crux of HB 1404.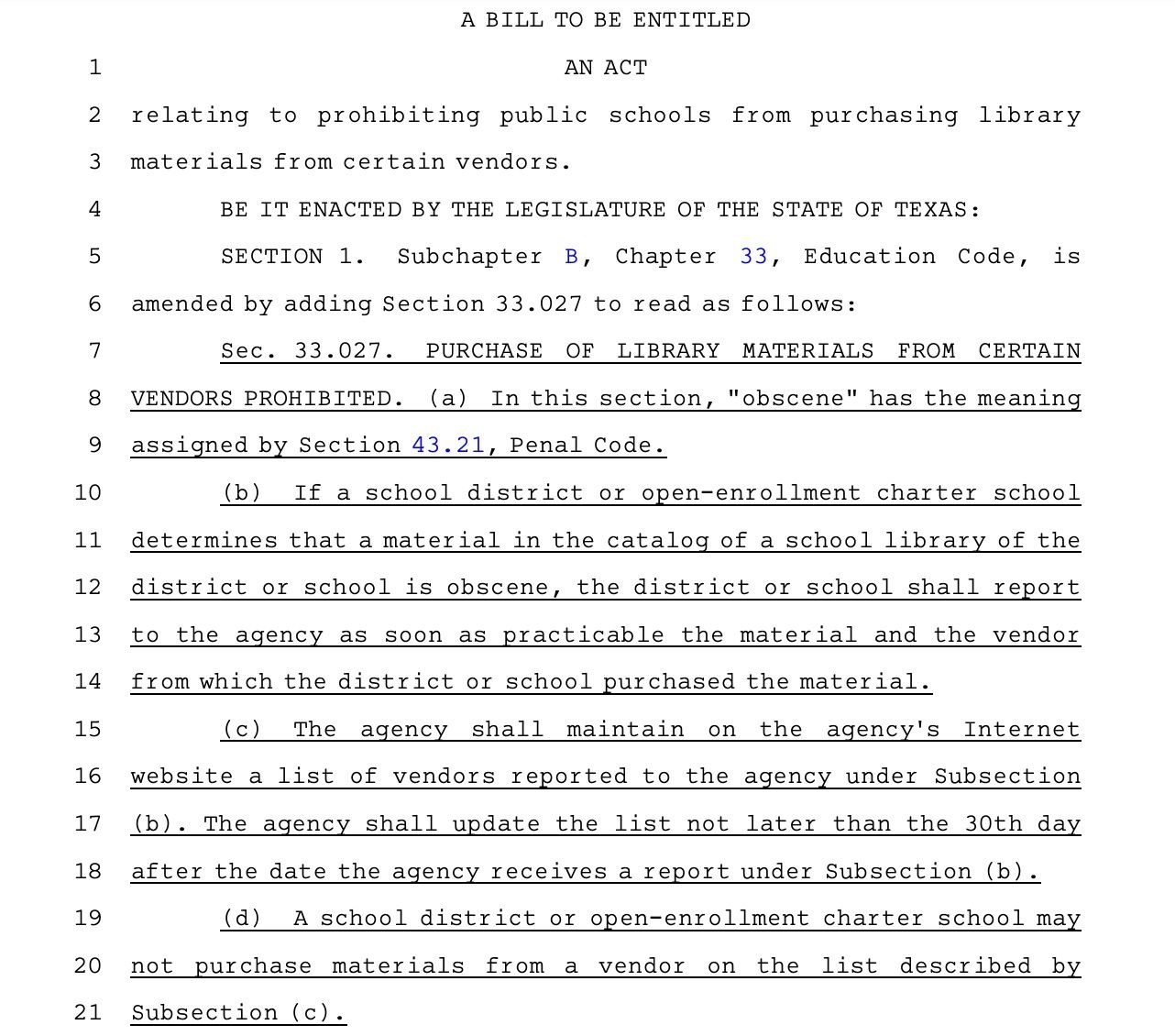 Districts will be unable to purchase material from vendors who sell books that they don't like. That means the largest vendors will be on a list of businesses from which schools cannot legally purchase from. Great stuff here, opening the door for more Moms for Libraries nonsense to take over.
West Virginia, SB 252
Lawmakers in West Virginia were grappling with how to create book bans without creating book bans late last year and they've figured it out: define any books by or about LGBTQ+ people as "obscene material."
It should be deeply disturbing how much time lawmakers — people being paid to represent a community — are spending on defining specific sexual acts, people's identities, and sexualizing body parts. This is far more disturbing and distasteful than any LGBTQ+ book found in any children's collection in any school or library.
Introduced by a brand new representative who has been "heavily involved" in the "movement" to pull books from Wyoming public and school library shelves, this bill would expand the meaning of "child pornography" to cover whatever lawmakers decide it means. The bill would also repeal the exception given to using "explicit" materials — again, being redefined here — in schools, libraries, museums, and other educational institutions. An addition to the materials covered under the bill means comics and cartoons would be included (is this directly related to Gender Queer? You bet it is).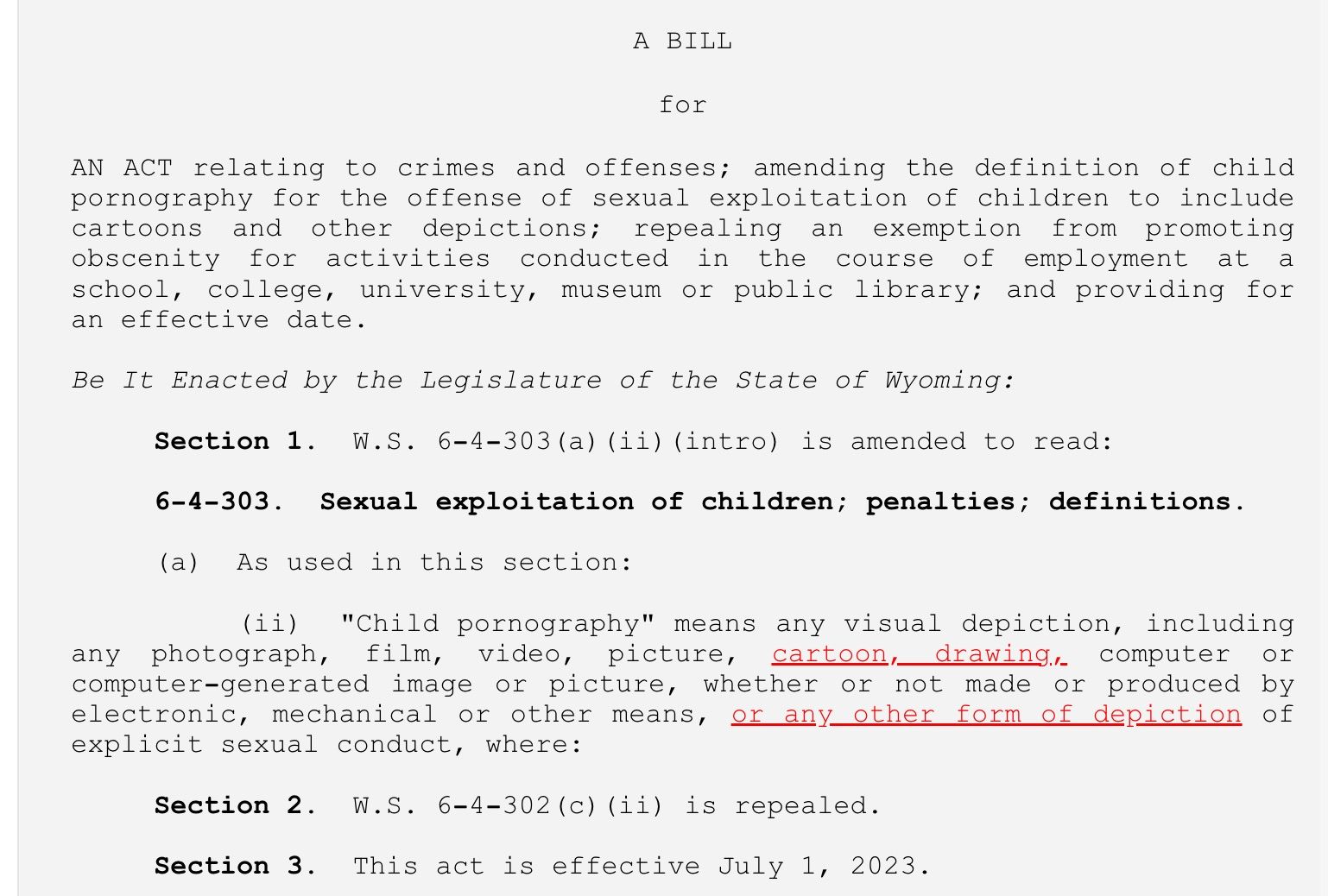 ---
Book Censorship News: January 20, 2023