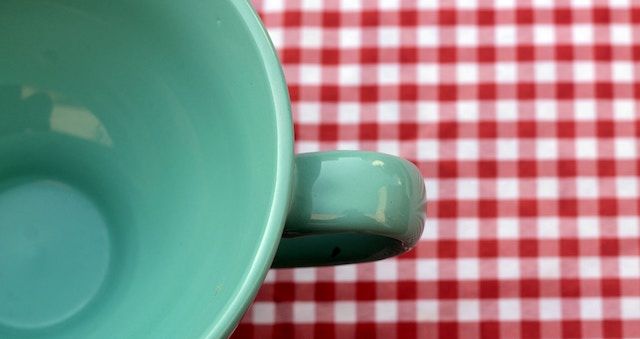 Book Fetish
Books And The Perfect Coffee Mugs To Go With Them
This content contains affiliate links. When you buy through these links, we may earn an affiliate commission.
Have you ever been reading a book and thought to yourself, "If only I had the perfect mug to match"? No? Well, you probably are now. And I have good news! Whether you're looking for the perfect book and mug pairing to start off your morning with a literary caffeine fix or an insta-worthy match, these books and coffee mugs go together like, well, books and matching coffee mugs. There just isn't a pair much better than that, right?
This geometric rainbow mug from Hider House Shop is the perfect match for The Beauty That Remains.
Pair We Set The Dark on Fire with this lovely papel picado mug by Natalie Baca.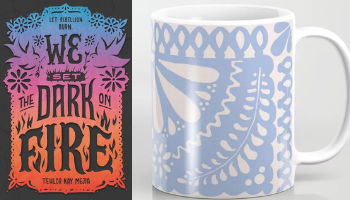 Mostly Dead Things and this adorable flamingo mug from PooSparkles.
This body positive mug from THE KIND STUDIO is the ideal match for Dumplin'.
Brew some tea in this eye mug from Harper & Blake while you cozy up with Magic for Liars.
This may be cheating a little, but a mug featuring a hobbit door like this one from Not Very Ladylike is just too good to pass up—especially when paired with this gorgeous edition of The Hobbit.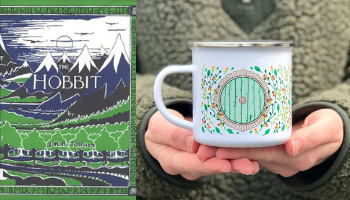 Get ready to read Orpheus Girl (October 8, 2019, from Soho Teen) with this hand painted pink ceramic mug from Katie M Mudd Ceramics.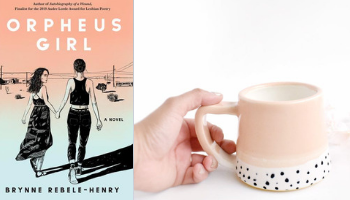 Pair up Warcross with this stunning rainbow crystal mug handcrafted by Essarai Ceramics.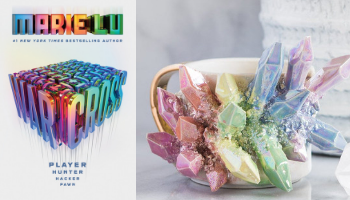 These stunning ceramic espresso mugs by From Fran almost look like they were designed to match the blue and gold leaf cover of Strange the Dreamer.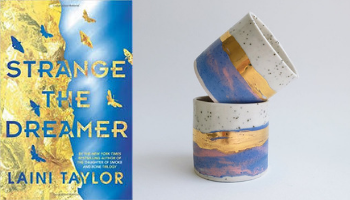 What's red, white, pink, and blue all over? The Future of Another Timeline by Annalee Newitz and this fun geometric mug from Hueds.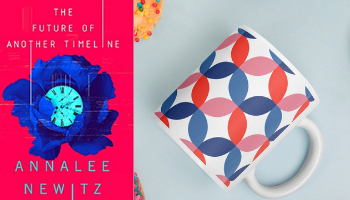 Uzma Jalaluddin's Pride and Prejudice inspired novel, Ayesha at Last, couldn't be more deserving of this "obstinate, headstrong girl!" mug.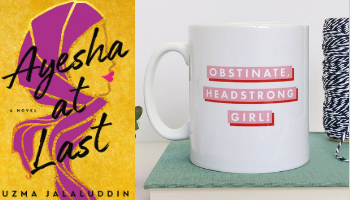 A basic witch mug from Witchy Woman Workshop to go along with a witchy book: Labyrinth Lost
This black snake tarot mug from Vanitas Apparel is the spitting image of Leigh Bardugo's upcoming book, Ninth House (October 8, 2019, from Flatiron Books).
A white and gold porcelain mug from NJK Ceramics is the perfect match for the stunning gold foil cover of The Heavens.
A panda mug from Champu Chinito to go along with American Panda.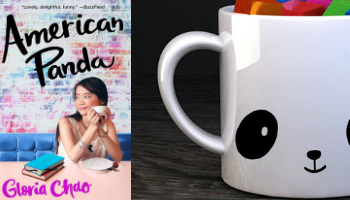 Pair Wicked Fox with this minimalist glass fox mug from Glass Island Designs.
This stunning ceramic undersea mug from Hoff the Grid Goods makes the perfect match for The Deep.
What could be more appropriate to go along with The Lady from the Black Lagoon than a Creature from the Black Lagoon mug from Psychic Coach.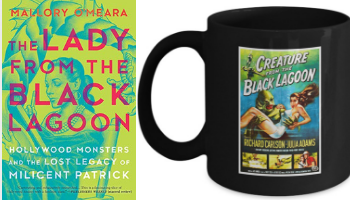 ---
Need even more bookish mugs for your collection? Check out these bookish mugs for readers, some of the best coffee mugs for book lovers, and even more book and mug pairings.