Pop Culture
15 Book Adaptations to Stream for Free with Your Library Card
This content contains affiliate links. When you buy through these links, we may earn an affiliate commission.
I'm often shocked by the number of people I speak to who don't know that "Netflix through your library" is a service that does indeed exist! It's called Kanopy, and like Overdrive or Hoopla, it's a service that you can access for free with your library card (providing your library offers Kanopy in their array of digital services). Kanopy has an interface that is similar to Netflix's, and offers over 30,000 movies, documentaries, and children's programs. Your access is determined by your library and their subscription plans, but my local library offers 10 free credits per month, which I can redeem for 72-hour movie rentals!
I love Kanopy for their extensive indie and foreign film collections, but they also have a really great collection of adaptations of great books! Here are fifteen relatively new bookish adaptations that you can stream right now. As usual, more books by white authors tend to be made into movie than books written by authors of color, so that's something that the book and film industry continuously needs to work on.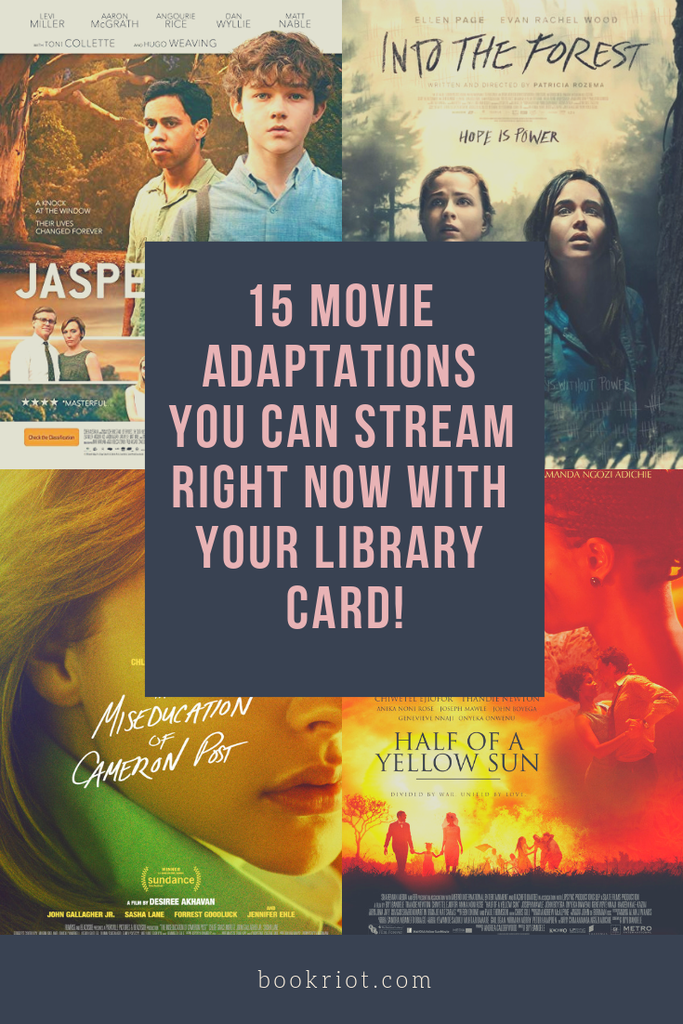 Based off of the book of the same name by Emily M. Danforth, this adaptation stars Chloe Grace Moretz and won the Grand Jury Prize for U.S. Drama at Sundance. It tells the story of teenager Cameron, who is sent to conversion therapy after she's discovered kissing a girl at a school dance. It's not available on DVD, tragically, so I'm thrilled that libraries can still offer it to patrons via this streaming platform!
Ian McEwan's books are a favorite for adaptations and often command an A-list cast, and this adaptation of The Children Act is not different. It stars Emma Thompson as a High Court judge who is presented with a complicated case: a young man is in need of a blood transfusion in order to live, but his Jehovah's Witness parents won't consent to the procedure as it goes against their religious beliefs. Stanley Tucci also stars.
Chimamanda Ngozi Adichie is probably best known for her books We Should All Be Feminists and Americanah, but her second novel, released in 2006, was made into a 2013 movie. The story follows four characters, three of them Nigerian and one English, right before and during the Nigerian Civil War in the 1960s.
Room by Emma Donoghue is the harrowing story of five-year-old Jack, who lives in a single room with his mother. They've been held in captivity for all of Jack's life, until a risky plan finally results in their liberation and Jack's introduction to the real world. The movie adaptation stars Brie Larson, who won the Academy Award for Best Actress for her performance.
Craig Silvey's novel was honored by the ALA as a best pick for young adults, and in 2017 it was made into a movie. Set in a fictional town in Australia, it tells the story of 14-year-old Charlie, who is called out of his house one night by Jasper Jones, a White-Aboriginal boy who has discovered a terrible crime and is afraid he'll be blamed for it.
This German film is based off of a 1995 semi-autobiographical novel of the same name, about a German Jewish family who immigrated to Kenya in 1938 in order to avoid persecution in Europe. The movie won an Academy Award for Best Foreign Film.
Based on the 2012 graphic novel by Derf Backderf, this movie is an exploration of the teenage years of the serial killer Jeffrey Dahmer, who was caught in 1992. The movie chronicles the troubles that Dahmer struggled with during his teens, ending not long after high school when Dahmer began acting on his dark impulses.
Lamb
This movie was adapted from the novel Lamb by Bonnie Ladzam, and follows a middle aged man who abducts a "willing" 11-year-old girl on a road trip across the country to save her from unhappiness and unfulfillment, only to find the journey doesn't go quite as either of them anticipated.
This 2014 movie is based off of Patricia McCormick's YA novel, and was produced by Emma Thompson. It is about 14-year-old Lakshmi who leaves her village in Nepal and finds herself tricked into sexual slavery, and the lengths she must go to in order to survive.
Starring Ellen Page and Rachel Evan Wood (be still my heart!) and based off of the book by Jean Heglund, this movie is about two sisters living in the near future who find themselves stranded in the woods after their father dies and a massive technology failure leaves them adrift and without resources.
I Capture the Castle by Dodie Smith is one of my favorite books of all time, and this adaptation does a fair job at capturing the whimsy and gritty realism of a family living in poverty in a falling-down castle, and how their lives are irrevocably changed when an American family purchases the neighboring estate.
Swallows and Amazons is about two groups of siblings vacationing in England's Lake District who engage in competition for an island in the middle of a lake. This 2016 adaptation is not the first time Arthur Ransome's children's classic has been made into a movie, but the visuals here are truly spectacular.
This Gillian Flynn adaptation may not be quite as popular as Gone Girl or Sharp Objects, but it is really worth watching! Starring Charlize Theron as Libby, a survivor of a massacre that killed her mother and siblings. She played a key role in her older brother's arrest for the crimes, but now, years later and down on her luck, she revisits the case and discovers there may be something key she's been missing about that night.
Adapted from Lionel Shriver's novel, this film stars Tilda Swinton as Eva, the mother of a teenage boy named Kevin who is in prison for killing several classmates at his high school. Eva revisits her memories of Kevin and his manipulative behavior to understand how he grew up to commit his crimes and question who is to blame.
Based off of the Printz Honor book by Tim Tharp, this movie stars YA adaptation darlings Shailene Woodley and Miles Teller (a year before The Fault in Our Stars adaptation!) as two classmates who become unlikely friends and more just on the brink of graduation, and what it means to live in the moment when you feel like your whole life ought to be building towards a future.