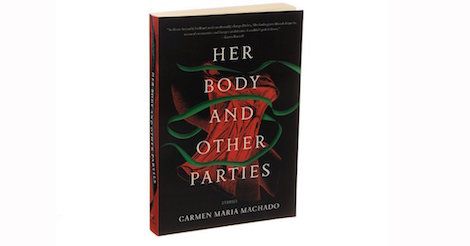 Feminism
HER BODY AND OTHER PARTIES Defies Genre to Create Original, Unforgettable Stories
This content contains affiliate links. When you buy through these links, we may earn an affiliate commission.
Grace Lapointe is a writer from MA who has cerebral palsy and often writes on disability themes. Her fiction has recently appeared in Kaleidoscope, Deaf Poets Society, and Mobius: The Journal of Social Change. Her essays have appeared in Wordgathering, as part of Grub Street's Why I Write series, and in The Body is not an Apology, with one forthcoming on Monstering's blog. You can find her on her website, Facebook, or Twitter.
---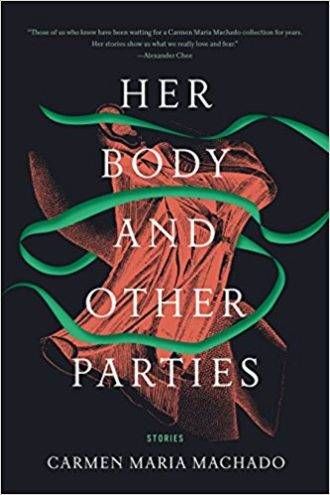 In the bowdlerized, Disney versions of fairy tales that are so prevalent in our culture, the warnings from the original tales are almost absent. Reductive morals (such as "Don't judge by appearances") have replaced the visceral sense of fear and the moral ambiguity of the original stories. This leads some adult readers to dismiss fairy tales, fables, and ghost stories as exclusively for children. Similarly, our culture tends to categorize certain forms of entertainment—such as genre fiction, comedy, and crime procedural TV shows—as lowbrow, with realistic literary fiction as highbrow. Carmen Maria Machado's story collection Her Body and Other Parties combines elements of science fiction, fantasy, magic realism, erotica, and folk tales to create stories that are riveting and remarkably inventive.
I immediately recognized the basic plot of the opening story, "The Husband Stitch." A woman always wears a green ribbon around her neck. She refuses to let her husband remove it—until it's finally removed, and her head falls off! In elementary school in the '90s, I'd read a children's version of this story in Alvin Schwartz's collection In a Dark, Dark Room. (I remember my cousin reading Schwartz's Scary Stories to Tell in the Dark to me on a sleepover.) Yet Machado turns this classic, creepy story—which predates both her and Schwartz's renditions—into a sexually explicit exploration of bodily autonomy, including sexual agency and consent. The most obvious questions that I had as a child remain unanswered: was the woman a zombie and/or decapitated for most of her "life"? Were there any others like her?
Rather than seeming derivative, the familiar elements in Machado's stories make them shocking, immediate, and even universal. "The Husband Stitch" also reminded me of The Bloody Chamber, Angela Carter's 1979 feminist retelling of classic fairy tales. As a reader and writer, it doesn't matter to me whether Machado has read either of these books or considers them influences. What matters to me is that Machado, like Carter, is following in a literary tradition of feminist re-imaginings. Carter's heroines have more agency than in the originals: they save themselves instead of waiting for men to save them. She brings the latent sexuality in stories like "Little Red Riding Hood" to the foreground. The titular story is a retelling of the Grimms' "Bluebeard," where a woman discovers that her husband has murdered several previous wives. The title "The Bloody Chamber," which literally refers to the chamber where the bodies are hidden, can also be interpreted as symbolizing a vagina, in the tradition of Sigmund Freud or Julia Kristeva.
In contrast to a 1970s school of feminism, which focused exclusively on cisgender, heterosexual women and sometimes defined them by their genitals, Her Body and Other Parties contains several lesbian and bisexual protagonists. The title of one story, "Real Women Have Bodies," is a sly pun on the outdated 2000s saying "Real women have curves." It avoids essentializing women and their bodies in any way and updates first-wave feminist tropes for third-wave, LGBT-inclusive feminism. In this story, when women's bodies gradually fade away, a male newscaster quips, "I don't trust anything that can be incorporeal and isn't dead" (146). It's darkly funny, but anyone who's heard the misogynist joke "I don't trust anything that can bleed for five days without dying" will feel a shock of recognition.
I doubt that I've ever watched an entire episode of Law and Order: Special Victims Unit, but even I recognized the tagline referenced in the title of Machado's "Especially Heinous." It starts with simple, TV Guide–like synopses for hypothetical episodes, but diverges into a stunningly original story filled with humor, doppelgängers, ghosts, and unique characters. It even incorporates the distinctive theme music of the show, "dum-dum," as a kind of recurring "Telltale Heart" motif (87). This story takes risks, defies categorization, and blends parody, horror, and pathos. Her Body and Other Parties synthesizes many possible influences to blend genres, causing me to wonder why they're usually kept separate.
The protagonist of "The Resident," a writer on an artists' retreat, describes the feeling of "defamiliarization; of zooming in so close to something, and observing it so slowly, that it begins to warp, and change, and acquire new meaning" (198). Her Body and Other Parties forces readers to re-examine their assumptions and well-known stories in a similar way. Near the end of "The Husband Stitch," the narrator apologizes to the reader: "I'm sorry. I've forgotten the rest of the story" (29). Instead of merely going on a pointless tangent, she seems like she needs to tell us something urgently but has forgotten it. Machado reminds us that horror is often indescribable, and that the moods and morals of stories often haunt us, even if we forget all the details.