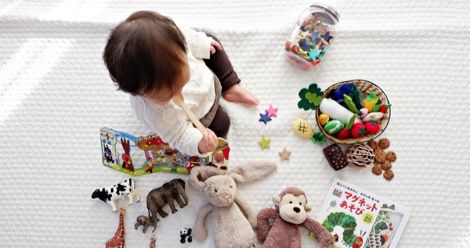 This content contains affiliate links. When you buy through these links, we may earn an affiliate commission.
One can be an awkward reading age. Typically, they would have outgrown the super-newborn books like the black and white books that help their eyes focus, but they aren't ready for more complicated picture books. My daughter is now almost 16 months old, and I'm finding that she will sit still long enough for a story — as long as it's not too long. And she will sit and listen, and bring me books that she wants me to read. I have all of her board books accessible and yet there are only some that she will bring to me repeatedly. So I'm going to go out on a limb and say that a one-year-old *can* have reading tastes and preferences.
I also know that I have board book tastes and preferences! For me, the perfect board book is a good length (not too long and not too short), is good for reading aloud (and trust me, after you read books multiple times in one sitting, for multiple sittings in one day, for day after day after day, you KNOW which ones are good for reading aloud), and most importantly, is interesting (either with plot, characters, artwork, or all three). And even better if there is something extra for the grown-up, like a joke that would go over the head of the one-year-old.
With that said, this is my list of 20 great board books for one-year-olds. These are ones that have passed our test and are on our list of favourite board books, and if we were only allowed to own 20 board books, these would be it.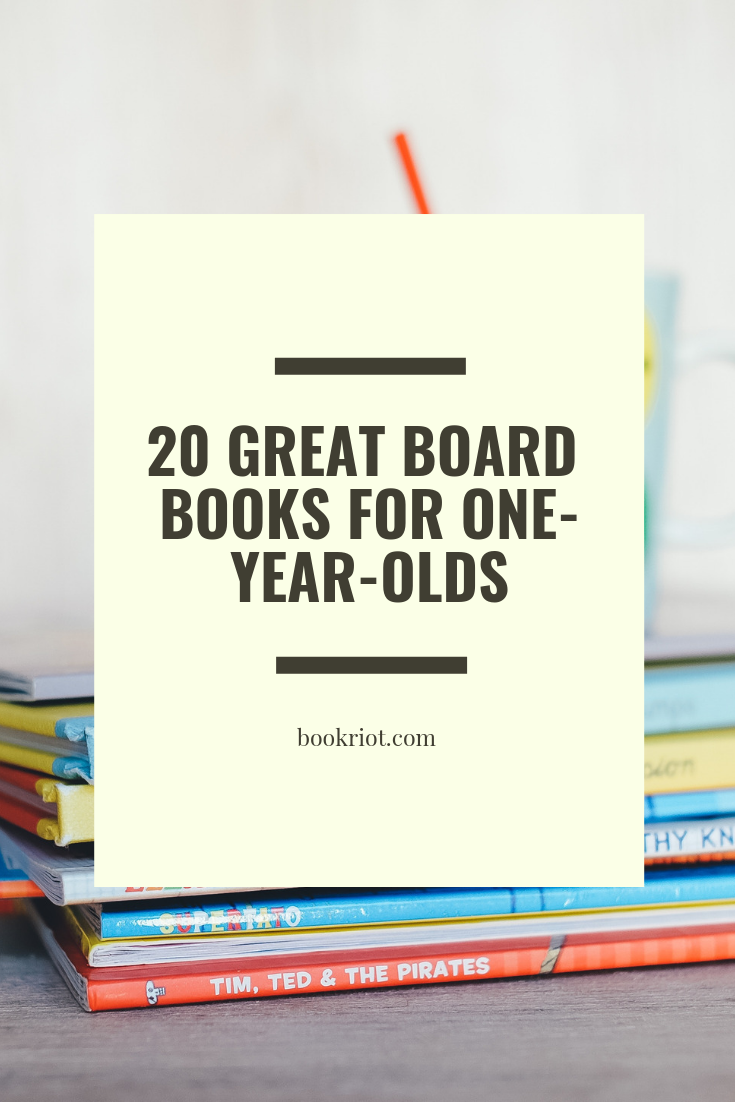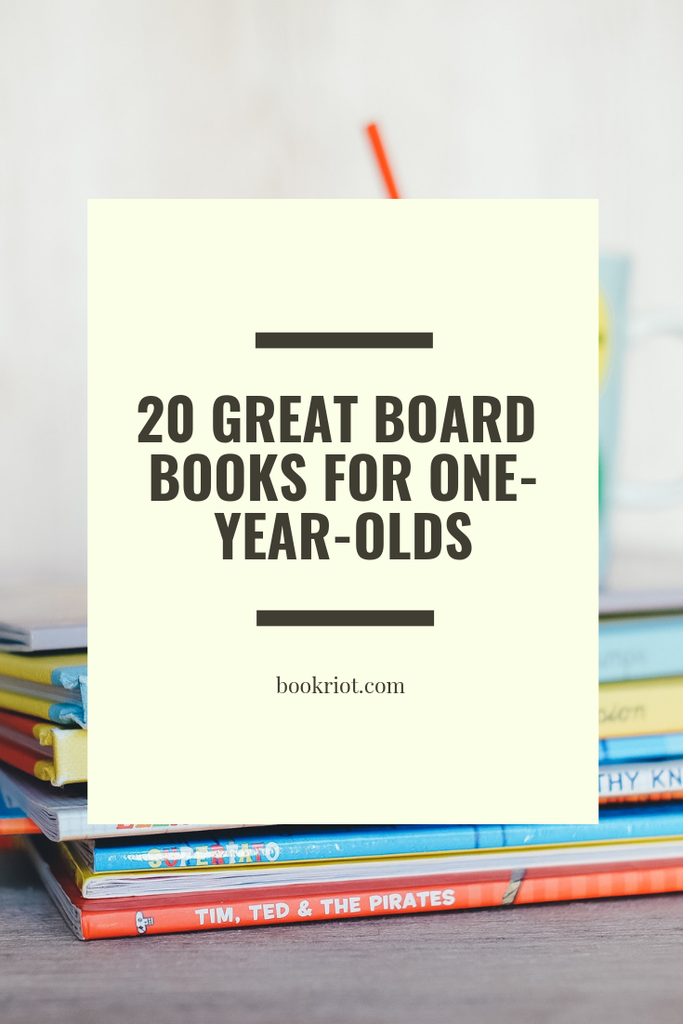 A classic. Harry is a dog who hates baths and runs away from home at bath time and gets very dirty. But then he decides to go home, only to find his family no longer recognises him. This is a book I love for the drawings and story. I love the coal chute, the grocer, the cafe, the innocence of this world. I like that books can transport readers to other worlds and times and that this can also be true of board books.
The rhyme scheme in this is perfect, and I love the familiar nursery rhyme characters and the illustrations — and the game of 'I spy' you play as you read. 'I spy' might be a little advanced for a one-year-old, but it's definitely fun for the grown-up.
This book is great fun! Five animals live by the sea and they're all friends and one day they decide to go for a row. And the boat sinks! Who sank the boat? A great one for reading aloud, and there are fun illustrations with great detail.
The Gruffalo by Julia Donaldson and Axel Scheffler
A mouse took a stroll through the deep dark wood…This is pretty much the perfect picture book. It ticks all the boxes: rhyme, rhythm, read-aloud-ability, plot, characters, illustrations. I've probably read this one at least a thousand times and I still love it.
This is a popular one in our whole household! My husband and I both love it, and this is one of the books my daughter will bring to me and ask me to read to her (she does it by bringing me the book and making sheep noises). Wonderful for reading aloud because of the rhyme and rhythm, and the illustrations are fantastically fun.
This and That by Mem Fox and Judy Horacek
Another one from the power duo of Mem Fox and Judy Horacek (I would actually say all of their collaborations are wonderful and worthy of being in a child's library). This is a very cute and sweet one with whimsical rhymes that are fun to read. My favourite part is the illustrations and looking at how one scene links to the next.
This is sweet without being sappy or sentimental, and the rhyme and rhythm is fantastic for reading aloud (it has that Mem Fox magic).
If you have a one-year-old, having a child who goes to sleep easily, and by themselves, and then through the night, is probably the holy grail. This book speaks to that. It's a very cute series and a lot of the fun is looking at the pictures — that is where you find the answer to why the various parts of the bedtime routine WON'T help Sheep get to sleep.
This is a great counting AND lift-the-flap book. It looks like you're counting one thing, but lift the flap and you get a surprise! (for example, 'one' looks like it's going to be one egg, but lift the flap and you see it's actually one baby chick). We have several counting books and this one is one of my favourites.
The Once Upon a World series is fantastic. They are fairytale retellings, designed for a board book (so they're the right length), and each fairytale is set in a different country. Cinderella is set in Mexico and is my favourite out of all the ones in the series.
There are a lot of baby science books out there now, and I have a soft spot for this one, for personal reasons — all of my adult relationships (and that one where I was a teenager becoming an adult) were with programmers, I've always had deep respect for people who can code. This is a cute board book that breaks down the concepts AND is fun to read aloud.
Mustache Baby by Bridget Heos and Joy Ang
This is a funny one that I like for the story and the illustrations. A baby is born with a mustache, but is it a good mustache or a bad mustache? Is the baby a good guy or a bad guy?
A gorgeous and sweet goodnight book that I really like. 'Goodnight books' are a sub-genre within the board book category and this is one I especially like.
Another counting one, this time featuring the markets in Nigeria and a cheeky baby who accepts free food from the various market stallholders as his mum does the shopping. The baby in this is adorable.
This book is adorable and very fun to read aloud! The fun happens when you make the noises of each different transport mode as Baby and mum go out for the afternoon. I would say that it's perhaps slightly unrealistic because there's no way I'd be taking a walk, then a bus, then a boat, then a train, and doing it all in reverse, just for an afternoon playdate at Grandma's…But there's artistic licence for ya.
A grumpy panda uses doughnuts to teach animals a lesson about manners. I love reading this one aloud because it lends itself to character voices really well. My version of Mr Panda always sounds vaguely Russian (I am awful at doing accents).
A beautiful and poetic goodnight book with gorgeous illustrations. I like the order of things and I love how the ending makes you feel warm and safe and loved.
Okay, technically this might not be for one-year-olds. I don't let my daughter have free access to this book because the pages aren't *as* sturdy as other board books (it's more like thick cardstock paper). But I'm putting it on here because I love it for how beautiful it is and how it reminds us to really look at the world around us. And it *is* suitable for one-year-olds in that sense because they are so curious and observant and everything is new and wonderful to them.
Also one that might technically be more for the parents, but I love this one. Quirky, whimsical, funny, and I love the style of drawing. This is one beautifully designed board book.
Pigs in a Blanket by Hans Wilhelm and Erica Salcedo (19 March, 2019)
A very cute board book about three piglets as they go about their day. Good rhyme scheme and details in the illustrations. The best part is how the book is 'wrapped' in a blanket (it has a magnetic close). My daughter likes wrapping and unwrapping the blanket; she is less enthralled with the story, but hey, I like it.