World War I sometimes feels like a war that is terribly far away. This year, of course, marks the 100th anniversary of the beginning of the war, and as Remembrance Day (or Veterans Day) comes upon us I find myself seeking ways to connect that period in our shared history.
As a reader, and especially a reader of poetry, I am particularly drawn to the First World War because it was such a literary and fertile period. But when I read those beautiful, evocative poems, I find myself transported back into that space and period. Even when I read fiction set in the First World War, like Pat Barker's tremendous Regeneration trilogy, it's about transporting myself into that period. I want to understand the experience of the war, but I don't always make connections between the world that was and the world that is.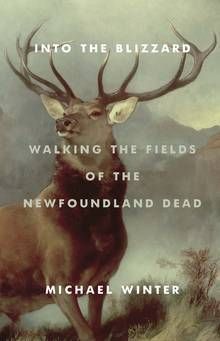 This Remembrance Day is a little different, because I've spent the last few days entranced by Michael Winter's newest effort, Into the Blizzard: Walking the Fields of the Newfoundland Dead. The Newfoundland Regiment, like so many of the regiments that served in the First World War, took tremendous casualties at Gallipoli and the Somme and Ypres. Like so many places with a small population and a big sense of duty, Newfoundland (at that time not a province of Canada but an independent colony of Britain) lost a generation of young men to the battlefields of Europe. In so many ways, Newfoundland's story of the First World War is the story of the First World War: sacrifice, tragedy, pointlessness.
It's a story I know well, the story of the Newfoundland Regiment. As I read Winter's book, the same song echoed over and over through my mind:
[youtube]https://www.youtube.com/watch?v=GSrAa9iM2qs[/youtube]
I've always been moved by the story, but Winter's retelling is a surprising one.
Winter's book is not a typical WWI history: part travel memoir, part journal, part philosophical reflection, this is an intensely personal read. The book traces Winter's experiences travelling the same path the Newfoundland soldiers once would have travelled, and along the way he reflects on the soldiers — those who survived, and those who didn't — and how the war shaped them and they, in turn, shaped the world that came next.
Winter quotes Siegfried Sassoon's reflection from his own memoir of the war:
Remembering that I had a bath may not be of much interest to anyone, but it was a good bath, and it is my own story that I am trying to tell, and as such it must be received; those who expect a universalization of the Great War must look for it elsewhere.
And yet, as we stroll with Winter over the battlefields of the Somme, it seems like the opposite is somehow true: that through those moments like Sassoon's bath we do find the way to a kind of universal understanding.
I found myself now in the cemetery of the fallen. I sat my pack down and walked along the quiet rows of the dead.

I strolled there for an hour. Alone. I heard the bagpipes and birdsong. I saw rabbits with their ears rotated towards me. A hawk on the wire in the middle ground, his neck tensely twisted in my direction. I had been in tears since arriving here, I realized, and tears felt like a normal state of being. The tears were the suit one wears for a special occasion, and I did not feel particularly overwhelmed by them. I unwrapped my picnic. A cucumber, tomato, salami, cheese, a bent baguette and a bottle of wine. I unfolded the blade of my pocketknife. I was happy to think of my picnic but worried about committing a sacrilegious act. I am in the place, I thought, I have travelled so far to see and […] I have no idea what this moment will be like.
This passage — indicative of the tone and sentiment of the whole book — is something Sassoon would appreciate, I think. We don't just read about the First World War in Into the Blizzard; instead, we read about the very process of remembrance.
There is a gap, you know, between remembering and Remembrance Day, between the act of remembering and the performance of it. As I read Winter's book, I found myself rethinking my own experience of these same memorial sites. In 2012, I capped off a month in Wales with 20 undergraduate students (I'm slightly deranged) by meeting my husband in France to visit the same battlefields Winter explores in Into the Blizzard. It's a weird thing, visiting your dead countrymen in foreign climes. I felt, for most of my travels, overwhelmed by the sense of loss and waste. The First World War was such a travesty from beginning to end. I had a hard time making sense of my own feelings of dismay.
But Winter's book helps me make sense of all of this, because as he works through his own conflicting feelings — pride alongside sadness, awe alongside disgust, peace alongside anxiety — he highlights the truth of memorial and remembrance: it is messy. It is complicated. It is difficult cognitive work; it is difficult emotional work. And, in order to make sense of history, we have to do the work.
I loved this book. I have been looking forward to telling you about it this on Remembrance/Veterans Day; it's worth reading and worth allowing yourself to be troubled and complicated by your own relationship to memorial. And it's worth reading to remind yourself that World War One is not so long ago, really, and it shaped who each of us are now. And it's worth reading to help close the gap between remembering and remembrance.
And it's worth reading to remember.
Save