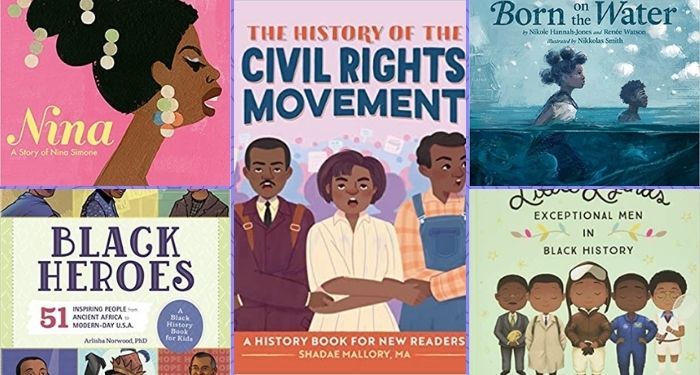 Children's
15 New-ish Black History Books for Kids
This content contains affiliate links. When you buy through these links, we may earn an affiliate commission.
There are tons of fantastic Black history books for kids of all ages out there. It's difficult to pare it down to one short list! So I decided to focus on books published within the last few years. Additionally, I selected books that either provide an overview of multiple key figures in Black history or focus on individuals who haven't traditionally been in the big spotlight.
That means you won't find books about figures like Frederick Douglass, Rosa Parks, or Rev. Dr. Martin Luther King Jr. here. (Okay, okay, I couldn't help myself and included a Harriet Tubman book!) There are so many excellent books out there about the handful of people who have made it into the textbooks that I thought it would probably be more helpful to direct you toward some of the less widely discussed — but no less significant — Black thinkers, artists, activists, leaders, and celebrities who have influenced the course of history.
I also stuck primarily to nonfiction. You'll find a lot of biographical works on this list and a couple of movement-centered books. (If you're looking for fiction, there's a ton of great stuff out there for teens! Go find yourself some Angie Thomas, Jacqueline Woodson, Nic Stone, or Jewell Parker Rhodes if this is the direction you're seeking.)
I've arranged the books on this list in general order of reading ability. Part one features picture books meant for early readers, moving from a solid ABCs book to a good book for middle graders. Part two moves to more text-centered books, although it ironically concludes with a graphic novel (albeit one that can appeal to young adults and grownups alike).
Picture Books for Early Readers
Text-Centered Books for Developing and Independent Readers
Need more recommendations? Here!
If you want more Black history books for young readers, browse this list of children's books about Black history or this one on YA books about Black history. Alternately, if you're leaning toward empowering reads (as opposed to specifically historical ones), check out this list of 52 Incredible Picture Book Biographies of Black People Creating and Leading.
In case you wanted books for adults rather than kids, consider this post featuring 10 Underrated Books for Black History Month or this post about 20 Must-Read Black American Memoirs.