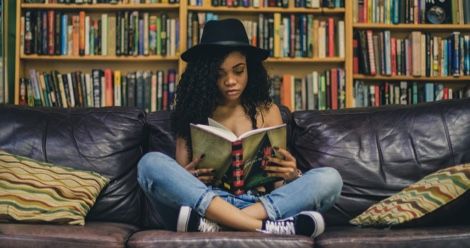 This content contains affiliate links. When you buy through these links, we may earn an affiliate commission.
We've all seen the phrase "Black Girl Magic" around. It usually refers to the strength and exceptional talent of black girls to strive in a world that constantly oppresses them on the basis of sex or gender. But one of my favorite tropes in that of actual black girl magic! That is, black girls and women with powers beyond belief.
This novella by P. Djèlí Clark sucks you into a world of steampunk New Orleans, complete with clockwork, steam engines, and oh—magic. Creeper is a young girl trying to make a living in post-confederacy New Orleans. It's a hard life but someone tends to help her out. That someone is Oya, the African orisha of wind and storms, who lives inside her.
Blending together fantasy, sci-fi, steampunk, and diverse characters and culture, this is a must-read.
This small press novel tells the tale of two stories, intertwined by destiny. On one side, a newly married couple in the 1850s explores their relationship and love. Everything seems to be fine before an interruption by a woman who practices Vodou, and threatens everything they hold most dear. On the other, a historian unravels the mystery of the couple and finds herself still affected by the remnants of a magic never laid to rest.
Nnedi Okorafor is the master of black girl magic. From Binti to Akata Witch to Who Fears Death, there is no end to the badass female characters in her works. In particular, the two works listed here feature lots of magical black women and girls. Akata Witch is Harry Potter in Africa, complete with a chosen one and a prophecy. The magic here is truly interesting, building off of real mythology and lore.
For a more adult work from Okorafor, best look to Who Fears Death, which chronicles the life of Onyesonwu, whose name literally means…wait for it…Who Fears Death. Onyesonwu is the child of sexual violence, which leads her to be ostracized and mistreated by her community. But it doesn't stop her from cultivating a magic that could change her entire world.
Afrofuturism collides with African gods in this South African novel, set in a time where robots have grown so common humans basically have them as pets. This novel follows several storylines which intertwine in complex and playful ways to tell the saga of magic making its return to a society. A society who has traded it in for technology, not wary of the consequences.
Hope keeps being forgotten. Literally. I wouldn't call it a power, or even a curse (since she uses it often to get what she wants), but it's a part of her. No one can remember her, no matter how hard they try. The minute they look away, she vanishes from their memory. So she lives her own, complicated life, mostly staying out of the way of others. No reason to build connections when they'll forget her a minute later.
That is, until a strange new app causes her friend to commit suicide. Now, she must come out of the shadows, and use her black girl magic to destroy a dangerous game before it's too late.
Jemisin is most known for her Broken Earth trilogy, which begins with The Fifth Season. (There is definitely black girl magic in there, too!) But I thought I would shed light on a lesser-known novel of hers, The Hundred Thousand Kingdoms.
Yeine's story follows a familiar trope: A normal girl turned into an unlikely heiress. However, things don't stay familiar for long. Gods, monsters, and magic combine into an amazing novel that introduced me to one of my favorite authors.