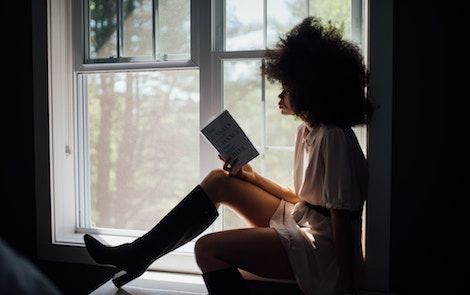 Lists
Black and Bookish Creators You Can Support Today and Everyday
This content contains affiliate links. When you buy through these links, we may earn an affiliate commission.
Black History Month is going strong, and we want to keep it going by celebrating the contributions of black Americans with action and not just re-posting another #BlackHistoryMonth fact. Although, there's nothing wrong with that, we're excited to share some amazing black creators and businesses with bookish flare that definitely deserve your coins because "Reparations or bust!"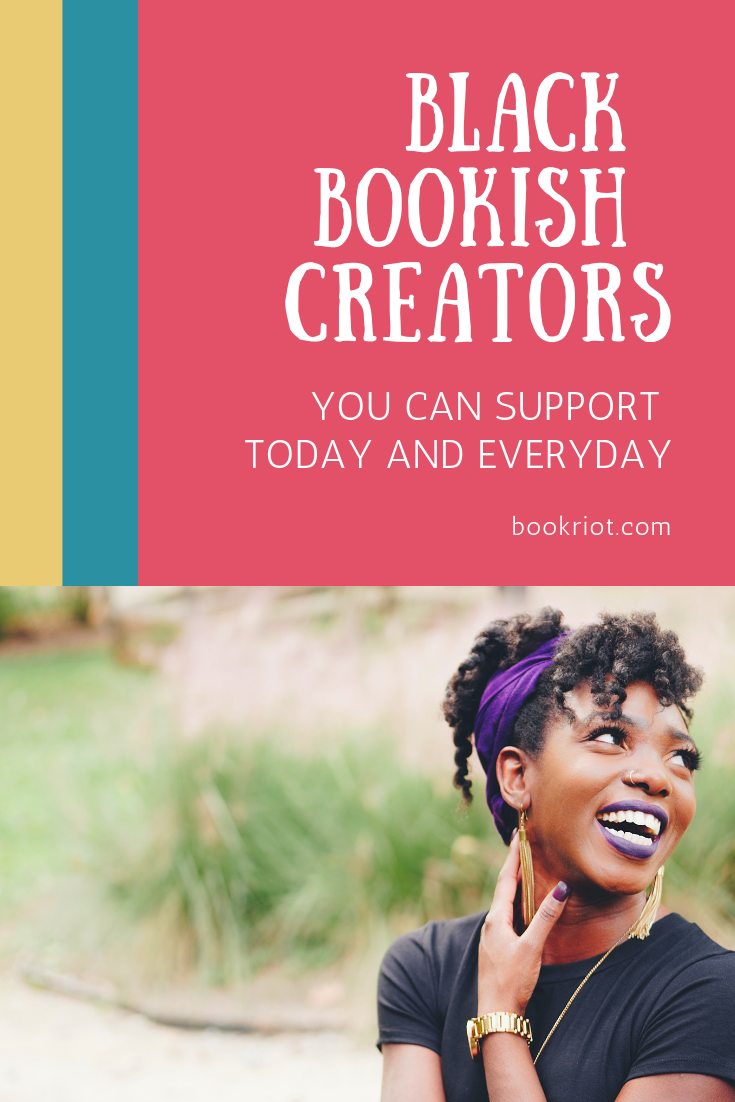 Indie Books for the "Empty" Spaces on Your Shelf
This title may scare a lot of people away, but as Solange told me, "I got a lot to be mad about." If you're wondering why a lot of us black girls (and women) are so angry, this collection of essays on race, gender, and America may clue you in. If you're ready to dive deep into blackness, also check out Jionde's The A–Z Guide to Black Oppression for informative and entertaining essays that highlight the systems of oppression that have and continue to endanger black Americans.
Black by Kwanza Osajyefo (Author) and Jamal Igle (Illustrator)
Brought to us thanks to a successful Kickstarter campaign, Black is a 6-part graphic novel series based on the novel question of "What if only black people had superpowers?" In this first issue of the series, a young man miraculously survives being gunned down by police. He must decide if it is safer to keep this secret or if the truth will set him free.
Dear Black Boy by Martellus Bennett
This letter of encouragement is for all the black boys who think sports is the only way to have a better life. Bennett is here to remind them that with the right preparation, every black boy can win the most important game, The Game of Life. Dear Black Boy is available for pre-order at The Imagination Agency.
The story about two strokes, one boy, and one girl in a series of thoughts and conversations between Mugabi and Philomena, the girl he was supposed to be, about the year he survived two strokes.
This book immediately caught my eye from the cover alone, and the premise in this YA historical fiction novel is totally Gilded Age Girlfriends! In the fall of 1883, four friends are determined to become members of the Firebirds Club, Washington D.C.'s leading social organization for ladies. However, before they can join, Hazel, Countess, Poppy, and Missy must put on the club's annual masquerade ball while balancing their friendship and potential suitors.
Another book you should buy based on the cover alone! Thankfully, the inside has just as many positive vibes as the cover. The reader is taken along the 21 journey of life's challenges and rewards for one young woman. Through personal essays, Vassel shares her channeled energy and hopefully inspires the reader to do the same.
Sellers of Books and Book-adjacent Things That Want Your Hamiltons
The name says it all! If you are looking for comics and a cup of coffee, then run (don't walk) to your "Friendly Community Geek Space!" Amalgam has only been around for a little over 3 years, but it has been taking the Comic Book World by "Storm" as the first comic book store on the East Coast owned by a black woman. And, yes, that was owner Ariell Johnson you saw on a variant cover for Invincible Iron Man #1!
If you're looking for a book subscription service that is all about black literature and writers, then Call Number is exactly what you need in your life. Call Number was started to call attention to the lack of diverse books available and to promote literary works from writers who represent the African Diaspora. You can choose either a fiction or nonfiction quarterly box. You can gift a box to another book lover. You can buy items from previous boxes. Sounds like a Win-Win-Win situation to us!
Mahogany Books is the independent bookseller where "Black Books Matter!" For 10 years, they were the premiere destination for books written by, for, and about people from the African Diaspora. Now, you can even enjoy an in-person bookstore experience one of their many hosted events at their recently opened physical location inside the Anacostia Arts Center in Washington, D.C.
Celebrating Black History Month every day of the year is what Pyramid Books is all about. Their literary specialization includes Egyptology, Pan African literature, self-published books, and books that are hard to find. They also offer editing services for all the aspiring and established writers out there! Let Pyramid Books be your go-to online independent bookstore for ALL books, and especially those books centered around the African Diaspora experience.
If you're anything like me, then you enjoy a nice spot of tea when you're curled up with a good book, and Trill Tea is the tea for you if you like your tea "steeped in culture." If you're now asking, "What's the tea?" The tea is Lemon Courage and True Blue Berry Matcha for your sipping pleasure.
For the bibliophile on a budget who is looking to learn new ideas, Urban Ebooks offers ebooks for $4.99 or less that are educational and empowering.
The Blogs Your Eyeballs Wish to Feast Upon
From the mind of a professional reader, anti-racism educator, and lover of all things books comes Black & Bookish. This educational website is a must-visit for book reviews and opinion pieces centered around the love of books and blackness because there are lessons to be learned from reading black authors.
Glory Edim turned a book club into a Brooklyn literary festival by providing a much needed space for black women writers and readers to connect and grow through a mutual love of books. If you are looking to engage with others lovers of black women in literature, then join the monthly WRBG Twitter chats (#WRBGChat)!