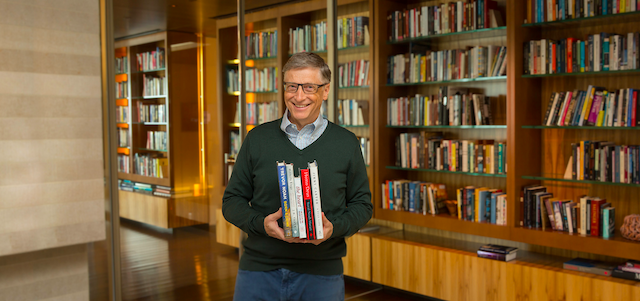 A Full List Of Bill Gates's Book Recommendations From 2012 To 2020
This content contains affiliate links. When you buy through these links, we may earn an affiliate commission.
Every year, Bill Gates dedicates two posts on his blog (in summer and in winter) to his personal reading recommendations. He has focused on a certain number of books each time, providing a brief overview of why each one has stood out for him. Starting in 2014, he even began recording short videos to go with his seasonal list (check them out, starting with the first one
here
—they are really fun). So far, between Summer 2012 and Summer 2020, there are over a hundred Bill Gates book recommendations.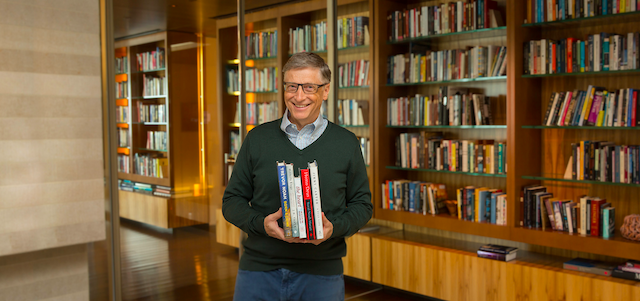 What are Bill Gates's book recommendations?
It is an impressive list, consisting largely of
nonfiction
. Science and technology,
medicine
, business, economics, education, international development, sociology, history, biography, memoir—name it, and chances are there is at least one book in the genre. If you like nonfiction (ahem, like me), this list is plain dangerous for your TBR pile. This shouldn't come as a surprise—it is Bill Gates's book recommendations, after all. He is one of the founders of Microsoft (read: a dedicated nerd and a savvy businessman), one of the wealthiest people on the planet, and, together with his wife, a known philanthropist. This reading list perfectly reflects his life's work and interests. It consists of thought-provoking books, and chances are that at least one title from it will grab your attention. Of course, it is not perfect. The list is a stark reflection of the lack of diversity in many of the fields showcased here, especially in STEM, but also (although to a lesser degree) in the arts and humanities. Also, if you are not into nonfiction, there are notably fewer choices in this list for you. Despite the above-mentioned problems, I recommend looking through this list of Bill Gates's book recommendations. Chances are that there might be at least one read that will grab your attention. And remember: if you do not find a title of interest, or would like even more diverse, custom recommendations, our biblioligists at
TBR,
a tailored book recommendation service, would love to help you find your next perfect literary match. We may not be Bill Gates, but we send new books and recommendations specifically matched for you! Happy reading!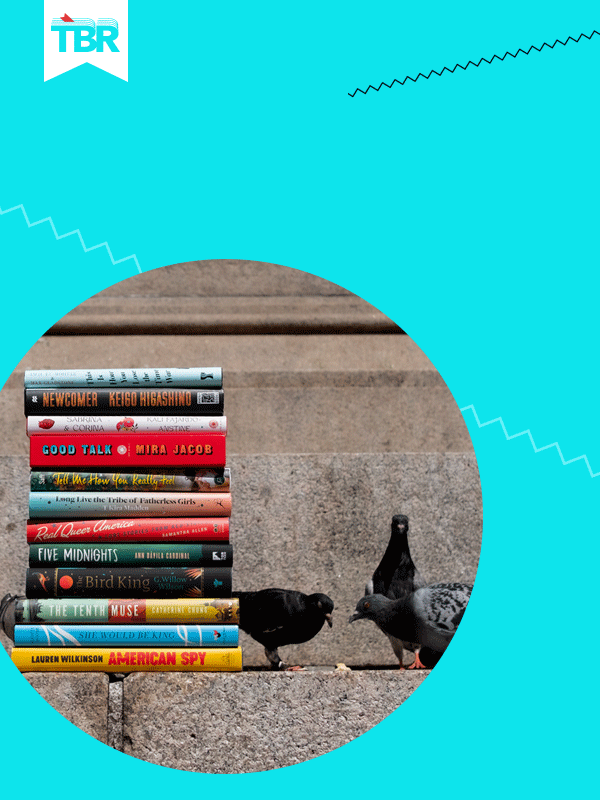 Note: On a few occasions, Gates had certain titles repeat from one list into the next. For the sake of avoiding repetition, I have removed any repeating titles and marked the section where I have done so with a (*).
Summer 2020*
The Choice: Embrace the Possible
by Dr. Edith Eva Eger
Cloud Atlas
by David Mitchell
The Ride of a Lifetime
by Robert Iger
The Great Influenza
by John M. Barry
Good Economics For Hard Times
by Abhijit V. Banerjee and Esther Duflo
The Martian
by Andy Weir
The Rosie Project
by Graeme Simsion
The Best We Could Do
by Thi Bui
Winter 2019
An American Marriage
by Tayari Jones
These Truths
by Jill Lepore
Growth
by Vaclav Smil
Prepared
by Diane Tavenner
Why We Sleep
by Matthew Walker
Summer 2019
Upheaval
by Jared Diamond
Nine Pints
by Rose George
A Gentleman in Moscow
by Amor Towles
Presidents of War
by Michael Beschloss
The Future of Capitalism
by Paul Collier
Winter 2018
Educated
by Tara Westover
Army of None
by Paul Scharre
Bad Blood
by John Carreyrou
21 Lessons for the 21st Century
by Yuval Noah Harari
The Headspace Guide to Meditation and Mindfulness
by Andy Puddicombe
Summer 2018
Leonardo da Vinci
by Walter Isaacson
Everything Happens for a Reason and Other Lies I've Loved
by Kate Bowler
Lincoln in the Bardo
by George Saunders
Origin Story: A Big History of Everything
by David Christian
Factfulness
by Hans Rosling, with Ola Rosling and Anna Rosling Ronnlund
Winter 2017
The Best We Could Do
by Thi Bui
Evicted: Poverty and Profit in the American City
by Matthew Desmond
Believe Me: A Memoir of Love, Death, and Jazz Chickens
by Eddie Izzard
The Sympathizer
by Viet Thanh Nguyen
Energy and Civilization: A History
by Vaclav Smil
Summer 2017
Born a Crime
by Trevor Noah
The Heart
by Maylis de Kerangal
Hillbilly Elegy
by J.D. Vance
Homo Deus
by Yuval Noah Harari
A Full Life
by Jimmy Carter
Winter 2016
String Theory
by David Foster Wallace
Shoe Dog
by Phil Knight
The Gene
by Siddhartha Mukherjee
The Myth of the Strong Leader
by Archie Brown
The Grid
by Gretchen Bakke
Summer 2016
Seveneves
by Neal Stephenson
How Not to be Wrong
by Jordan Ellenberg.
The Vital Question
by Nick Lane
The Power to Compete
by Ryoichi Mikitani and Hiroshi Mikitani
Sapiens
by Noah Yuval Harari
Winter 2015
The Road to Character
by David Brooks
Thing Explainer: Complicated Stuff in Simple Words
by Randall Munroe
Being Nixon: A Man Divided
by Evan Thomas
Sustainable Materials With Both Eyes Open
by Julian M. Allwood, Jonathan M. Cullen, et al.
Eradication: Ridding the World of Diseases Forever?
by Nancy Leys Stepan
Mindset: The New Psychology of Success
by Carol S. Dweck
Summer 2015
Hyperbole and a Half
by Allie Brosh
The Magic of Reality
by Richard Dawkins
What If?
by Randall Munroe
XKCD
by Randall Munroe
On Immunity
by Eula Biss
How to Lie With Statistics
by Darrell Huff
Should We Eat Meat?
by Vaclav Smil
Winter 2014*
Capital in the Twenty-First Century
by Thomas Piketty
How Asia Works
by Joe Studwell
The Rosie Effect
by Graeme Simsion
Making the Modern World: Materials and Dematerialization
by Vaclav Smil
Summer 2014
Business Adventures
by John Brooks.
Stress Test
by Timothy F. Geithner
The Bully Pulpit: Theodore Roosevelt, William Howard Taft, and the Golden Age of Journalism
by Doris Kearns Goodwin.
Team of Rivals
by Doris Kearns Goodwin
The Rosie Project
by Graeme Simsion
The Sixth Extinction: An Unnatural History
by Elizabeth Kolbert
Reinventing American Health Care
by Ezekiel J. Emanuel
Winter 2013
The Box
by Marc Levinson
The Most Powerful Idea in the World
by William Rosen
Harvesting the Biosphere
by Vaclav Smil
The World Until Yesterday
by Jared Diamond
Poor Numbers
by Morten Jerven
Why Does College Cost So Much?
by Robert B. Archibald and David H. Feldman
The Bet
by Paul Sabin
Summer 2013
The World Until Yesterday: What Can We Learn from Traditional Societies?
by Jared Diamond
The Box: How the Shipping Container Made the World Smaller and the World Economy Bigger
by Marc Levinson
However Long the Night: Molly Melching's Journey to Help Millions of African Women and Girls
by Aimee Molloy
How Children Succeed: Grit, Curiosity, and the Hidden Power of Character
by Paul Tough
Japan's Dietary Transition and Its Impacts (Food, Health, and the Environment)
by Vaclav Smil and Kazuhiko Kobayashi
Made in the USA: The Rise and Retreat of American Manufacturing
by Vaclav Smil
Whistling Vivaldi: How Stereotypes Affect Us and What We Can Do (Issues of Our Time)
by Claude Steele
Patriot and Assassin
by Robert Cook
Winter 2012*
Moonwalking with Einstein
by Joshua Foer
One Billion Hungry: Can We Feed the World?
by Gordon Conway
A World-Class Education
by Vivien Stewart
Academically Adrift
by Richard Arum & Josipa Roksa
This Time is Different: Eight Centuries of Financial Folly
by Carmen Reinhart & Kenneth Rogoff
The City that Became Safe: New York's Lessons for Urban Crime and Its Control
by Franklin Zimring
Summer 2012
The Better Angels of our Nature
by Steven Pinker
The Quest
by Daniel Yergin
Deng Xiaoping and the Transformation of China
by Ezra Vogel
The Cost of Hope
by Amanda Bennett
Behind the Beautiful Forevers
by Katherine Boo
Limits to Growth: The 30-Year Update
by Donella Meadows
Abundance: The Future is Better Than You Think
by Peter Diamandis and Steven Kotler
Thinking, Fast and Slow
by Daniel Kahneman
The Man Who Stayed Behind
by Amanda Bennett