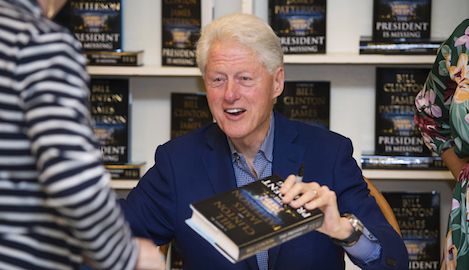 Bill Clinton's Debut Novel Is A Million Seller: Critical Linking, August 10, 2018
Sponsored by The Last Hours by by Minette Walter.
---
Bill Clinton is a now a million-selling novelist.
"The President is Missing," a thriller co-written with James Patterson, has more than 1 million combined hardcover, e-book and audio sales in North America alone since coming out June 4.
Wow.
____________________
While an engrossing fiction read should never be underestimated, we love the sense of purpose and fulfillment we get from exploring the self-help section, especially the books on happiness. With that, we scoured Amazon's best-sellers page in search of the all-time best books on the topic, compiling the below list of the top 10 best happiness reads according to the e-commerce site. Ranging from minimalism and positivity to personality psychology and the Dalai Lama, there's something for everyone. Read each book summary below, as quoted on Amazon.
Have you read any of these?
____________________
Brie Larson is looking to reteam with "Short Term 12" director Destin Cretton on her next project.
The Oscar winner is in final negotiations to join Cretton's next pic, "Just Mercy," alongside Michael B. Jordan.
Based on the book "Just Mercy: A Story of Justice and Redemption," the film adaptation tells the true story of Bryan Stevenson (Jordan), a gifted young lawyer fighting for equal justice in a flawed legal system.
Nice!