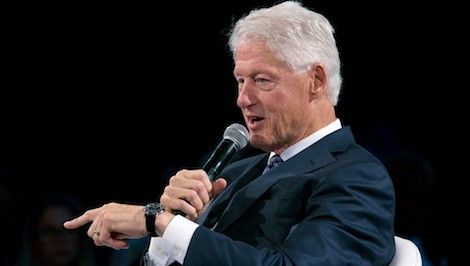 Critical Linking
Bill Clinton Is Writing A Book About His Post-Presidential Years: Critical Linking, January 25, 2019
Sponsored by Flatiron Books, publishers of As Long As We Both Shall Live by JoAnn Chaney.

---
Former President Bill Clinton is writing a new book about his post-presidential life, according to people familiar with the project, which was also confirmed by his spokesman.
____________________
Typos and other errors have always managed to find their way into print, even in the most august of publications. Take, for example, the case of the Wicked Bible, which accidentally omitted the not in "Thou shall not commit adultery" in 1631. But the dawn of word processing and its attendant spell check programs introduced a new kind of error, now sometimes known as a Cupertino. It's a sort of older cousin of the "Damn You, Autocorrect" error that infects even professionally edited text. It was named by workers for the European Union who noticed that the word cooperation often showed up in finished documents as Cupertino, the name of a city in California. Ben Zimmer tracked Cupertinos on Language Logfor years. Here are some good ones.
1. There's a word for "damn you, autocorrect." 2. It's always plagued us.
____________________
The book box, the first of its kind to enter the libraries' collection of medieval manuscripts, is made of wood covered with leather, with a metal lock and fittings as well as leather straps threaded on to the sides for carrying. Inside the lid, a woodcut of "God the Father in Majesty" is attached, derived from a liturgical book printed in Paris in 1491 and pointing to the coffer's place and date of origin. The Bodleian said the print would have been intended to provide "spiritual protection to whatever mixture of books, money, documents, and even medicines the coffer may at different times have contained".
People of history were just like us.