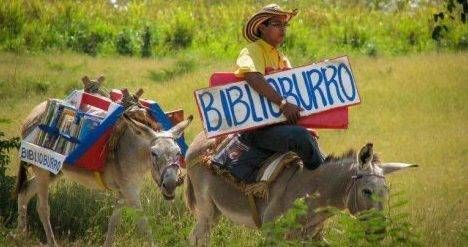 News
Biblioburro Librarian Needs a New Leg
This content contains affiliate links. When you buy through these links, we may earn an affiliate commission.
Surely you've heard of the Biblioburro. It's been the subject of a PBS POV film. It inspired a popular children's book, Waiting for the Biblioburro. And I've written about it here on Book Riot, in a post about finding libraries in unexpected places.
But just in case it's new to you, here's some background: the Biblioburro is a mobile library that brings books to children in remote rural areas of Colombia using two donkeys . It's amazing work, charmingly accomplished (come on: it's basically a donkey-based bookmobile!).
But where the emphasis is often put on the donkeys, the library is actually made possible by a person: former grade-school teacher Luis Soriano, who has been committed to this amazing work for years.
So children in the Magdalena Province depend on the Biblioburro for books, and the Biblioburro depends on Soriano. And now Soriano is depending on the Internet to make all of that possible.
That's because Soriano needs a new prosthetic leg, and some of his supporters have started a GoFundMe campaign to help make that happen. From the campaign page:
Dear friends of the Biblioburro,
as you may or may not know, Luis Soriano suffered an injury a few years ago that resulted in an amputated leg. He has had a prosthesis but is in need of a new one and needs your help.
Since his accident, he has continued, as he always has, bringing books and joy to the kids of rural Colombia and inspiring countless others around the world.
This new prosthesis will enable him to continue doing his work and fulfill the Biblioburro's mission.
Or, as Soriano himself put it on the Biblioburro's Facebook page: