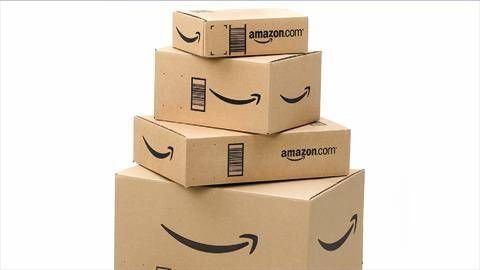 News
Beware the Changed Amazon Buy Box: When "New" Books Aren't New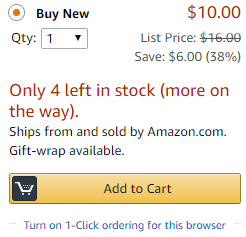 The Amazon buy box: it's that unassuming button with the shopping cart on it. There are a lot of sellers for any given item on Amazon, but only gets this coveted real estate that comes with being the default seller. If you're like most Amazon customers, you likely click on this button without checking out those other sellers and don't think much about it. If you're a seller on Amazon, though, this little button can mean a lot.
Third party sellers have been competing for the Amazon buy box for a while now, but until recently, new books have been exempt from this. Instead, publishers directly providing Amazon with new copies have always gotten the buy box, and with that, the assurance that these new copies being sold are giving the publisher and author a cut.
This exemption has seemed to run out. Publishers and authors have been surprised to find lately that Amazon has changed its policy, and now third party sellers can compete for the buy box. Supposedly, this is just for new books, but here's a little insider tip on books being sold on the internet: there's a huge difference between "new condition" books (which are allowed to compete for the Amazon buy box) and actually new books.
New books have to be purchased directly from the publisher or distributor. The publisher takes a cut, the author takes a (small) cut, and then the seller gets some profit. The problem is that anyone can sell a book online and say it's new. It may be an unmarked review copy. It might be a remainder (a title the publisher sold off in bulk for cheap, with the agreement that it couldn't be sold as brand new). It might even just be a used book that doesn't look read.
For the customer, there's not a big difference between these. The small print underneath third party buy boxes that reads "Ships from and sold by ___" is easy to miss, and if you don't know the minutiae of book selling, it doesn't seem to mean anything. Why not get the cheapest new copy?
The problem, of course, is that it might not be new at all, and even with the book in hand, there's no way to tell for sure.
So if you are someone who buys books online and wants to support the author and publisher, beware of these selling situations. In fact, beware of any book that claims to be new, but is selling for more than 50% off. Some things really are too good to be true.
This is worrying, because the buy box drives a huge amount of Amazon's sales. Amazon doesn't release that data, but it's estimated to be around 70% of sales. Previous to this policy change, those new book sales that took place through the buy button were funding the publishing industry and authors. They were participating in the ecosystem of reading and writing.
Now, those sales may be lost. As consumers, it means, of course, that our favorite authors and publishers might take a hit and not be able to produce as many amazing books. But it also means much more chance that the "new" book you ordered may not be what you were expecting. If you regularly order online, you've likely received books that look very different from what you thought you were buying: different editions, ARCs, worse condition copies. You might even use the buy box because it's direct from Amazon and the publisher, and therefore more reliable. You don't get that certainty from third party sellers, unless you are already familiar with the company. If you do want to buy directly from the publisher now, you have to check for that fine print under the buy button, and then search under other sellers if the publisher didn't get the buy button. Unfortunately, most people aren't going to know to do that, even if they did want to support the publisher and author.
(One more tip: if you order a new book–not "like new," but new–from Amazon and receive an ARC or a book with a black mark on an edge of the papers, make sure to demand a refund, because it's against Amazon's policies, and because you didn't actually receive a new book.)
Let me know what you think of this change! Are you as outraged as the Authors' Guild and small publishers?
EDITED TO ADD: An Amazon spokesperson contacted me to share this statement:
"We have listed and sold books, both new and used, from third party sellers for many years. The recent changes allow sellers of new books to be the "featured offer" on a book's detail page, which means that our bookstore now works like the rest of Amazon, where third party sellers compete with Amazon for the sale of new items. Only offers for new books are eligible to be featured."
When I asked how they plan on determining that third party sellers are being supplied directly from publishers, I was told "We use a variety of methods to review sellers and individual offers depending on the situation and this can include asking for invoices, identity documentation and other information."
Personally, I find that statement vague and not particularly reassuring, but there it is.