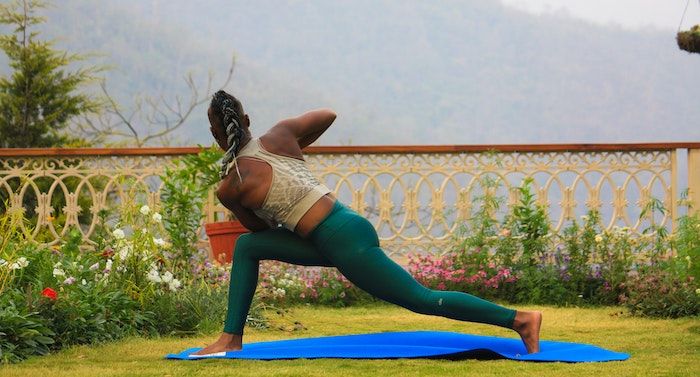 Nonfiction
Asana and Beyond: 16 of the Best Yoga Books for Beginners
This content contains affiliate links. When you buy through these links, we may earn an affiliate commission.
I make no exaggeration when I say yoga changed my life. I went into the practice hoping for tools to manage my mental health—which required me getting my anxiety under enough control to step into a studio in the first place—and I walked away with so much more. Yoga isn't just a physical practice, and it was coming to understand that which helped me see how yoga is a whole-life immersive experience. It's a way of seeing the world, of navigating the world, and of understanding the impact you as an individual have in the greater experience of this thing called life. This can start to sound a little overwhelming, but I assure you that there are so many great yoga books for beginners that finding your perfect experience of yoga is at the tips of your fingers.
My journey into yoga did not begin with books but with videos, and specifically Jillian Michaels Power Yoga. It was a fine place to begin the physical practice, but it did not give me the tools I needed to understand the greater context of yoga.
The best yoga books for beginners, unlike that video or the myriad other videos out there—some of which are outstanding!—root the practice in its historical context. These books not only give insight into how to do asana (the poses) but they highlight yoga's 3000+ year history. The poses themselves are only about 100 years old, but the philosophies and non-physical practices are so much older.
If yoga in your mind is making shapes, it's understandable, given how it's packaged and sold in (white western) media. But that's not yoga. That's making shapes with your body.
Yoga is an eight-fold path of practice, with those shapes and poses constituting just one of them.
Dig into these great yoga books for beginners and you'll see just how much there is to learn, just how incredible the practice is, and how you can be a devoted yoga practitioner, even if you never stand on your head, do a backbend, or have a practice worthy off Instagram likes. Yoga is for everybody and it is for every body. What you see on social media is not what you see in the greater practice.
It's worth noting that there are many types of yoga. Yoga is a lineage-based practice, and while the foundations remain the same—the eight-fold path—the language, the asana, and some of the modern beliefs behind the practice may differ. My background is in the Iyengar, Baptiste, yin, and super classical tradition (for non-beginners, my training involved Classic Sun Salutations, rarely seen in modern yoga classes). But there are other traditions worth exploring, too, even if they're not included here.
Something else to keep in mind: if you're a beginner, do not be intimidated by the poses you'll see in these texts—or anywhere, for that matter. Yoga poses were created with the 12-year-old male gymnast in mind, and since most of us do not have that body or build, modifications are reality. You are not weak or "bad at yoga" if you choose to use props, to make modifications that help your body find ease in a pose (see my writing on yoga modifications for fat bodies!), utilize a chair for asana, or you choose not to try poses that you suspect won't feel good in your body for any reason. What makes yoga a beautiful practice is how much you can customize it. The poses in these books are templates, and I encourage you to spend time seeking out ways to make them more accessible.
Also? You don't need anything fancy to do the physical practice. Use a towel or blanket for a mat. Grab books for blocks. A tie or jump rope for a strap. If you want to invest in special equipment, do so. But do not let the consumerist modern yoga be what keeps you from taking part in a practice with no roots to modern consumption.
One of the master teachers I've had the honor of learning from points out that Westerners are addicted to knowing the science behind everything, and while there's certainly science to back up yoga's power on the body and mind and that's addressed in some of these books, I'm not including books that focus entirely on that. A practice isn't dictated by the why of the benefit alone. It's defined by what it is you put into it.
The Best Yoga Books for Beginners
Any yoga book can be a yoga book for beginners, but these are meant to give you a foundation from which to build. It's important to remember your own gut feelings will tell you whether or not the book is for you. Yoga IS for everybody, but the books published don't always allow that to be made obvious.
Best Classic Yoga Books for Beginners
Best Modern Yoga Books for Beginners
Yoga's eight-fold path is laid out in the Sutras, and thanks to that, there are many translations and interpretations of the Sutras, as well as many guides to living and understanding them—some of which are included in the modern texts below.
Best Physical/Asana Yoga Books for Beginners
---
Here's wishing you an incredible start to your yoga journey.
If, along your path, you find yourself eager for every more, yoga's sister science of Ayurveda can be a game-changer, too. This is the practice of eating for your type, practices for your type, and so much more—it's not a diet, it's not a prescription, nor is it meant to do more than help you fuel your individual body in the best possible ways mind, body, and spirit. Dig into some excellent books about Ayurveda here.