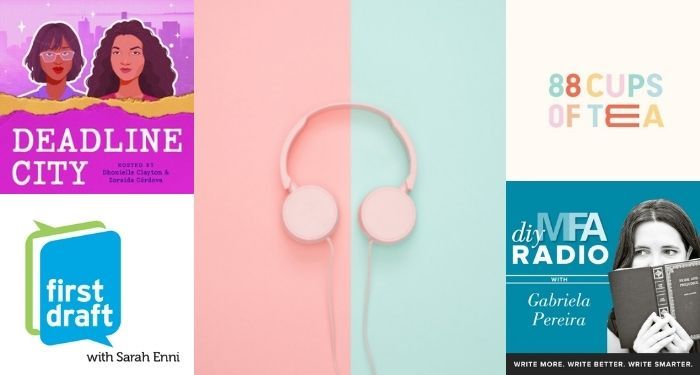 Lists
The 10 Best Writing Podcasts for Storytellers and Aspiring Authors
This content contains affiliate links. When you buy through these links, we may earn an affiliate commission.
Ready for a list of the ten best writing podcasts? Writing is often such a solitary endeavor. It's you and the blank page or the white screen and…nobody else. This feels especially true when you're unpublished (me raising my own hand and waving it around wildly). Writing podcasts offer so many helpful tips, bits of important information, and insight into both writing and publishing as professions.
They can also make you feel less alone on your writing journey.
After I graduated from my MFA program, I turned to podcasts to stay connected to the writing community. I've learned so many things from listening to these hosts and their many, many guests. From what a revise and resubmit means to advice about how to get unstuck when writer's block hits. And really, the most important thing I've learned is that there is no one way to be a writer. Literally everyone's pathway through the writing life has looked different. Through queries, rejections from editors, and countless new drafts, I've returned to podcasts when I feel alone or unmotivated. They've also inspired me when my writing is going well.
From interview shows to read-alongs to publishing advice, there is a best writing podcast that fits every stage of the writing process. Get creative! Feel inspired! And start listening to the writing podcast of your choice!
---
I predict you will find a new favorite among this list of the best podcasts for writers. But if you are looking for more, I suggest perusing this list of bookish podcasts for more literary listening fun!