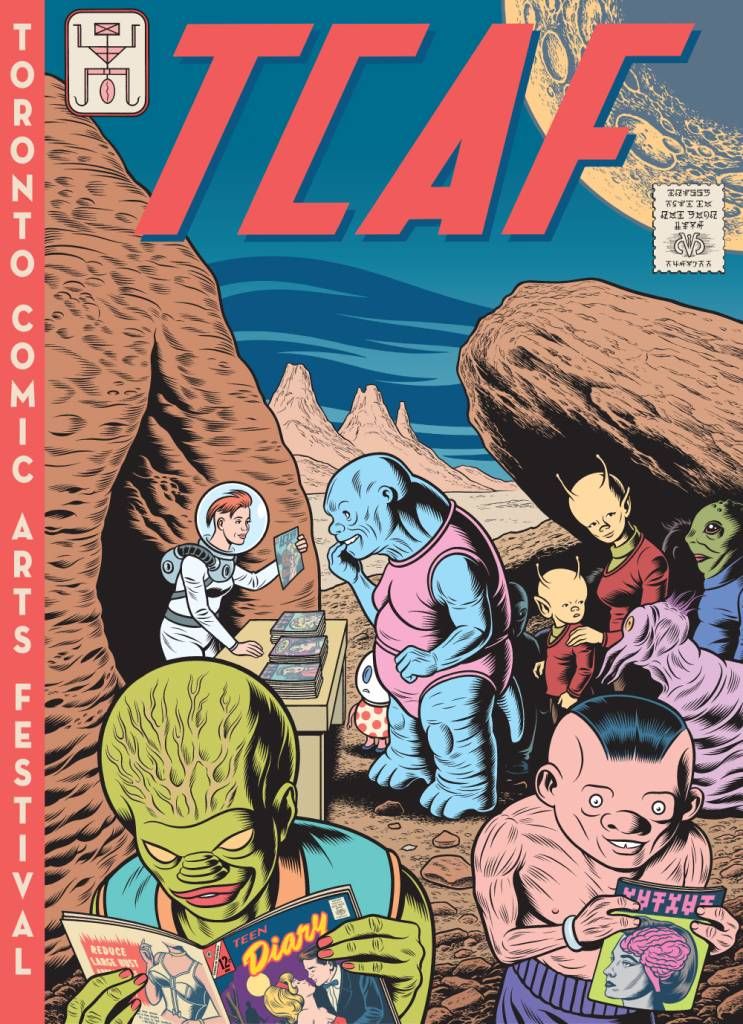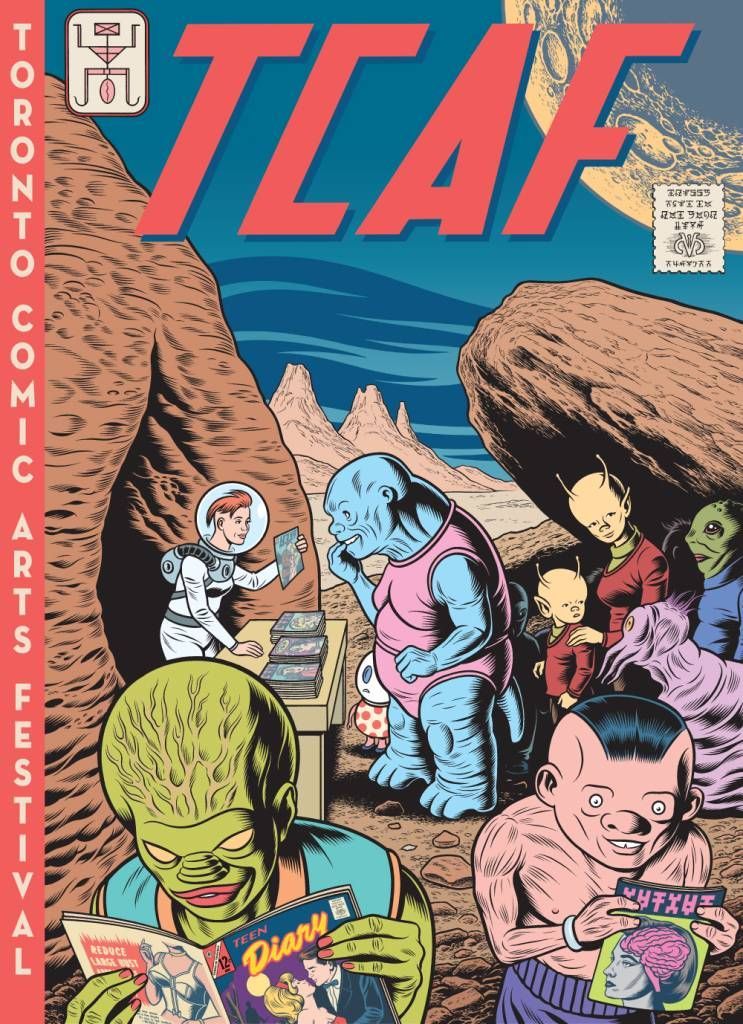 The next Toronto Comic Arts Festival is taking place at the Reference Library in Toronto on May 9 and 10. It is my favorite show of the year and it is free to attend.
First, book nerds of any type can especially appreciate that the show takes place in a library. This is a literary event- you won't see people running around dressed up as comic book characters (aside from a few excited youngsters). TCAF is so beloved that many comic pros attend for fun even when they do not have a table. Yes, for fun. Running into Jamie McKelvie, Bryan Lee O'Malley, or Kate Beaton when they are nowhere on the program is not unusual. It has a lot to do with the organisers: Chris Butcher, the Beguiling's team, and the volunteers are doing an incredible job to keep this a happy place for all. An entire section of the program is dedicated to kids and this year will include people like Raina Telgemeier (Smile, Drama, and Sisters) and J. Torres (Alison Dare, Bigfoot Boy).
Given my specific background this is the show for me. It has everything I like in comics. I am French and grew up on European bandes dessinees. I love Japanese manga and have been reading "American" comics for about a decade. TCAF is, to my knowledge, the only show that takes all of these genres and lets them cohabitate and interact while retaining a "small press" event size. Beyond actual representation of these three families of comics, there is no merchandise booth. Everybody who is behind a table (guests, exhibitors, publishers) are there to sell books.
While TCAF does make a priority of representing indie comics (don't ask me for a precise definition of indie, I am still not clear on that), it is not only a small press show. You will find some of the legends who work for the big two and beyond. Past guests include Darwyn Cooke, Ed Brubaker and Sean Philipps, Art Spiegelman, and Jeff Smith.
Webcomics are also well represented. This year, Peter Chiykowski (Rock Paper Cynic), Noelle Stevenson (Nimona), Kate Leth (Kate or Die), Joey Comeau (A Softer World), Jess Fink (Chester 5000), and Jeph Jacques (Questionable Content) are all attending.
Over the past few years, my personal TCAF haul includes: Essex County sketched and signed by Jeff Lemire, some Dinosaur Comics signed by Ryan North, a copy of Weapons of Mass Diplomacy signed and sketched by Christophe Blain (someone I could have never hoped to get close to back in France), a copy of How I Killed Adolf Hitler signed by Jason, a Winter Soldier signed by Brubaker, and volumes 1 and 2 of Scott Pilgrim signed by Bryan Lee O'Malley. In short, some of my most cherished comic possessions come from attending TCAF. But I have also discovered so many writers and artists. Over the past four years I met Natalie Nourigat, Brittney Sabo, and Emily Horne and now follow their work.
But what about this year's edition? Here is my extremely subjective list of must-sees: (You can find all the necessary detail here)
Pénélope Bagieu. I really enjoyed her book Exquisite Corpse (Cadavre exquis) and here is someone I can brag about meeting to my mom. My dear mother does not read comics, but she never misses Pénélope's Joséphine in the supplement of our local Sunday newspaper. Joséphine has also been published in collected volumes and was adapted for the big screen in 2013.
Scott McCloud. I still haven't read The Sculptor, mainly because I want to get the book at TCAF. No doubt that McCloud should also be included in a few interesting panels over the course of the weekend. And I am very eager to see him speak.
Lorenzo Mattotti. Among the European stars of this year, Mattotti is coming to promote his book in collaboration with Neil Gaiman, Hansel and Gretel. An exhibit of his original art, Hansel & Gretel: An Exhibit by Lorenzo Mattotti, co-presented by the Istituto Italiano di Cultura is being kicked off concurrently with the festival.
Charles Burns. Where to start with this eminent cartoonist? Do I really need to say more than Black Hole?
Chip Zdarsky. It is not surprising to find the Toronto based cartoonist among the attendees of this year's festival. Chip's personality is bigger than life. If you like any of this work, do not miss the chance to get a book signed or get a sketch, I can almost guarantee you will end up with a story worth telling to your friends.
There is also a very impressive list of books debuting at TCAF. Here are a few examples of some I am really excited about.
Brok Windsor by John Stables & Ed. Hope Nicholson
I know nothing about a Brok Windsor, but the fact that Hope Nicholson is reprinting a Canadian comic lost since 1946 is enough to get me excited. The work Nicholson is doing to resurrect these forgotten comics (e.g. Nelvana of the Northern Lights) never ceases to amaze me. Add to the mix a doctor crashing his canoe on the shores of a magical island that is slowly turning him into a giant and who will die without a cure and I am more than in!
This anthology collects seven stories by Sarah McIntyre, Joe Decie, Kristyna Baczynski, Fumio Obata, Jack Teagle, Warwick Johnson-Cadwell, and Dan Berry. What's so different about this book? All these stories were created during a 24 hour comic marathon at the Lake District National Park in England. As a big fan of books written with constraints (self-imposed or otherwise), I am looking forward to reading this.
For as Long as It Rains by Zviane
A man and a woman, in a foreign country. It is pouring rain. Unable to go outside, isolated in a cabin, they start living in a bubble where time has stopped. I like the concept of the book and for some reason I am drawn in by the cover. Sounds good enough to invest my dollars!
And if you are stopping by this year, try and find me! I will be wearing a PANELS tee shirt.
____________________
Follow us on Twitter for more comics goodness!