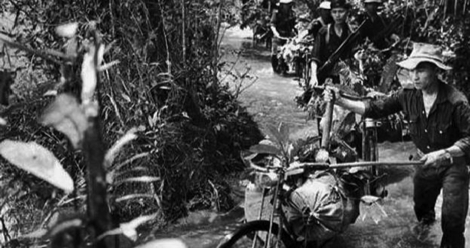 Lists
Ready To Read The Most Celebrated and Best Vietnam War Books?
This content contains affiliate links. When you buy through these links, we may earn an affiliate commission.
There was a time when all I knew of Vietnam war books was Tim O'Brien's, The Things They Carried, a book that prompted the laconic entry in my book journal, "This book destroyed me."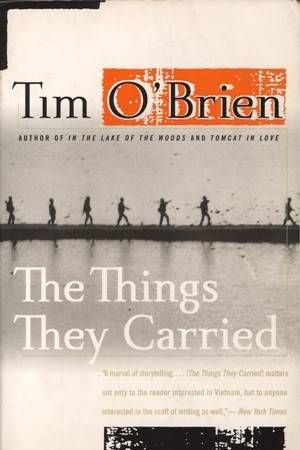 One of the things I loved so much—and that broke my heart so cleanly—about The Things They Carried was that it reminded me of another beloved war book, Slaughterhouse-Five, in that both books are written by authors who couldn't seem to face straight-on the wars in which they'd fought. Instead, they look at them sideways and upside down, they take bits and pieces and view their lives in war as tiny snapshots jumbled in a box, completely out of order.
It strikes me that this is the way our memories work. When I think back to reading either book for the first time, and other Vietnam war books, the memories that come to me are of the owl coffee mug I broke when reading The Things They Carried, or the stain in my thrift-shopped copy of Slaughterhouse-Five that surely represented blood, which seemed so appropriate.
While O'Brien's book made me feel that I was being given a glimpse into what it must have felt like to be in his shoes, eventually I wanted to know more about one of the most contentious wars the United States has been involved in, a war in which we sent young men to die against their will, a war in which our country did a less than admirable job understanding the peoples they were fighting against and alongside, and a war in which more than one million people died.
So here they are, stories of a country that most Americans don't know much about at all, stories of the Vietnam War as told by Americans and by Vietnamese. There are fictional and non-fictional Vietnam war books, some of which are written for adults and some of which are written for children. All of them are worthy of appearing on this list.
Vietnam War Books: Fiction
Winner of the 2016 Pulitzer Prize for Fiction, this debut novel could fit into half a dozen genres of Vietnam war books from war narrative to immigrant story, from mystery to political, from metafiction to historical and even dark comedy. The story follows an anonymous North Vietnamese narrator who's acting as a mole in the South Vietnamese army and is sent to an exile community in the U.S., where he stays embedded in the South Vietnamese community.
This fictional account of Kien, an infantryman for North Vietnam, follows his transformation into a writer, his struggles to overcome his memories of combat, and the terrible mess his life has become as a result.
One of the first fictional Vietnam war books, and often touted as one of the best Vietnam novels, it's a face-paced wonder that follows draftee Philip Dosier as he is drafted into the war, completes a of tour of duty, and comes home. This autobiographical novel features rich characters when stock, cliché characters could have easily been used.
This piece of short fiction is written almost entirely in dialogues and monologues between two critically wounded Marines in Vietnam. The author did serve in the Marines, though not in Vietnam, and tells a convincing tale of the conversation between the men at a veteran's hospital. Through not much more than their words and thoughts, the author creates a powerful story about the results of combat.
A review in The New York Times in 1956 claimed that Greene's novel about Vietnam had characters that stood in for nations and political factions rather than as their own people. Greene's conclusion seems to be that America was a somewhat "innocent" nation that did not understand the people it was fighting with or against. Often cited as one of the best Vietnam war books, it is also one of the most recommended in Greene's large body of work.
It's unlikely you've heard of The Short-Timers, a book that's currently out of print, but you may have heard of the movie based on it: Stanley Kubrick's Full Metal Jacket. Hasford wrote this semi-autobiographical novel about his experiences in Vietnam and intended it to be a trilogy of Vietnam war books. His death shortly after the publication of the second novel prevented these plans from coming to fruition.
Winner of the 1974 National Book Award for Fiction, Dog Soldiers is a story of the Vietnam War and of drug smuggling. Often compared to Joseph Conrad and Ernest Hemingway, and largely considered one of the best Vietnam novels, Stone focuses on two characters, one of whom is a sailor traveling home from Vietnam. The other is a war correspondent. Both suffer greatly throughout the novel.
Vietnam War Books: Nonfiction
Covering World War I, World War II, and the Vietnam War, this book does an exceptional job illuminating the psychological aspects of wartime on those who do the killing. Despite how one may feel about the war, the universal themes Bourke exposes re: the attempts of soldiers to cope with combat, are themes that many can relate to.
Not a single punch is pulled in this history of the Vietnam War, which is based on first-person interviews and classified documents. The thesis of Turse, and of his Vietnam war books, is that American acts of violence against Vietnamese civilians weren't accidental and they weren't rare—they were a systematic part of the war and soldiers were trained for and ordered to take part in hate-based slaughter.
American soldiers in Vietnam had many obstacles and Black American soldiers in Vietnam had even more. This is one of the Vietnam war books that covers the basics in great detail, like the fact that black soldiers made up nearly one-quarter of the fatalities in the first few years of the war, and the discrimination they faced in decorations, duty assignments, and promotions. This is an oral history of what it was like for a black man to serve his country in Vietnam, and his experiences coming home.
Authored by journalist Frances FitzGerald, this account of Vietnam, its history, and the effects of its war with the United States was on the bestseller list for more than ten weeks. It went on to win a number of prestigious awards, including the Pulitzer Prize for Non-Fiction, National Book Award, and the Bancroft Prize. Considered the first major book on the Vietnam War written by an American, it highlighted how little the United States knew about the country, its leaders, and its culture before invading.
The story of Hayslip, who grew up in Vietnam during the Vietnam War, is intense, intimate, and ultimately human. It's the story of Vietnam's destruction and self-destruction, as seen through the eyes of a woman who was once a girl growing up in a community and family corrupted by war, who, as a teenager, became a refugee in Saigon living among both American and South Vietnamese soldiers. This is a story of heartbreak and the search for the will to survive and is one of the most recommend Vietnam memoirs.
The famous Pentagon Papers included classified documents about U.S. policymaking from 1950 to 1968. Edited by a respected Vietnam historian, this edition includes a relatively brief and manageable taste of the most telling documents.
The story of Anna Vu, as told by her father, this biography includes the hardship and poverty of growing up in Vietnam, coupled with the girl's dreams of growing up to become a doctor. The family emigrates to the U.S. in 1975 and faces different challenges as Anna becomes the victim of unjust and unfair prejudice and stereotypes. This inspirational story is equal parts angering and enlightening.
For those looking for Vietnam war books to better understand why the United States entered the Vietnam War in the first place, there may be no better book than Halberstam's. Published in 1972, it details the way the U.S.'s foreign policy establishment worked at the time. He makes a strong case for the idea that bureaucratic considerations were more important to lawmakers than ideological or common-sense considerations.
The author spent ten years in Vietnam, starting in 1966 when he went there as a freelancer, and stayed through the fall of Saigon in 1975. This Vietnam memoir includes exciting tales, close calls, and battle memories. At its core though, it focuses on the story of the soldiers who fought and died, as well as the reporters and photographers who went with them. Hirashiki's is considered one of the great books on war journalism.
Widely considered to be not only one of the best Vietnam war books, but one of the best Vietnam memoirs from a female veteran, Van Devanter does not shy away from vivid descriptions of the wounded and dying men she encountered as a nurse at the 71st Evacuation Hospital from 1969 to 1970. The book covers her challenges both in war and in coming home, and her eventual founding of the Women Veterans Project at Vietnam Veterans of America.
Fall served on the side of the French Resistance in World War II, and later was part of the U.S. Army. Throughout the 1950s and '60s he was considered to be one of the preeminent scholars of the Indochina War that resulted in the end of Vietnam's status as a French colony. Before being killed in Vietnam in 1967, he wrote eight books that many claim are some of the best history books about the French War and the beginnings of the Vietnam War. The work also included a damning warning about what the U.S. military would face, much of which came to pass.
Picking up where Wolff's popular memoir This Boy's Life leaves off, In Pharaoh's Army begins when Wolff spent a year learning Vietnamese, learned to be paratrooper, and was eventually stationed with the South Vietnamese Army. He was with them during the Tet Offensive and this memoir includes memories of that battle and others. It went on to become one of the only Vietnam war books to be a finalist for the National Book Award in the nonfiction category.
Written by a journalist and retired general, this best-seller was released in 1992 and was adapted in the 2002 movie We Were Soldiers. The focus is on the four days and nights in November 1965 during which American soldiers were involved in what ended up being the bloodiest campaign of the entire war.
Vietnam War Books: Children's and Middle Grade
Yes, that, Suzanne Collins, author of The Hunger Games trio, has written one of the most affecting Vietnam war books. Perhaps more of a memoir than straight fiction—thought not fully on either side—the story is that of Young Suzy, whose father goes away to the Vietnam War. Told entirely from Suzy's perspective, it deals with confusion, anxiety, fear, and growing understanding as Suzy gets older. Suzy's father does make it home but he is changed.
Beautiful, lyrical, and impactful, this novel follows Mai, a girl raised in California who can't understand why she's being sent off to spend her summer with her grandmother in Vietnam. Upon her arrival, Mai is disappointed in the lack of WiFi, can't handle the heat, and is put off by the crowds. The longer she's there, the more she begins to understand what her family went through during the war.
This unique choose-your-own-adventure style story begins in the 1960s. Will you enlist in the Marines and go to war or will you protest it? If you're a young Vietnamese man, which do you choose—North or South Vietnam? Each choice is based on real decisions people had to make and the results are just as serious: Jail, the jungle, or death.
The Wall by Eve Bunting; Illustrated by Ronald Himler
Eve Bunting's book does not attempt to explain the war but rather focuses on the loss to our country. Filled with sympathy for those who served, the story follows a young boy and his father visiting the Vietnam Veterans Memorial in Washington to look for the grandfather's name. It is one of the most highly praised of all Vietnam war books for children.
Winner of the Women's International League for Peace & Freedom Award, and chosen as a National Council for Social Studies Notable Book in 2003, this story/poem tells the tale of a young solider in Vietnam. He is scared, exhausted, and misses home. This emotionally charged tale has universal themes that are likely to translate for most kids.
Kia, a 12-year-old whose village has been destroyed by the North Vietnamese, is grieving the disappearance of her father while she and the rest of her family are fleeing to a refuge. Part of the family eventually immigrates to American, but Kia struggles with the new language and culture, and the splitting up of her family.
An excellent example of the reality that not all Vietnam war books must be depressing, this uplifting story follows an army canine unit dog that goes by the name of Cracker. He spends his days with his handler Rick, looking for booby traps; the story is told from first Cracker's and then Rick's viewpoints. The action is fast-paced and this book is a good option to get kids interested in history.
What do you think are the best Vietnam war books?