Lists
15 Of The Best Vegetarian Cookbooks, Tried and Tested by a Vegetarian
This content contains affiliate links. When you buy through these links, we may earn an affiliate commission.
When I was 10 years old, I told my parents I wanted to be a vegetarian. They responded by telling me that was all well and good, but I had to learn how to cook healthy meat-free meals for myself. And so my search for the best vegetarian recipes began in earnest at a very young age. After years at the vegetarian cooking game, I can confidently recommend these vegetarian cookbooks.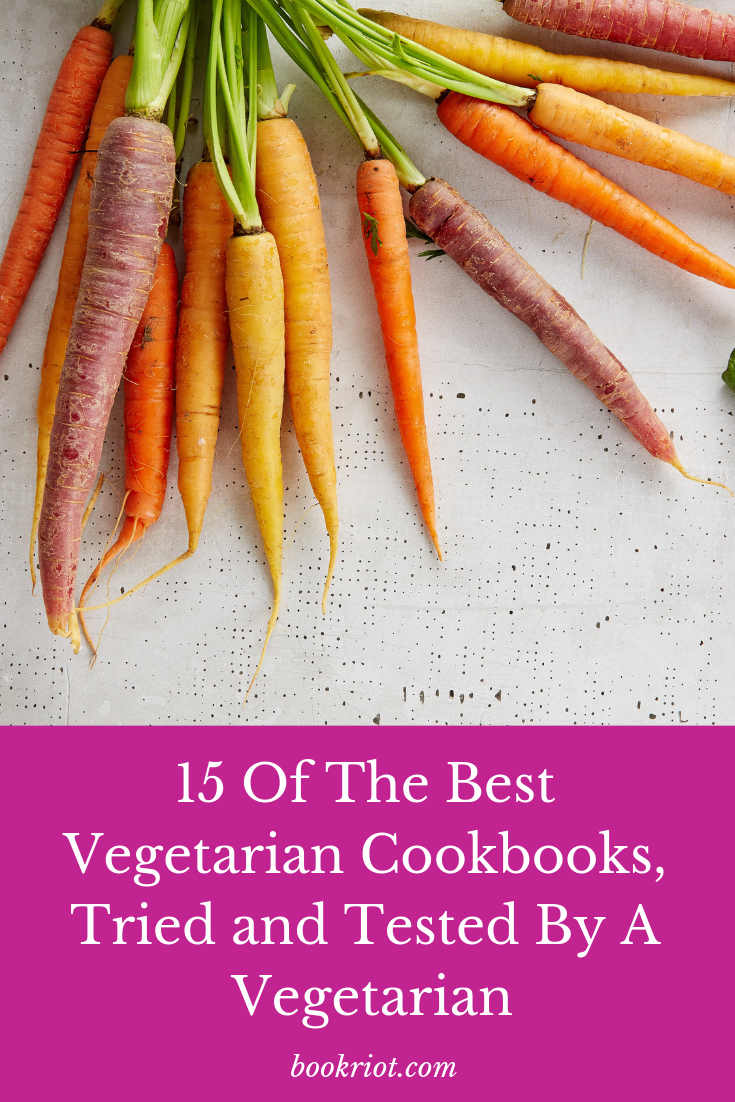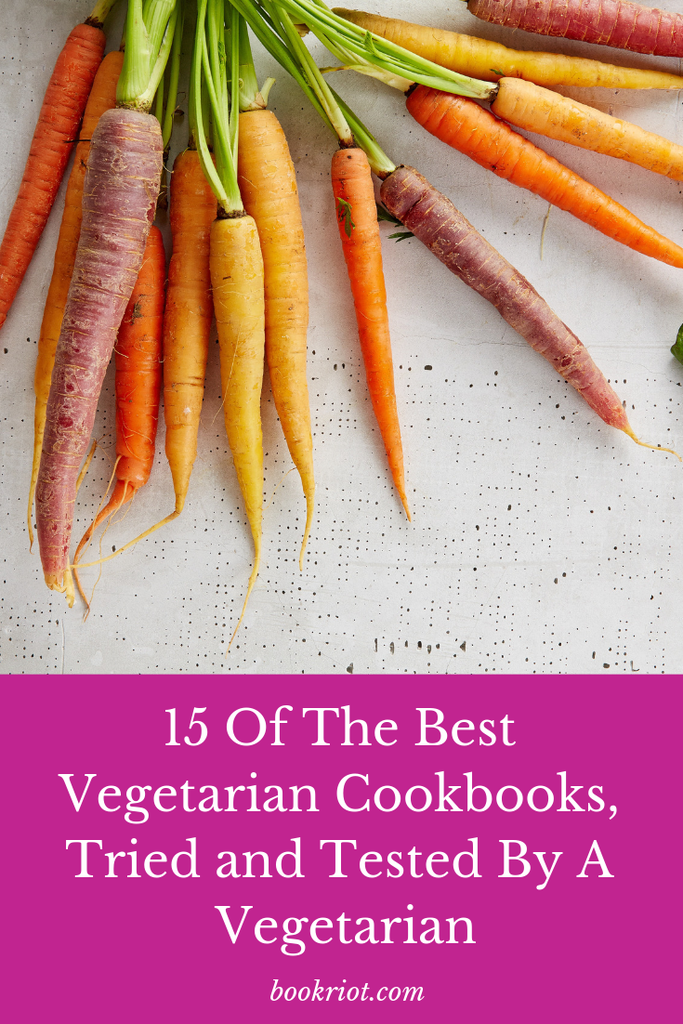 Plenty More is the follow up to London celebrity chef Yottam Ottolenghi's first vegetarian cookbook Plenty, and it features over 150 new recipes organized by cooking method. Ottolenghi is often praised for his originality and his unique mixture of flavors, and this cookbook features plenty (pun intended) of both. This book promises to change the way you cook and eat vegetables.
Blogger Kathryne Taylor of Cookie + Kate offers over 100 healthy recipes in this, her first cookbook. In addition to providing recipes for delicious and wholesome vegetarian meals, Taylor offers easy substitutions to make all of her meals special diet-friendly. So if you're looking for gluten-free, dairy-free, and egg-free options, this cookbook has you covered! The recipes are all extremely easy to follow as well.
You might recognize Richa Hingle from her blog Vegan Richa, where she posts recipes and photographs of her delicious vegan meals. Hingle's love for food and crafting recipes is clear on her blog, and that has translated well into her two cookbooks. Her first was Vegan Richa's Indian Kitchen, and in this, her follow-up, Hingle branches out to include meals from across the globe: Thai, Ethiopian, Pizza, Burgers, Casseroles. They're all here, and more.
Veganomicon by Chandra Moskowitz and Terry Hope Romero
This monster of a vegan cookbook has so many recipes in it that I swear I find a new one every time I open it up. What's more, Moskowitz and Romero recently released a 10th anniversary version with 25 additional recipes, meaning this book now has a total of 250 delicious vegan recipes. I wouldn't call the majority of these recipes quick or easy, but they're definitely manageable and have always been tasty.
I don't know why, but something about eating food out of a bowl makes it taste so much better. This is why Lukas Volger's vegetarian cookbook Bowl appeals to me. Volger includes recipes for one-bowl meals from various cultures, starting with the Japanese ramen bowl and branching out all the way to burrito bowls. If it's delicious and it fits in a bowl, it fits in this cookbook. In addition, Volger includes many tips and techniques for broth, handmade noodles, garnishes, sauces, and much more. So when you start feeling really bold, you can begin work on your own bowl creations.
I really, really love Indian food, and Mira Manek's vegetarian Indian cookbook is one of my absolute favorites. This vegetarian cookbook is full of delicious recipes that are easy to follow. What's more, Manek focuses on a healthier, lighter take on traditional Indian cuisine without sacrificing flavor.
South Korean native Shin Kim offers up 30 delicious Korean recipes in this vegetarian cookbook. More importantly, in this quick and easy cookbook, Kim provides her culinary expertise from years of experience in Seoul and New York City. With Kim's instructions, readers will learn to mix and match different seasonings and ingredients to create their own Korean dishes.
With its creamy sauces and decadent desserts, Italian food doesn't have much of a reputation for being vegan-friendly. But popular vegan chef and winner of the Food Network's Cupcake Wars Chloe Coscarelli says it's time to rethink Italian food with a vegan twist. In this cookbook, Coscarelli rethinks traditional Italian fare, making everything healthy, totally vegan, and even more delicious than the originals. And if you need gluten free options, she has you covered there too.
If you're looking for the mother of all quick, easy, healthy vegetarian cookbooks, you have found the one! All of the recipes included in this book are accessible for cooking newbies and are perfect for weekday nights when you need to throw a meal together in a hurry. Even better, Frenkiel and Vindhal offer a few recipe short cuts for nights when you're really low on time.
If you're new to veganism or just want to dabble a little bit before fully committing, Why Vegan is the New Black is the perfect introductory vegan cookbook to try out. Deborrah Cooper features simple, classic American and soul food recipes that the entire family will enjoy, whether they're vegan or not.
Sonja and Alex Overhiser are the husband-and-wife blogging and podcasting power couple behind A Couple Cooks. And now, they've put all of their vibrant personality and joy for cooking delicious vegetarian meals into this cookbook. The focus here is just what the title says it is: pretty simple cooking. Recipes are arranged from quickest to most time-consuming, so you know exactly what you're getting into before you start.
If you've never heard of an Ayurvedic diet before, it's an eating plan that emphasizes mindful eating and whole unprocessed foods. Even if you're not fully committed to an Ayurvedic diet, the healthful practices involved in such a diet translate to a thoughtful and healthy vegetarian cookbook with recipes that are accessible, easy to follow, and, most importantly, delicious.
These last few books are from some of my favorite vegetarian restaurants, starting with Cafe Sunflower in Atlanta, Georgia. Let's just say I fed some of this food to my angry anti-vegetarian grandfather, and he loved everything (I never told him there wasn't meat in any of it). Lin Sun's recipes are diverse and delicious, and this book is a real treat. The recipes are easy to follow too!
Hands down, The Grit Cookbook is my most-used, most-loved, most-favorite vegetarian cookbook in all the land. And The Grit in Athens, Georgia, is one of my favorite places in all the world. At this point, my copy of this book is pretty much covered in vegan yeast gravy, and I should probably invest in a new one soon. Many of the recipes in this book have become staples at my family gatherings, which is good because all of these recipes make A TON of food. Like, invite a bunch of people over to help you eat this stuff or expect leftovers for days. If you're looking for delicious vegetarian (and sometimes vegan) comfort food recipes that will make your tummy extremely happy, get this book.
Dirt Candy in New York City is truly a unique dining experience, and fittingly, this book is a unique vegetarian cookbook experience. I mean, why has no one else thought of a graphic novel cookbook before? My favorite thing about this cookbook, though, is that Cohen's love for vegetables really shines through. Not only does she provide delicious recipes, but she also gives a lot of background information about different styles of cooking and types of foods. The recipes are a little more complex than most of the other cookbooks on this list, but Cohen breaks everything down so that I felt confident I could do anything.
I don't know about you, but now I'm very hungry. For even more vegetarian cookbook suggestions, check out this post on Vegan Cookbooks, or this one about Vegetarian Cookbooks for Meat Eaters.