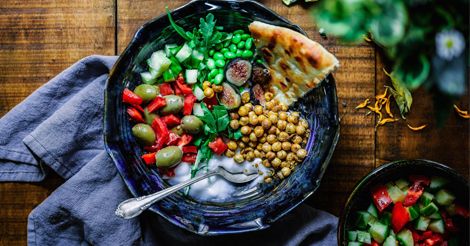 Lists
25 Vegan Cookbooks You Absolutely Need to Get On Your Shelf
This content contains affiliate links. When you buy through these links, we may earn an affiliate commission.
New year, new you! Well, if only it was that easy. That's how I feel about going vegan. It's one of those things that sounds so great, but it can be really intimidating and hard to keep up with sometimes. Thankfully, some of the best vegan cookbooks came out just last year and are helping me on my journey. Just as well, there are tons of great vegan cookbooks that will be hitting the shelves later this year too.
If you're thinking about going vegan or just want to start a meatless Monday tradition, you'll probably be in need of a good cookbook or two. There are so many out there to choose from. What works best for me might not be what's best for you. That's okay, though! Whether you're on a budget, feeding a family, or just exploring the idea of a vegan lifestyle, there's certainly a vegan cookbook out there for you.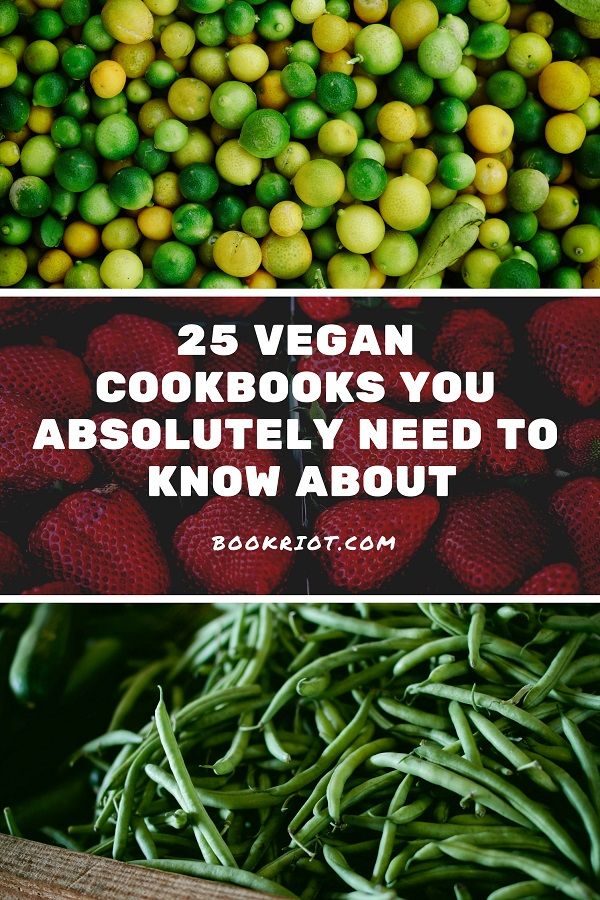 Basically the reference guide to vegan eating, this is one of the best vegan cookbooks for almost anyone. It's great for those who are already vegan, but it's also a helpful tool for those who are just starting out on their vegan journey.
This cookbook will make you forget that you are eating vegan completely. It has recipes for some of the best comfort food out there, but without the animal products, so you won't have to give up that scrumptious pile of macaroni and cheese.
For the vegan on the go, this cookbook gives you all the tools you need so you can meal prep for the week. It guides you on how to meal prep and portion control, but it also includes tons of healthy vegan recipes as well.
Slow cookers are often used for meat-focused dishes, but this is cookbook is a gamechanger. One of the best vegan cookbooks out there is all about the slow cooker. It'll help you create healthy vegan meals without making you sacrifice your time.
Sometimes the idea of going vegan or incorporating vegan meals into your lifestyle can be a little daunting. This cookbook gives people venturing into the world of vegan eating for the first time a little bit of help. There are basic recipes and tips on how to go vegan.
It's one thing to try a vegan diet, but it's another thing to commit to it. This cookbook will not only provide you with ideas for satisfying meals, but it will also guide you on how to meal-prep so you don't end up caving when you get really hungry.
Trying a vegan diet doesn't mean that you have to give up on the sweets. One of the best vegan cookbooks out there is actually a baking cookbook that provides alternative ways to bake without using animal products.
Going vegan doesn't mean you have to blow your budget every week. In fact, this cookbook has tons of recipes that are totally affordable. It's great for families who have to stick to a regular budget.
Southern food doesn't have to revolve around meat or meat products, and this cookbook proves that. With easy-to-follow recipes and a ton of flavor, this vegan cookbook is a must have for those who love southern food.
Meant for people who are pretty busy, this vegan cookbook provides you recipes to make in advance. So if you're always on the go, this will give you the tools you need to create vegan dishes to take along with you.
Cheese is one of the main reasons vegetarians don't go vegan. Here's the thing, though: vegan cheese is just as good as real cheese, especially when done right. This cookbook will show you how to make your own vegan cheeses to quench your cheese craving.
Many people turn to a vegan lifestyle so they can be healthier. This cookbook explores vegan recipes that'll give you the healthy lifestyle you want. It has easy recipes, but also has advice for those who are already vegan. It covers everything you would ever need to know about being vegan.
The world is an expensive place to live, but there are ways to be vegan while on a budget. This cookbook gives you ways to live a vegan lifestyle without having to spend tons of money to do so. It's great for young adults, families, and basically just anyone else who is on a budget.
Instant Pots have become a regularly used appliance in plenty of household kitchens. That's why this vegan cookbook is great for anyone who relies on an Instant Pot to get through the week. There's a variety of recipes that won't bore you, but will make your daily life much easier.
Eating vegan does not mean you have to give up delicious and flavorful food. This cookbook focuses on the flavors of India. The recipes are easy to follow and incredibly hearty. Plus, this book will provide recipes for just simply flavorful meals.
Some of the best vegan cookbooks out there focus on healthy lifestyle, but this cookbook doesn't care about why you are choosing to go vegan. The authors believe any reason is a great reason to go vegan. This cookbook emphases the desire for comfort food and how you can have your cravings, but stay vegan too.
Written by a chef who grew up in Atlanta, this cookbook makes sure you know you don't have to give up the good stuff if you decide to go vegan. All that soul food that you love can still be a thing for you even when you do go plant-based.
Salads tend to get a bad rap, but this vegan cookbook shows that salads can actually be great. This cookbook has tips and advice on how to make the best salad of your life, all from the mind of a seasoned vegan cookbook author.
Going vegan isn't the easiest thing for everyone. Sometimes, you need a little help. This cookbook is meant for beginners and focuses on healthy eating as a lifestyle.
One of the best vegan cookbooks out there focuses on living as a vegan. Just because you want to give up animal products doesn't mean you want to give up your favorite foods. This book was written specifically for that reason: to give vegans knowledge on how to be happy being vegan.
This cookbook gives the middle east some great representation in the vegan world. The whole point is to take traditional dishes and give it a vegan upgrade. This cookbook covers soups, breads, and preserves, plus so much more.
Cajun/creole cuisine is some of the most comforting and delicious food out there, but a lot of it revolves around animal products. This vegan cookbook makes sure to keep the deep flavors of the Mississippi Gulf Coast while excluding animal products altogether.
The author of this cookbook has devoted her life to vegan cooking and believes that this is the best time to become vegan. With more options out there, this cookbook guides you into the world of vegan cooking and eating.
If you consider yourself a foodie and want to try vegan, this is the cookbook that should draw you in. This makes the vegan experience fun and puts no pressure on you to commit. If you want to just try it for a meal or two a week, that's more than encouraged with this cookbook.
When a vegan deli is super successful, you just know that the cookbook will be just the same. If you want vegan guidance from the experts, this cookbook should absolutely be your go-to.
Know a good vegan cookbook? Share your recommendations with us in the comments!