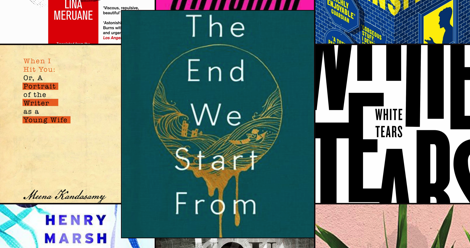 Lists
40 Excellent UK Books From 2017
This content contains affiliate links. When you buy through these links, we may earn an affiliate commission.
We're giving away a stack of our 20 favorite books of the year. Click here to enter, or just click the image below.

---
2017 brought us an embarrassment of riches with the whole year full of hotly tipped books published in the UK. I have not included Booker shortlisted novels to make space for more obscure literary gems and standout books of 2017.

Ferocity by Nicola Lagioia (Europa Editions)
Starting off with this stunning, intricately woven masterpiece because of its sheer virtuosity. In an year of exceptionally good books, this hypnotic novel takes the cake. Ferocity weaves psychological realism, noir, suspense and domestic drama in a meaty, multifaceted work of fiction. A piercingly observed family saga, a chilling mystery surrounding an enigmatic female lead and a shrewd depiction of modern Italy—this book exceeds at every level.
The Transition by Luke Kennard (Fourth Estate)
This inventive paranoid thriller is reminiscent of black comedies like Get Out and The Stepford Wives. Kennard deftly combines a riveting techno dystopia with an intimate portrayal of modern day relationships. It's a must read for our Generation Rent.

This effervescent tale of two high-spirited sisters in '40s Rio de Janeiro is actually an empowering portrayal of women's undeterred resilience and place in society. Martha puts on a dazzling display of bravura in this charming gem of a book.
Until I read this book,I never thought a novel about three generations of polar bears could be so affecting. This bizarre, subversive yet subtly political book is edifying in its insights on incarceration, celebrity, and exile; this is an enchanting book.
White Tears by Hari Kunzru (Hamish Hamilton)
An incisive meditation on race, privilege and music. Spanning decades, this novel brings alive the history of old-time blues and America's racial conscience.
Ties by Domenico Starnone, translated by Jhumpa Lahiri (Europa Editions)
This masterfully crafted story about fidelity, trust and relationships packs a whole lot of punch in a deceptively slim novella. Starnone is Ferrante's alleged husband and this crisp and insightful novel looks at Days of Abandonment from the husband's perspective.
This exquisite debut tantalizingly evokes the sights and sounds of Paris while also giving us an eye-opening perspective of a side of the city that is rarely explored in literature. It's a timely story about Islamophobia, fear of immigrants, and human relationships.
Film rights of this haunting debut have already been snapped up by Benedict Cumberbatch, so you might wanna read this ASAP before the movie comes out. A visceral and beautifully spare story for our times about climate change, migrant crisis, and humans' survival instinct.
A modern classic set in contemporary India but universal in its appeal. This is a succinct and darkly comic commentary on middle class anxiety, avarice, and society.
This memoir from a junior doctor will leave you in stitches (pun intended!). Hilarious, candid, and moving, this is an uncensored look at what it's like to be on NHS frontline.
This devastating debut depicts the dysfunctional relationship between a father and his sons with unsparing insight. A masterful portrayal of toxic masculinity, addiction, and parental neglect.
A stunning novella that will floor you with its intensity. This gut wrenching auto-fiction of a young doctor in South Africa shrewdly deals with grave issues like the legacy of apartheid, faith, and women's role in society.
After Do No Harm, this is yet another deeply inspiring memoir from the remarkable surgeon. He looks back upon his 40 year career as a brain surgeon and ruminates on modern medicine and the nature of life with brutal frankness and profound insight.
The Book of Luce by L R Fredericks ( Hodder & Stoughton )
This book is billed as "David Mitchell meets David Bowie" which probably best describes this bizarre work. Written as if a musician wrote his biography while on acid, this is a challenging read which will divide opinions. What is undeniable is the fact that this is a mind-bending, labyrinthine mystery spanning continents and centuries .
No Good Deed by John Niven (William Heinemann)
This high-concept mystery is about an affluent journalist whose chance encounter with his childhood friend who's also an ex-rockstar turns both of their fortunes around. With lacerating jabs at contemporary journalism and lifestyle, this is a sure shot entertainer.
Lovecraft meets David Lynch in this unnerving, incisively accurate portrayal of our times, which not so much as depicted but predicted "lone-wolf" terrorism and perils of oversharing. Freakish and incredibly prescient, this cult novel was written during the height of the 1970s Italian domestic terror but made its English debut this year.
Seeing Red by Lina Meruane (Atlantic)
Narrated with grisly imagery, this visceral blend of autobiography and fiction is about a young Chilean writer whose stroke leaves her temporary blind and increasingly dependent on those closest to her. This raw portrayal of a woman's descent into blindness and mental torment is resoundingly dynamic.
The Master Key by Masako Togawa (Pushkin Vertigo)
This wickedly clever Japanese thriller revolves around The K Apartments for Ladies, which houses more than hundred unmarried women and, unbeknownst to anyone, conceals just as many mysteries. If you like solving puzzles, this ingeniously plotted and fiendishly layered novel will keep you guessing 'til the very end.
One of the finest Victorian gothics I have read in recent years, this is an eerie story of newly widowed Elsie who arrives at her late husband's crumbling country estate, The Bridge, to see out her pregnancy. Her new home turns out to be more sinister than she previously thought, with locked rooms, creepy wooden figures, and a strange old painting. This one's a real spook-fest!
Smuggled out of North Korea, these compelling stories give us a rare peek into life in one of the most secretive countries in the world. Raw, allegorical, and heart rending, these are stories of courage and survival in a totalitarian regime.
This audacious courtroom drama is told entirely through court transcripts. An unnamed black man accused of murder sacks his lawyer and decides to give his own defence speech. We, the readers, serve as jury as he walks us through the events that led him here. A searing look at the flawed justice system and the vicious cycle of poverty.
An intelligent state of the nation novel written with wry humor and captivating charm. A wicked satire of modern Britain and family saga, The Lie of the Land is compulsively readable.
A Separation by Katie Kitamura (Clerkenwell Press)
This hypnotic mystery is about a woman on a quest to find her estranged husband, who has gone missing on a research trip to Greece. With piercing insight into relationships that reminded me of Gillian Flynn's writing, this is a scorching dissection of marital breakdown.
Madame Zero by Sarah Hall (Faber & Faber)
The inimitable Sarah Hall is back with her virtuoso collection filled with tales that are surreal, sensual, and menacing. This book plunges readers into a dark world of mystery and intrigue.
American War by Omar El Akkad (Picador)
What if America was to get a taste of its own medicine? Set in a post apocalyptic version of America plagued by a second Civil War, a devastating environmental crisis, and broken down by internal strife, this prescient novel serves as a cautionary tale. A bold, powerful, and brilliantly imaginative debut.
The Party by Elizabeth Day (Fourth Estate)
A deliciously dark and cleverly crafted tale about class anxiety, obsession, and jealousy. This riveting story is just as witty and psychologically acute as The Secret History or The Talented Mr Ripley.
This much anticipated follow up to Everything I Never Told You is even better than its predecessor. A trenchant page turner which is also an engrossing family saga, it explores how far America has come in terms of attitudes towards divisions of race and class.
Let Go my hand by Edward Docx (Picador)
From the Booker longlisted author comes another stellar work of fiction about a broken family and imperfect people. A deeply compassionate and occasionally playful look at life,death and human relationships.
An emotional gut-punching debut, this story will move, repulse, and shatter you. A formidable debut about abuse and resilience which features an unforgettable teenage heroine.
Reservoir 13 by Jon McGregor (Fourth Estate)
Jon McGregor is one of my favorite writers and his latest Booker- and Costa-nominated novel is just as resplendent as his previous works. With heartbreaking lucidity, this story observes the effect of a young girl's disappearance in a rural English village. An exquisitely written, rhythmic portrayal of rural life and loss.
Homegoing by Yaa Gyasi (Viking)
This sprawling multi-generational epic is a blistering depiction of slavery, race, and family ties in America. A commanding and strangely underrated debut!
H(A)PPY BY NICOLA BARKER (William Heinemann)
This gloriously ingenious novel from one of the trailblazer of literary sci-fi is mind-bending and subverts all conventions of dystopian literature and typography.
Partly inspired by her own experiences, Meena's provocative novel is a courageous feat. A hard-hitting look at domestic abuse, fragile male egos, and archaic ideas of marriage in India.
From a promising Irish writer, this is a charming exploration of modern adulthood which is as contemporary as it is relatable.
A Natural by Ross Raisin (Jonathan Cape)
A refreshingly different sports novel which subtly explores prevalent ideas of masculinity and sexuality.
Winter by Ali Smith (Hamish Hamilton)
Ali Smith's books are always a privilege to read, and this second novel in her seasonal quartet is a glorious addition to the series. Extremely topical yet ever graceful, with a plot revolving around a family Christmas reunion and references to recent events like Trump's election and Grenfell, this book is a thing of beauty.
If Stephen King's Misery was written by Gillian Flynn, it would be something like this sophisticated literary fiction. Inspired by the writer's own experiences, this is a darkly alluring exploration of the process of writing and obsession.
Love & Fame by Susie Boyt (Virago)
A sharp-witted story of how an actor copes with the death of her celebrity father. Thoroughly humorous, this is a compassionate look at the complexity of human emotions.
Bad Dreams by Tessa Hadley (Jonathan Cape)
This collection of short stories feature nuanced and psychologically acute tales about nostalgia, subjective experience and womanhood. This is definitely one of the finest short story collections I read this year.
This part-memoir, part-thriller is an impressive, wistful debut which lingers in memory long after you have read it. A lyrical and emotional tale of identity, love, and grief.