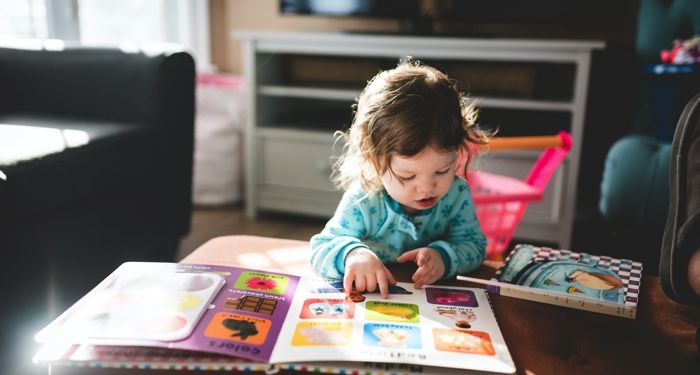 Children's
30 Best Toddler Books to Stock Your Library
This content contains affiliate links. When you buy through these links, we may earn an affiliate commission.
There are a few things that make for the best toddler books. First of all, a toddler book needs to be short enough for their wee attention spans. These small pages can't be covered in long paragraphs. Little ones need the pages to turn ASAP so they can stay occupied. It helps if a picture book rhymes, since that makes reading aloud easier — most toddlers aren't going to be doing the reading themselves. Which, of course, leads to one of the most important elements in a great book for toddlers: re-readability for the adults in their lives. Toddlers can be very unpredictable in their tastes, and their tastes, undeveloped as they are, can latch on to books that are…less appealing, we'll say, to their adult care givers.
The best toddler books, which I've listed here, pass all three tests, and each brings something special of its own, whether it's a sweet storyline, a danceable rhythm, or a surprise hidden behind a flap.
Some toddlers are getting ready to read picture books — the hardcover kind with the easily ripped pages — but most of these books are available as a sturdy board book that can take some extra love.
Classic Toddler Books
These "classics" are all books that have stood the test of time. You might have gotten them (or given them!) at a baby shower, but that's just because they've been beloved by so many people. And they're going to be beloved by your little one, too!
Silly Books
There's nothing better than a baby's laugh, and these five silly books will get everyone giggling!
Books That Do Things
Toddlers love books with doo-hickeys on them. You know: flaps, tabs, puppets, and things that spin. All of these books (but one) have articulating parts that will keep your little one busy!
Sweet Books
These are the snuggly, cuddly books. The ones that are all about showing affection for your little one and their loved ones.
Books About Kindness
It's never too early to start learning about kindness and how we can help others. These are the best toddler books that feature friendship, thankfulness, and community care.
Bedtime Books
The crowning glory of any toddler's library, at least from a sleepy parent's point of view, is the going to bed book. These are sure to soothe, and you won't mind reading them dozens of times.
---
I hope you found some of the best toddler books to add to your shelves! If you're looking for more great board books, check out this list of 50. If you want more books like the classic The Snowy Day, here's a round-up of several snow books. Want a silly round-up of a different sort of classic? Here are Pride & Prejudice board books, ranked. Looking for brand new board books for your littles? Here's a list of new board books for 2022.