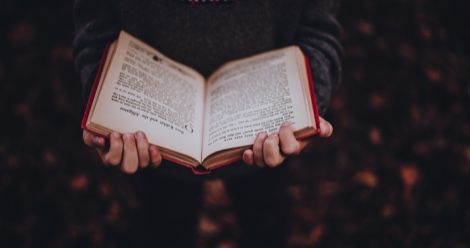 This content contains affiliate links. When you buy through these links, we may earn an affiliate commission.
We at Book Riot knew from January that it was going to be a cracking good year for thrillers and suspense books of all kinds. Perhaps it's a sign of the times that these best suspense books of 2018 (so far) prey on our anxieties during a turbulent era. But as these excellent psychological thriller books show, a taut novel of suspense touches on our most basic fears: the truth, the past, our own mind's reliability, the seed of doubt, and many more. Set across continents and time, these twisty thrillers, novels of suspense, and mysteries laced with page-turning tension reflect the best of the genre today.
Edgar Award–winning author Megan Abbott delivers another twisty thriller that centers on female friendships. In Give Me Your Hand, two ruthlessly ambitious best friends compete for success while hoarding secrets about each other like stocked ammo.
This glittering, acidic Talented Mr. Ripley–esque debut follows Louise, whose bland life gets quickly intwined with a young, rich, and charismatic socialite, Lavinia. As her new friend propels Louise to the upper echelons of the intoxicatingly decadent wealthy social scene in New York, can she keep a clear head and not let her obsession turn deadly?
Cult X by Fuminori Nakamura, Kalau Almony (Translator)
This deliciously dark mystery begins when Toru Narazaki seeks the help of a private detective after his girlfriend disappears into the folds of a Tokyo cult. What could lead her astray—and can Narazaki resist it?
Death Notice by Zhou Haohui (Author), Zac Haluza (Translator)
For the thriller fan who thinks they've read everything, try one of Book Riot's Best 2018 Beach Reads. Death Notice is an unputdownable shocker pitting a mysterious vigilante against an urban police force scrambling to prevent a spree of bizarre murders. We wrote: "The perfect balance of mystery, thriller, tension, and twists."
One of 2017's best suspense debuts gets an even-better follow up with Jane Harper's second installment in her mysteries starring Federal Police Agent Aaron Falk. When a group of five colleagues go on a wilderness retreats in the Australian mountains, only four come back. It's up to Falk to find the missing woman—and the truth.
You might think you've read enough books about jealous ex-wives and their replacements to know the story by heart. This sophisticated thriller twists The Other Woman mythology in a dazzlingly new way.
This thought provoking nail biter about an epileptic man's search for the truth about the night his mother was murdered echoes Memento.
In Sanjida Kay's intricately plotted thriller, three women are united by one menacing man and intertwined with danger. Can you work out the unguessable twist that connects them all?
The latest from Caroline Kepnes (You) is a genre-bending supernatural thriller about a strange outbreak of deaths among college kids in Providence, Rhode Island, and the cop racing against the clock to outpace the murders. Providence draws on several genre conventions yet still reads unlike anything you've ever read before.
This chilling installment in Ausma Zehanat Khan's Rachel Getty and Esa Khattak series is also hyper-relevant. When Esa's friend comes to her asking for help in locating his sister who has disappeared from the Syrian refugee camp she was working for in Greece, the two partners head overseas seeking answers and get something far more sinister.
From the author of New York Times bestseller Luckiest Girl Alive, a clever novel of suspense about sibling rivalries and the deadly divide between fiction and truth on a reality TV show that ends in murder.
Joseph Lewis's riveting thriller pits a team of detectives against a man hell bent on finding and killing the teenage drug dealer who sold his cousin a lethal dose of heroin and fentanyl. Disturbingly relevant, Caught in a Web is a sobering look at the opioid crisis wrapped in a compulsively readable package.
Sunburn by Laura Lippman
In Sunburn, Laura Lippman explores the fatal fallout from a summer fling between a regular joe and a femme fatale. This slick little neo-noir brings to mind Sunset Boulevard, Double Indemnity, and all the toxic couples who get done in by passion and crime.
The second novel in Isabella Maldonado's series starring Phoenix-based Homicide Detective Veranda Cruz pits her tough-as-nails heroine against her match: a drug cartel and its ruthless leader who's willing to do anything to take out Cruz. Can Cruz keep her city—and her past—safe?
Tangerine by Christine Mangan
Christine Mangan's smash hit debut psychological thriller is a cinematic study of suspense that asks if we can really trust our judgment when it comes to friendships. When Alice runs into her old college roommate, can she keep their shared secret from clouding her mind?
Sujata Massey brings 1920s Bombay to life in this mystery about the city's first female solicitor as she tries to find her way in a male-dominated field, much less her father's law practice. Following her instincts to pursue the puzzling widows of her father's late client leads Perveen into a case that could establish her career…if she can stay alive.
A decade after NYPD rising star investigator Joe King Oliver is forced out of his job, running a private detective agency and caring for his daughter have given him a new life. When someone contacts Oliver claiming to be the one paid to frame him, Oliver can't resist a second chance to clear his name.
In this sequel to A Rising Man, Calcutta Police Force Captain Wyndham and Sergeant Banerjee are drawn into a deadly dynastic conflict straight out of Westeros when a Maharajah is assassinated. Who would want the prince dead? Wyndham and Banerjee race to find out before they become the next target.
In this queer contemporary YA thriller, Rufus has to put his differences with former flame Sebastian aside when his half-sister begs him to come help her. But proving April innocent of her boyfriend's murder would have been easy if she hadn't been covered in blood…
Leïla Slimani scrutinizes the power dynamics between a young mother and the seemingly perfect nanny who works wonders with her children in this twisty, unputdownable howdunnit.
Is it wrong to suspect your child is evil? That's the question haunting Suzette Jensen after her daughter's behavior becomes increasingly more disturbing. Creepy and compelling, Zoje Stage's debut will give you goosebumps.
When two dreamy newlyweds discover something in the water during their tropical beachside honeymoon, the secret slowly eats away at their marriage. Can their love—and lives—withstand the weight of one fateful decision?
For those who wonder about the wives who smile through their husband's political scandals, Sarah Vaughan's sharp debut thriller traces the erosion of trust when the wheels come off in the marriage between a promising politician and his wife.
Ghosted by Rosie Walsh
Sarah only knew Eddie for seven fabulous, life-changing days, but she knew it was a soulmate connection. When Eddie departs for a trip abroad and drops out of touch, Sarah suspects it's more than just your routine ghosting. When Sarah decides to find Eddie no matter what, is she prepared to uncover a truth best left buried?
Make sure you clear your calendar to read this second psychological thriller from Christopher J. Yates (Black Chalk). A twisted secret unites a group of childhood friends and follows them far into adulthood. When they are thrown together again, will conflicting obsessions and alliances stop them from moving forward alive?
---
What do you think are the best suspense books from 2018?