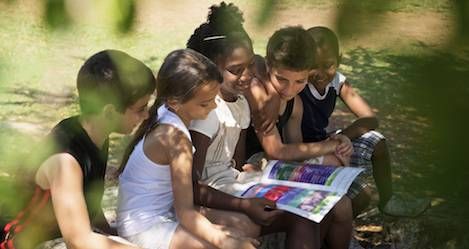 This content contains affiliate links. When you buy through these links, we may earn an affiliate commission.
The much-dreaded summer slide is approaching, but there are some amazing opportunities to help kids remain consistent, fluent readers and stay on track academically over the summer. I've listed some of the best summer reading programs for kids that not only offer an incentive for reading, but encourage children to think critically and become lifelong learners.
Best Summer Reading Programs for Kids
Barnes & Noble Summer Reading Program
Barnes & Noble offers one of my favorite reading incentive programs for kids! Kids entering grades 1–5 receive a free book after they turn in the Barnes & Noble Summer Reading Journal, which can be downloaded or picked up in store (typically found in the kids section near a display of the books kids can earn.) Children read any eight grade-level appropriate books and log their favorite parts of each book in their journal in order to earn this incentive. Summer Reading Journals must be turned in to a Barnes & Noble store between May 15th and September 3rd.
H-E-Buddy Summer Reading Program
H-E-Buddy Summer Reading Program is a great reading incentive program offered by the retailer, H.E.B. Unfortunately, this program is currently only open to residents of Texas, but is definitely worth noting as it is one of the few non-bookstore chains that emphasize the impact of reading on youth. Kids, ages 3–12, read and log (with parental signatures as proof) ten grade-level appropriate books on the downloadable H-E-Buddy Reading Club Form. Kids who mail their completed reading log to H.E.B. headquarters will receive a H.E.Buddy Summer Reading shirt!
Lifeway Family Christian Store's Summer R.E.A.D Program
Lifeway Family Christian Store's Summer R.E.A.D Program provides incentives for a broader age range. Although geared towards kids entering 1st through 6th grade, the program is open to toddlers ages 1–5 as well. Head to your local store to pick up a free reading log, bookmark, and pencil to kickstart your summer reading! Kids are asked to read five age appropriate books and complete the reading journal (also available to download). Lifeway's Summer R.E.A.D program offers a more extensive journal: each page provides a unique question that can be answered for any book—such as, how did a character demonstrate confidence?, a scripture that kids are prompted to practice and memorize, a scripture question, and a word puzzle of some sort. Journals have to be turned in to the store where kids can choose a free book and a Bible.
Half Price Books Feed Your Brain Summer Reading Program

Half Price Books Feed Your Brain Summer Reading Program is available to those under 14 years of age and offers kids $5 Bookworm Bucks in exchange for a completed reading log. The Feed Your Brain program asks kids to read—or be read to—a minimum of fifteen minutes a day. Once kids record 300 minutes of reading, they can turn in their log and receive their store credit—which expires at the end of August. Kids have the opportunity to complete a journal for both the months of June and July, earning $10 toward books of their choice! Additionally, Half Price Books offers some great printables—such as coloring sheets, tracing pages, etc.—to encourage reading for toddlers.
Books-A-Million


Books-A-Million has partnered with beloved children's author Mo Willems, who will serve as the ambassador to the Summer Reading Adventure Program. The Reading Adventure Notebook can be downloaded online and prompts readers to record four books they read over the summer—Mo Willems encourages kids to discover new authors as part of their reading adventure! Once completed, kids can turn in their Journal to their local Books-A-Million and receive a free Elephant & Piggie pencil case and pencil set.
Book Exchange Summer Reading Program
Book Exchange Summer Reading Program kicks off in June and asks readers to play literary bingo! Participants mark off slots on their bingo cards for tasks such as reading a book that features another culture or reading a book that is part of a series. After writing down their favorite part of their books, they can turn in their completed bingo cards at their local store in exchange for a $5 store credit!
Local Libraries
Local libraries will most likely host a summer reading program for youth as well. Last year, our library provided elementary age students reading logs on which they colored in a shape for each book they read—or had read to them. For each completed log they received a free book and pencil! Also, check out your city website; our city is hosting 1000 Books Before Kindergarten initiative where book titles can be logged online. For each 100 books kids can visit their local library for a special sticker and when they reach their 1000 book goal they receive a free book bag!
Your Own Summer Reading Program
Lastly, have fun in making your own reading incentive programs at home! We try and keep reading charts throughout the year as a fun way to motivate our kids—stickers can really do wonders for a child's motivation. Sometimes the incentive is the sticker itself and other times it is a special activity. My son is close to completing his most recent reading challenge to read 200 books and we can't wait to get started on some of the reading incentive programs mentioned above!
Looking for more? Check out all of our summer reading discussions.