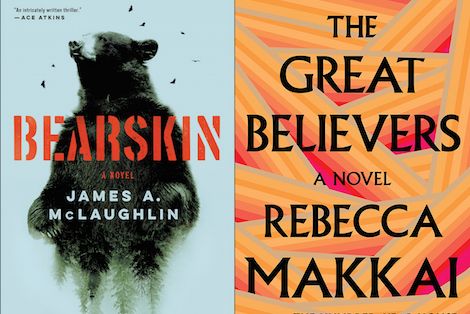 Best Summer Books for 2018: Critical Linking, April 26, 2018
We're giving away 15 of the best mysteries and thrillers of the year so far. Click here to enter, or click the image below:

---
Wondering what to read this summer? Don't worry, PW's editors have you covered. In our staff picks, you'll find a killer Appalachian thriller, Michael Ondaatje's amazing latest novel, a sprawling biography of Bruce Lee, and many more. For deeper dives into fiction, mystery/thriller, romance, sci-fi, nonfiction, and children's books, check out our category picks for even more great summer books. Happy reading!
Summer reading season is getting closer.
____________________
Merriam-Webster identifies two types of placements: "prominent" and "unobtrusive." Prominent placement puts the folio on the top upper left and right of the leaf. Unobtrusive puts it anywhere on the bottom. The folios are placed in line with the running head (along which the chapter titles or title of the book rest) if they are at the top, but if the running head contains numbers the folios are better suited to the bottom of the page. The first pages of each new chapter dispense with the folio entirely to avoid clashing with the chapter headings.
Ultimately, the decision to make folios prominent or unobtrusive turns on what function they're meant to serve in a particular book: a practical or aesthetic one.
The most fascinating read you'll read on page numbers.
____________________
James Comey's "A Higher Loyalty" had a very big opening week.
Flatiron Books announced Tuesday that sales topped 600,000 copies, a number that includes print, audio and e-books. The former FBI director's memoir has been one of the year's most anticipated releases and includes his accounts of investigating Hillary Clinton's emails and of his awkward encounters with President Donald Trump.
Not at all surprising, honestly.
____________________
My Students
A couple of my favorite parts of teaching students in special education are when they can be sincerely excited about getting to read (or participate in) something that their peers in a general education class are jealous of and when they are proud to be learning something that their friends don't necessarily get the chance to learn in a typical classroom.My students range from 7th-12th grade, and they all have unique and special learning needs.Many perform below grade level while others are exceptional in certain areas. The students all come from very different environments and socioeconomic backgrounds.
My Project
Teenagers go through some really adult situations, but don't have the experience to navigate through them alone. I'm looking to stock my classroom library with books that address rape, racism, mental illness, drugs, and school shootings in a delicate and school appropriate manner. I teach in small groups, so I would love to use the books as novel studies in our English and Literature classes.
Can you throw a few bucks this way? Let's get this classroom some great reads.