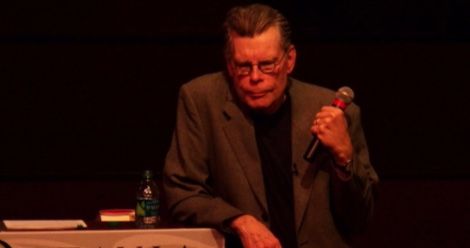 Audiobooks
The 10 Best Stephen King Audiobooks, A Ranking
This content contains affiliate links. When you buy through these links, we may earn an affiliate commission.
Winter is basically Stephen King audiobook season. Let me explain. Every year, as the months get colder and we approach the holiday season, two things remain true for me: first, cold weather makes me want to reach for spooky reads; second, I'm going to be doing a lot of traveling, and I need a good audiobook. Preferably a long one. Enter Stephen King, the master of spooks, good storytelling, and, yes, often really long books. Perfect. With such an expansive catalogue of books, King has too many to simply choose blindly, so let's get into the top 10 Stephen King audiobooks, in particular order.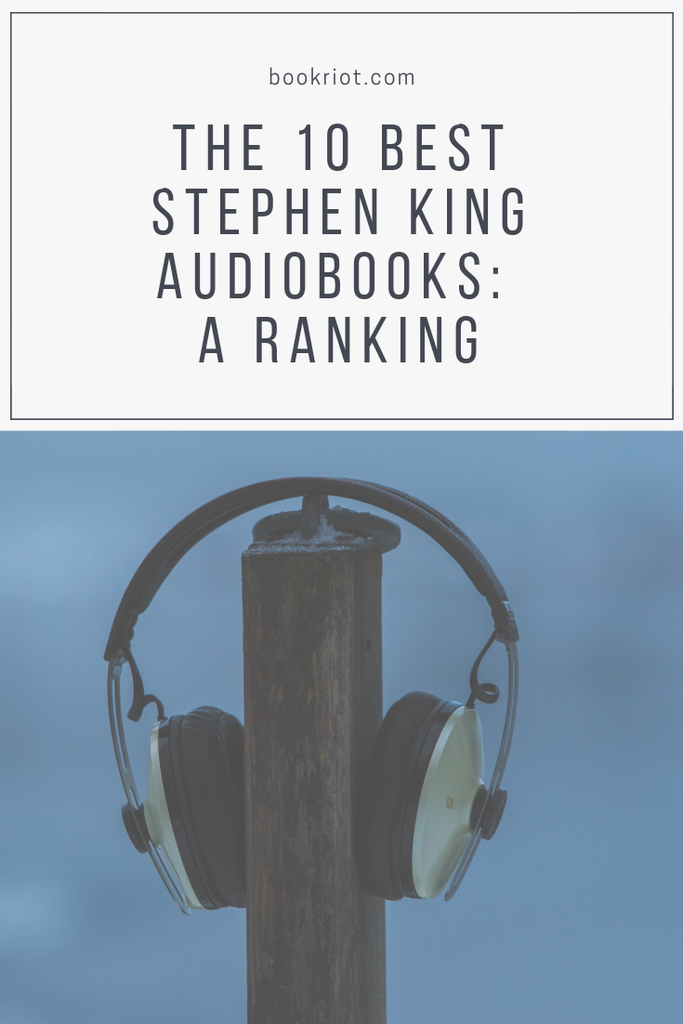 Clocking in at 47 hours and 52 minutes, The Stand will keep you busy for your longest holiday car rides. On top of that, narrator Grover Gardner's somewhat gravelly reading voice really sets the tone for this post-apocalyptic horror novel. This version of the audiobook was released in 2012 with previously cut chapters and new material that King added to make the post-apocalyptic threat more current. Those additions might seem iffy to some who have not yet listened to this version, but reviews are generally favorable.
Only slightly shorter than The Stand at 44 hours and 55 minutes, Stephen King's masterpiece It will still keep you busy during your holiday travels. I am a little biased because this was my first entry into Stephen King's work when I was but a wee horror fan. With that being said, this audiobook earns it spot on the list not only for the unforgettable story and characters but also because Steven Webber's audiobook narration is really well done. I saw some complaints on audible that the editing in this version is off; however, something you might not realize if you don't also own a hard copy of this book is that Stephen King often ends chapters mid-sentence, especially towards the end of this novel as characters' present day experiences and childhood experiences begin to melt into one another. You don't want to miss this book!
This sequel to Stephen King's popular novel The Shining is practically a novella in King terms, clocking in at a quick 18 hours and 34 minutes. If you haven't read The Shining yet, I would definitely recommend starting there, but Doctor Sleep is also not one to be missed. In this sequel, Danny Torrance is now middle-aged and attempting to save a gifted 12-year-old girl from a tribe of murderous paranormals. Narrator Will Patton does such a great job that he won an Audie Awards for his work on this novel in 2014.
And now for the original, coming in just above its sequel. If you're looking for something truly terrifying, Stephen King's The Shining remains unflinching for the entirety of its 15 hour and 50 minute run time. The Shining is a classic story that remains one of my favorite King novels of all time. The only reason it doesn't rank further up the list is because some reviewers on Audible took issue with the narrator Campbell Scott, complaining that Scott's reading is monotone. Personally, I did not have a problem with Scott's narration and thought his tone matched the mood of the story. Your mileage may vary!
Will Patton returns to narrate one of King's more recent releases, The Outsider. This dark mystery/thriller is 18 hours and 41 minutes long. In it, Detective Ralph Anderson works a disturbing case involving the death of an 11-year-old boy. All evidence points to one of Flint City's most popular citizens: Terry Maitland, Little League coach, English teacher, husband, and father of two girls. But is this case as straightforward as it seems? Spoiler: the answer is no.
The Dark Tower is a genre-bending series of eight books, combining Western with Horror, Science Fiction, Dark Fantasy, and much more. Obviously, you should start by reading the first book in the series: The Gunslinger; however, the third and fourth books in the series (The Waste Lands and Wizard and Glass) are much better audiobooks. So with that in mind, I decided to just list the series as a whole, because you really should just read the whole thing. I did the math for you, and if you listen to all eight audiobooks, it will take you 145 hours and 41 minutes. So that will keep you busy for some time. You're welcome.
There are some Stephen King books that have produced film adaptations so famous that it's difficult to separate the reality of the text from the movie. Misery is one of those books; I feel like this story almost synonymous with Kathy Bates now. This means audiobook narrator Lindsay Crouse had quite the task ahead of her when she signed on to read this Stephen King novel. For some Audible reviewers, she fell short, but for me, Crouse does an amazing job making this book and more specifically the character of Annie come to life. And at 12 hours and 21 minutes, Misery is a much more manageable length than, say, the entire Dark Tower series.
One of the more recent Stephen King audiobooks on this list, 11-22-63 is King's sci-fi alternate history novel in which Jake Epping, a 35-year-old English teacher in Lisbon Falls, Maine, goes back in time to stop the Kennedy assassination. 11-22-63 is consistently praised for its story, its meticulous research, and Craig Wasson's awesome narration. This one clocks in at 30 hours and 40 minutes, which at this point in the list probably feels like nothing to you. You got this.
Clocking in at 13 hours and 53 minutes, The Green Mile is one of the shorter books on this list, and a favorite of many Stephen King fans. Stephen King himself chose narrator Frank Muller for the audiobook, and when listening, it's clear to see why. Muller makes these characters comes to life in a way that makes the story even more devastating. If you're not normally a fan of horror but still want to give a Stephen King audiobook a try, this is the one to reach for.
Three words: Michael C. Hall. Okay, it's two words and an initial, but you get the idea. Narrator Michael C. Hall is a legend as far as I'm concerned, and if you don't agree, watch Six Feet Under and get back with me. You're back? Okay. Pet Sematary is one of the most terrifying books I've ever read, and Michael C. Hall's expert narration only serves to make this book even creepier. In addition, a really amazing looking adaptation of this novel is hitting theaters next year, so now is the perfect time to listen to Pet Sematary. This one is a 15 hour and 41 minute listen, which at this point probably sounds like a cake walk to you. Prepare yourself to be scared.
How many of these Stephen King audiobooks are you listening to? Are you planning on listening to the entire Dark Tower series over Christmas vacation in an attempt to avoid your in-laws? Let me know all about it in the comments.
Not sure which Stephen King book to start with? Take the quiz to find out. And if you need more audiobook recommendations, Book Riot loves audiobooks by all kinds of authors. Just check out these lists: 21 of Your Picks for Great Audiobooks for Book Club, 10 Audiobooks for Writers, or this 50 Must-Read list about the best nonfiction audiobooks.