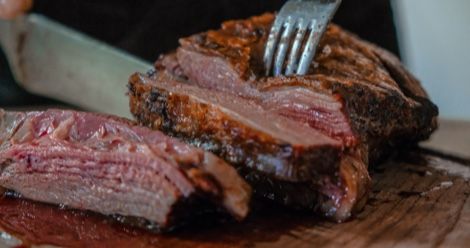 Nonfiction
The Best Sous Vide Cookbooks For Home Cooks And Professional Chefs
This content contains affiliate links. When you buy through these links, we may earn an affiliate commission.
Not too long ago, the phrase sous vide could only be found in fancy, overpriced restaurants and certain episodes of Top Chef. Now, thanks to an influx of affordable sous vide circulators, sous vide is no longer regulated to the realm of high-end restaurants. With instructions and the best sous vide cookbooks in their library, any home cook can harness this culinary wizardry for themselves.
If you're intimidated, don't be. Even though it has a French name and sounds complicated, sous vide is actually pretty straight-forward. It's simply a way to cook food using precisely regulated water temperature.
Lovers of sous vide cooking say it provides precision and consistent results, helps retain flavor and nutrition, and preserves the natural juices of meat. The downside to sous vide is that it's not fast (to say the least) and takes planning. But if you're the type of person who enjoys using a slow cooker, sous vide is definitely up your alley.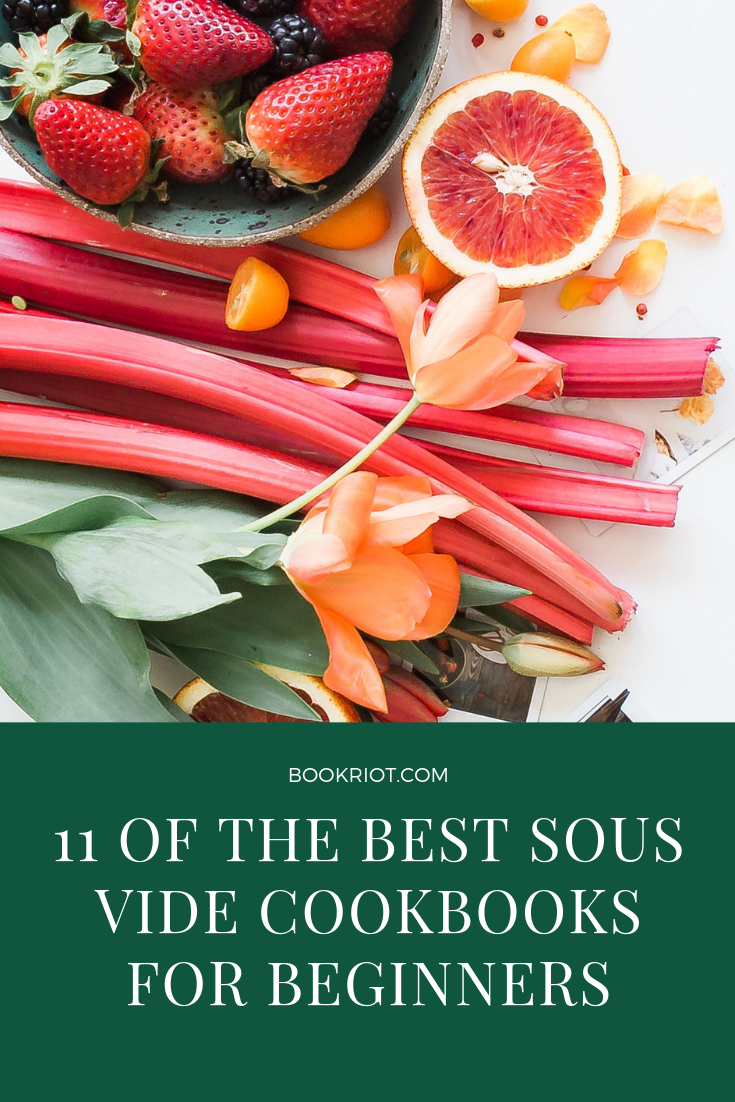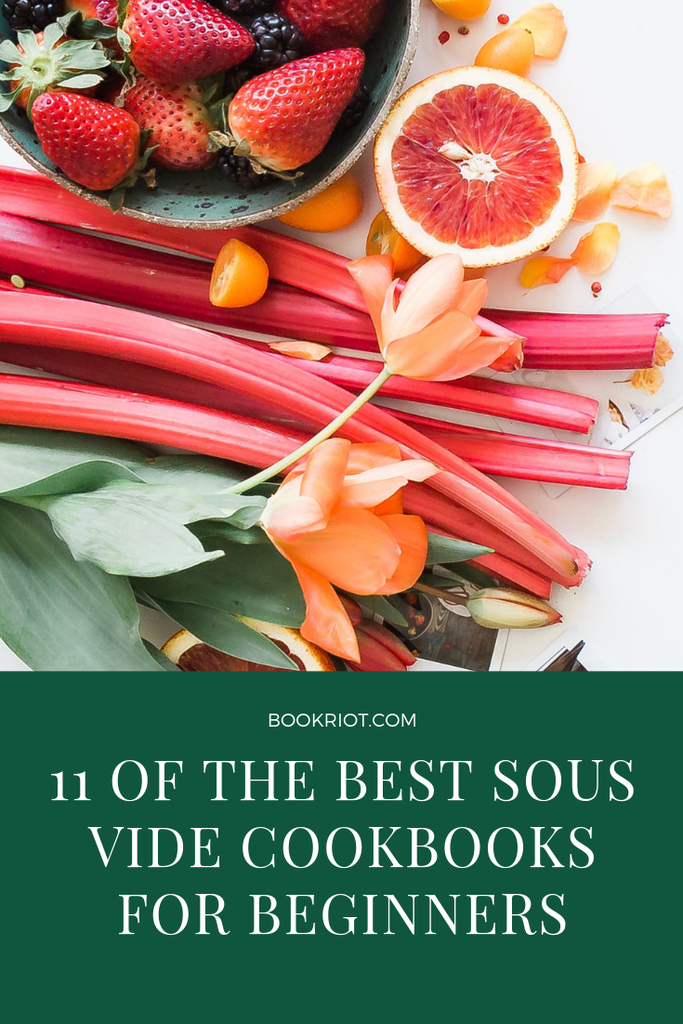 The following list provides a selection of sous vide cookbooks appropriate for beginners through advanced cooks, but before we get into that, there is one book–so far!–that the internet agrees is definitely the best sous vide cookbook out there, no matter how familiar you are with the method:
Sous Vide at Home was written by the founder of Nomiku, the first company to sell affordable sous vide circulators for the home cook, so you know Fetterman is dedicated to making sous vide accessible to the average person. Her cookbook is full of gorgeous, full-color photographs and recipes that are easy to follow and not too fancy. Sous Vide at Home shows just how versatile a sous vide circulator can be and goes way beyond meats and veggies into cocktails (!), yogurt, and sauces. Even if you already know your way around a sous vide circulator, you'll want to flip through these pages for recipe ideas and inspo.
If Sous Vide at Home isn't enough for you (and let's be honest, it won't be), here are some more sous vide cookbooks to check out.
Best Sous Vide Cookbooks for Beginners
This compact cookbook brings everything you love about ATK to sous vide, with equipment reviews and a rundown of the various pluses and minuses of using, say, a dutch oven versus a commercial sous vide water container. The section on plastic bags and food safety is also very clear and helpful. That said, Sous Vide for Everybody doesn't do a great job of convincing people sous vide is worthwhile, and many of their recipes sound like a chore. However, if you've never worked with a sous vide circulator before, Sous Vide for Everybody will demystify where and how to begin.
Logsdon is a food blogger and home cook who has set out to make modernist cooking techniques accessible to the average person, and this is just one of his many books on the topic. For the home cook starting out, it has many advantages, including its relatively low price point. Logsdon also goes into depth about cooking times and how to create your own sous vide recipes by providing the building blocks for rubs, marinades, and spices. The only downside to this book are the photos, which are all in black and white.
Lee is another early sous vide entrepreneur, successfully Kickstarting her home sous vide company, Codlo, just a year after Fetterman's Nomiku. Her self-published cookbook is very short—less than 200 pages—and graphic design focused, which is likely what leads some readers to say it has a marketing vibe. Nevertheless, if you're a visual learner who'd rather look at an infographic on how to cook eggs with a sous vide machine than read several paragraphs about it, this book is the perfect starting place for you.
Known as the Blue Jean Chef, Laurence is famous for providing home cooks with simple, easy to follow recipes that don't have "weird" ingredients or complex techniques. She brings the same philosophy to sous vide with this book, which receives rave reviews from novices.
Best Sous Vide Cookbooks for People Who've Mastered the Basics
This book promises to transform weeknight meals into Michelin-starred dishes, and the recipes certainly sound like something you'd only ever order in a restaurant (if even then): beef bone marrow, duck confit, and sweet umami salmon belly. But to be fair, if you're a foodie who's always wanted to try cooking this type of food for yourself, sous vide is the perfect way to do it. I do question the efficiency and purpose of making things like hummus and simple syrup en sous vide, but to each their own.
You've probably come across some of J. Kenji López-Alt's recipes on the website Serious Eats, where he's the chief culinary director and "nerd in residence." The Food Lab, like López-Alt's award-winning column of the same name, is one of our favorite books on the science behind cooking and how modernist techniques work. Perfect if you find yourself fascinated with the why and how as you go down the sous vide Slip 'n Slide.
However, while there's no doubt López-Alt knows his stuff, his sense of humor isn't for everyone, and you can find many of these recipes online for free.
At this point in the game you probably don't need a drawn-out explanation of why you should cook en sous vide, and just want a lot of recipes. That's why personal chef Justice Stewart's book on the subject may be for you. There are some dishes that might be a hard sell for the average household (veal tongue, for example), but with the sheer volume of chef-tested dishes on offer here, you're sure to find something you'll be inspired to try.
Best Sous Vide Cookbooks for Sous Vide Masters
Written by a professional chef, this is the book to get if you're the type of person who wants to butcher your own meat and doesn't mind searching Whole Foods for obscure ingredients. The recipes are more advanced than what the average home cook is used to, and there aren't a lot of pictures. That being said, the information is 100% solid and there is a TON of it.
Keller's ode to sous vide was written for other professional chefs years before sous vide machines were available to the average person. So it makes sense that no attempt was made accommodate the home cook, as Keller himself states in the book. Nevertheless, foodies love Under Pressure. In many ways it jump started the use of sous vide in home kitchens, inspiring Reddit threads where people shared ideas on how to build their own circulators for an affordable price. If you want to see what a formally trained, Michelin-starred, award-winning, and truly talented chef who "exudes genius" can do with sous vide, Under Pressure is well worth the read. Whether or not you want to actually spend seven and half hours trying to recreate one of his recipes is up to you.
Named the most important cookbook of the first decade of the 21st century by the Gourmand World Cookbook Awards and dubbed "the cookbook to end all cookbooks" by the Washington Post, Modernist Cuisine is the encyclopedia and holy grail of molecular gastronomy. If it's not in here, it doesn't exist. Modernist Cuisine is six volumes, 50+ pounds, and costs more than $500. But for a mere $90 you can purchase the downsized Modernist Cuisine at Home and expand your modern cooking techniques way beyond sous vide, or at least attempt to.
---
Note: While many of the entrepreneurs trailblazing the way for home cooks to enjoy sous vide today are women, historically there's been a huge gender gap in sous vide users, likely a reflection of the ratio of women to men in professional kitchens. Hopefully that will change now that the sous vide technique is more accessible.