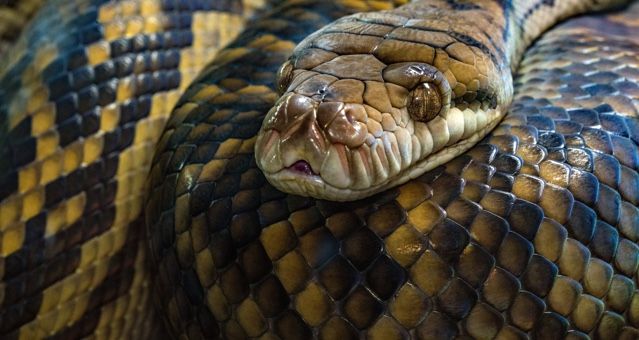 Lists
20 of the Best Snake Books for Every Reader
This content contains affiliate links. When you buy through these links, we may earn an affiliate commission.
Welcome to the epic list of snake books! Our scaly, slithering friends are intimidating animals, often portrayed as monstrous or used to symbolize evil. Yet snakes are also awe-inspiring predators and masters of survival. They come in variety of colors, their scales and patterns stunning and singular. Snakes have also been, particularly this year, a beautiful source of inspiration for book covers. Here is a list of snake books that explore, are inspired by, or feature snakes.
You may need a bottle of aspirin if you try to read all of these snake books in a day, or maybe you should recruit some adders to tally your favorites, and hell maybe even dance the mamba when you find the best one and NO I WILL NOT APOLOGIZE, FINE let's get to the list.
Children's and Picture Snake Books
Probably one of the most iconic snake books of all. A greedy python travels through the jungle and eats every animal it meets. How rude! The animals the python swallows aren't happy about their situation. In the end, we see a literal example of how greed consumes, with the famous illustration of the python turning on its own tail to devour.
Not everyone fears snakes. Some love snakes, just like the main character Ali in The Girl Who Wore Snakes. This is a book for children who love and respect snakes and is also a great book for those who fear them. It's a reassuring book that snakes are beautiful and deserve our respect just like any other animal.
Kali and the Rat Snake by Zai Whitaker, illustrated by Srividya Natarajan
Kali is the son of a snake catcher, and that makes it hard for him to make friends in his village. However, being different has its perks, and when a rat snake appears in the classroom, it's Kali who knows how to wrangle it. This is a book about bravery and how everyone's talents, interests, and family make them beautifully unique.
Verdi by Janell Cannon
Here's a gorgeously illustrated book from the snake's perspective. Verdi is a young python who loves his yellow skin. He does not want to grow up and turn green like all the pythons. To rebel against the change, Verdi tries everything he can think of, but doing so lands him in some trouble. This book is about accepting change while still remaining true to oneself.
How Snake Got His Hiss: An Original Tale by Marguerite W. Davol, illustrated by Mercedes McDonald
Davol writes a tale that considers the origins of why some animals look the way they do. A self-absorbed snake is portrayed as being the reason for the hyena's spots, the lion's mane, the speed of the ostrich, and the snake's own slithering shape.
Originally published in 1975, this children's book describes the creation of world featuring Goorialla, the great Rainbow Serpent. The book was written by the renown Australian Aboriginal artist Dick Roughsey, and is a great addition to any child's library!
Middle Grade Snake Books
The Serpent's Secret (Kiranmala and the Kingdom Beyond #1) by Sayantani DasGupta
I love this cover! Meet Kiranmala, who's in 6th grade and lives in New Jersey. Everyone is fine and normal until until her parents vanish and a demon crashes into her home. Kiranmala finds out that, in fact, she is a real Indian princess, and is thrust into a world of magic and danger, including avoiding the Serpent King of the underworld.
This is the snake book of snake books, featuring facts on why a cobra spits, how snakes' senses work, how their organs work, and even include some fun facts about how snakes feature in mythology. This is great for animal enthusiasts of all ages.
Akimbo and the Snakes (Akimbo #4) by Alexander McCall Smith, illustrated by LeUyen Pham
This book is part of a series and is great for those interested in snakes. It follows Akimbo, who visits his uncle Peter's snake park. While there, there are reports of a green mamba snake nearby—the rarest and most deadly one of all—and Akimbo hopes to assist his uncle in catching it.
National Geographic's bread and butter is nature, and National Geographic Kids provides a perfect little read for those who want to devour more information about snakes. Of course there are stunning photos in this book as well as explanations on why snakes really just want some privacy and to chill in a cool place. Hey, that kind of sounds like me?
This middle grade book explores grief and death while artfully balancing humor. Twelve-year-old Josh's mother died in a car crash brought on by a snake being in the car. Josh and his family are bewildered. How did the snake get there? How do they move on? Josh is left to find his own answers.
Young Adult Snake Books
A Crown of Wishes (The Star-Touched Queen #2) by Roshani Chokshi
This is listed as a sequel but it can be read as a stand-alone, although I highly recommend the first book, The Star-Touched Queen, as well. Gauri, the princess of Bharata, is offered a chance to compete in a magical tournament with Vikram, a prince of the neighboring land (and sworn enemy). A Serpent King is, at first, portrayed as a monstrous villain, but there's more to the story. And there's a snake necklace that's able to tell truth from lie, which *sigh* makes for such a great scene at the end.
Serpent & Dove (Serpent & Dove #1) by Shelby Mahurin (September 2019)
Let's take a moment to admire this cover art. Louise le Blanc is a witch on the run who finds herself in a marriage of convenience with sworn witch hunter Reid Diggory. Steamy romance! Action! The graying fields where what is thought to be right and wrong fades into mist! So for those of you who enjoyed the A Court of Thrones and Roses series, this one's for you.
Serpentine (Serpentine #1) by Cindy Pon
This is a lush fantasy based in Chinese folklore. It is set in the ancient Kingdom of Xia and tells the story of Skybright, a young girl who by day is the companion to the youngest daughter of a wealthy family. However, she also struggles with an inner darkness at night, leading to a fight to retain her sense of self despite learning of her foreboding destiny.
Five ​Dark Fates (Three Dark Crowns #4) by Kendare Blake (September 2019)
Yet another gorgeous snake book cover! Five Dark Fates is the fourth and final book in a stunning series, so if you're into this from the cover alone but haven't read the first three, start from the beginning! The series begins with Three Dark Crowns and tells the story of triplet sisters who are bound to battle for their island kingdom once they turn sixteen.
Miscellaneous Snake Books
This is listed with other young adult titles, but I've seen this book categorized as adult as well. It tells the story of Bea and Dan, recently married, who visit Bea's dropout brother Alex at the hotel he runs in Burgundy, France. What they find is unsettling: Alex all alone and the ramshackle hotel deserted, apart from the nest of snakes in the attic. You had me at deserted hotel and snakes in the attic.
This will check the box for those of you looking for a historical fiction fix! Set in 19th century England, Cora Seaborne is a widow who takes an interest in rumors that the mythical Essex serpent has returned. Searborne is an amateur naturalist and goes to investigate the sightings herself. There she meets the local vicar, Will Ransome, who believes the sightings are simply local moral panic, and the lack of faith. It's a great read for those who love a lush setting and a bit of mystery in historical fiction.
I am so here for this cover design and for this book. Sigourney Rose is out for revenge after her island's colonizers murdered her family. Sigourney is ambitious and powerful: she has the ability to manipulate and reads minds. When the childless king of the islands declares that he will choose his successor from amongst eligible noble families, Sigourney uses her powers to set her revenge in motion. This epic fantasy read explores and peels away the layers of privilege and power.
The Little Snake is beautiful fable and tells the story of Mary, who befriends a small golden snake named Lanmo when she was a child. Lanmo visits Mary throughout her life, and it's a story of friendship and heartbreak. Many fans of this book have compared this book to The Little Prince by Antoine de Saint-Exupéry.
Ninth House by Leigh Bardugo (October 2019)
Sorry not sorry, I have to put this on the list for this cover alone, I mean COME ON. Ninth House is one of the most anticipated books of the year, and rightfully so. It's the first adult fantasy book by the dazzlingly-talented Leigh Bardugo, and tells the story of Galaxy "Alex" Stern. Alex is the sole survivor of a multiple homicide, and while in the hospital, is offered a chance to attend Yale University on a full ride. Of course, there's a catch: Alex must monitor Yale's famous secret societies. There is already fan art of this book, and some of it features snakes, so…
---
And there you have it, you lovers of snake books, you serpentine readers, you Slytherin prefects, and you sassy, slithering word wizards! For similar reads, check some children's books about animals or comics featuring animals. Now be a good civil serpent, hiss off, and read a book.