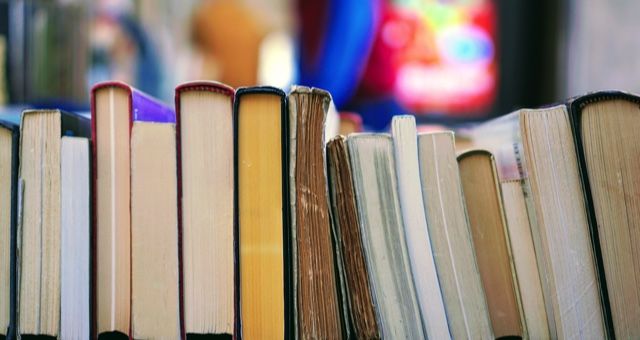 Featured
50 Must-Read Short Books Under 250 Pages
This content contains affiliate links. When you buy through these links, we may earn an affiliate commission.
In a previous mega list here on Book Riot, I highlighted 50 must-read books over 500 pages. It only seems right to follow that up with this list of 50 must-read short books. A mix of narrative styles and genres, the 50 books in this essential list of the best short books are all under 250 pages. If you're planning what to read for your next readathon, hoping to break through a reading slump or book hangover with a quick read, or need to meet your reading challenge goal with a few books you can read in one sitting, this list has you covered.
Descriptions graciously supplied from publisher descriptions and condensed when necessary.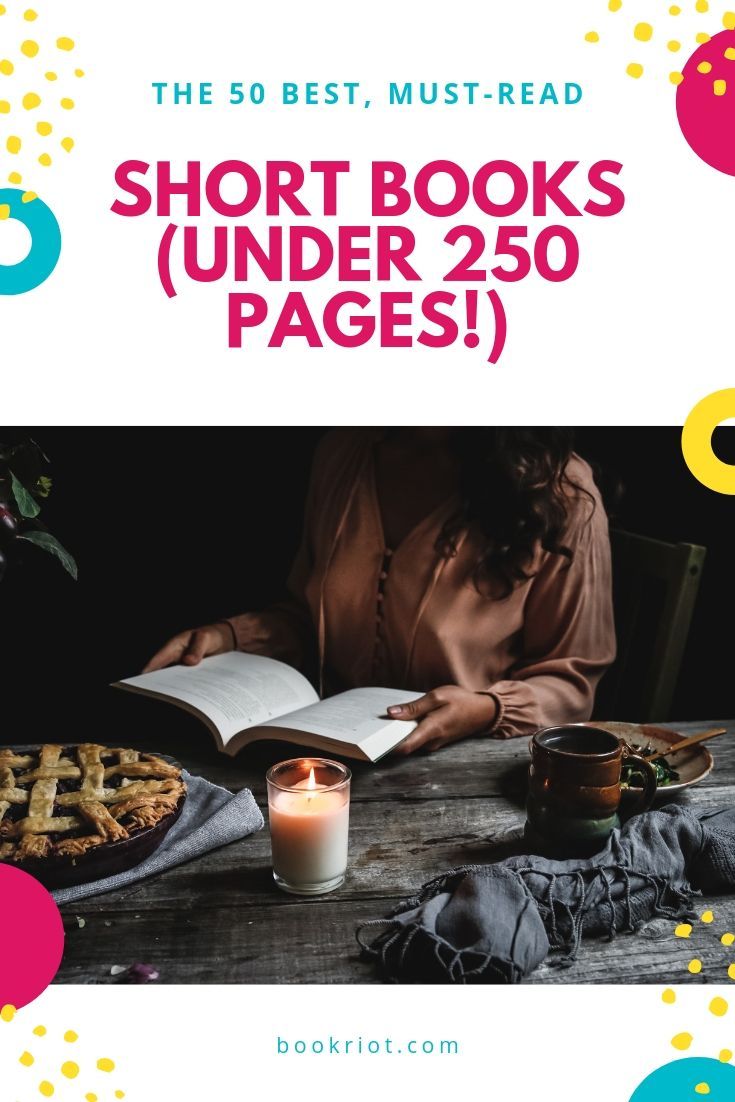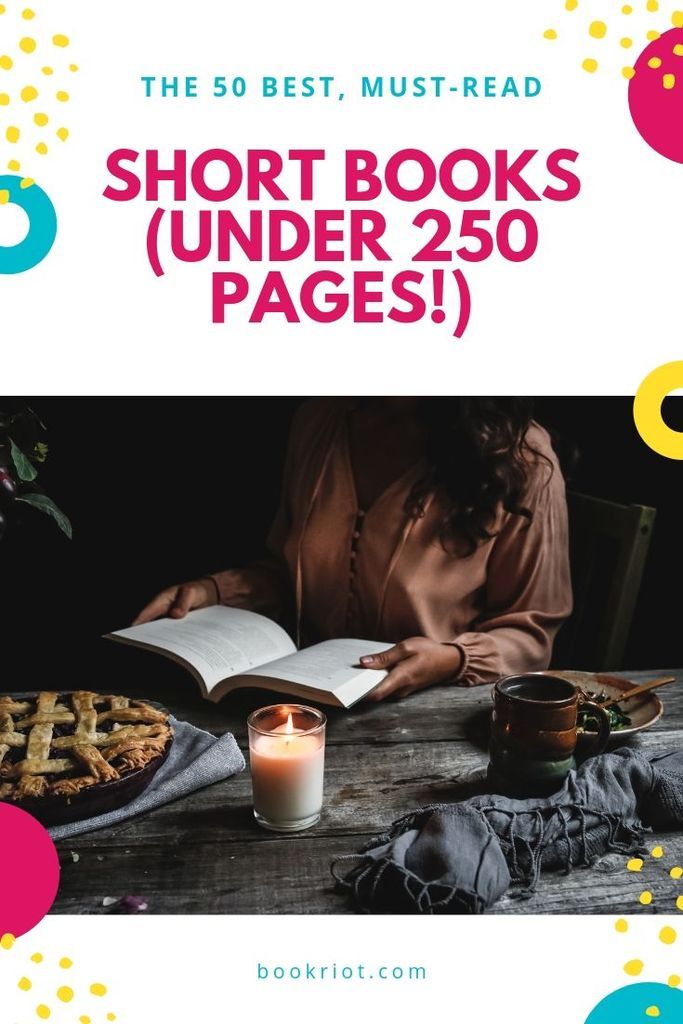 Best Short Books
All Grown Up by Jami Attenberg (Fiction)
"Who is Andrea Bern? When her dippy therapist asks the question, Andrea knows the right things to say: she's a designer, a friend, a daughter, a sister. But it's what she leaves unsaid—she's alone, a drinker, a former artist, a shrieker in bed, captain of the sinking ship that is her flesh—that feels the most true. Everyone around her seems to have a different idea of what it means to be an adult, though. But when Andrea's niece finally arrives, born with a heartbreaking ailment, the Bern family is forced to reexamine what really matters. Will this drive them together or tear them apart? Told in gut-wrenchingly honest, mordantly comic vignettes, All Grown Up is a breathtaking display of Jami Attenberg's powers as a storyteller and a whip-smart examination of one woman's life, lived entirely on her own terms." (Amazon)
"Meet the women of American Housewife. They wear lipstick, pearls, and sunscreen, even when it's cloudy. They casserole. They pinwheel. And then they kill a party crasher, carefully stepping around the body to pull cookies from the oven. Taking us from a haunted pre-war Manhattan apartment building to the unique initiation ritual of a book club, these twelve delightfully demented stories are a refreshing and wicked answer to the question: 'What do housewives do all day?'" (Amazon)
"A powerful, timely, dazzling collection of sonnets from one of America's most acclaimed poets, Terrance Hayes, the National Book Award-winning author of Lighthead. In seventy poems bearing the same title, Terrance Hayes explores the meanings of American, of assassin, and of love in the sonnet form. Written during the first two hundred days of the Trump presidency, these poems are haunted by the country's past and future eras and errors, its dreams and nightmares. Inventive, compassionate, hilarious, melancholy, and bewildered–the wonders of this new collection are irreducible and stunning." Amazon
"Maud is an irascible 88-year-old Swedish woman with no family, no friends, and… no qualms about a little murder. This funny, irreverent story collection by Helene Tursten, author of the Irene Huss investigations, features two-never-before translated stories that will keep you laughing all the way to the retirement home." (Amazon)
"'Ten . . .'
Ten strangers are lured to an isolated island mansion off the Devon coast by a mysterious "U. N. Owen."
'Nine . . .'
At dinner a recorded message accuses each of them in turn of having a guilty secret, and by the end of the night one of the guests is dead.
'Eight . . .'
Stranded by a violent storm, and haunted by a nursery rhyme counting down one by one . . . as one by one . . . they begin to die.
'Seven . . .'
Which among them is the killer and will any of them survive?" (Amazon)
Art Matters by Neil Gaiman (Nonfiction)
"Drawn from Gaiman's trove of published speeches, poems, and creative manifestos, Art Matters is an embodiment of this remarkable multi-media artist's vision—an exploration of how reading, imagining, and creating can transform the world and our lives. Drawn together from speeches, poems and creative manifestos, Art Matters will explore how reading, imagining and creating can change the world. A creative call to arms, the book will champion freedom of ideas, making art in the face of adversity and choosing to be bold. It will be inspirational to young and old, and will encourage glorious, creative rebellion. " (Amazon)
Beast in view by Margaret Millar (Mystery)
"Thirty-year-old Helen Clarvoe is scared and all alone. The heiress of a small fortune, she is resented by her mother and, to a lesser degree, her brother. The only person who seemingly cares for her is the family's attorney, Paul Blackshear. A shut-in, Helen maintains her residence in an upscale hotel downtown.
But passive-aggressive resentment isn't the only thing hounding Helen Clarvoe. A string of bizarre and sometimes threatening prank phone calls has upended her spinster's routine. Increasingly threatened, she turns to a reluctant Mr. Blackshear to get to the bottom of these strange calls. Blackshear is doubtful of their seriousness but he quickly realizes that he is in the midst of something far more sinister than he thought possible. As he unravels the mystery of the calls the identity behind them slowly emerges, predatory and treacherous." (Amazon)
The Bell Jar by Sylvia Plath (Fiction)
"The Bell Jar chronicles the crack-up of Esther Greenwood: brilliant, beautiful, enormously talented, and successful, but slowly going under — maybe for the last time. Sylvia Plath masterfully draws the reader into Esther's breakdown with such intensity that Esther's insanity becomes completely real and even rational, as probable and accessible an experience as going to the movies. Such deep penetration into the dark and harrowing corners of the psyche is an extraordinary accomplishment and has made The Bell Jar a haunting American classic." (Amazon)
"Annie Proulx has written some of the most original and brilliant short stories in contemporary literature, and for many readers and reviewers, "Brokeback Mountain" is her masterpiece.
Ennis del Mar and Jack Twist, two ranch hands, come together when they're working as sheepherder and camp tender one summer on a range above the tree line. At first, sharing an isolated tent, the attraction is casual, inevitable, but something deeper catches them that summer.
Both men work hard, marry, and have kids because that's what cowboys do. But over the course of many years and frequent separations this relationship becomes the most important thing in their lives, and they do anything they can to preserve it." (Amazon)
Calvin by Martine Leavitt (YA Fiction)
"Seventeen-year-old Calvin has always known his fate is linked to the comic book character from Calvin & Hobbes.

He was born on the day the last strip was published. His grandpa put a stuffed tiger named Hobbes in his crib. And he even had a best friend named Susie.
Then Calvin's mom washed Hobbes to death. Susie grew up beautiful and stopped talking to him. And Calvin pretty much forgot about the strip―until now.
Now he is seventeen years old and has been diagnosed with schizophrenia. Hobbes is back, as a delusion, and Calvin can't control him. Calvin decides that cartoonist Bill Watterson is the key to everything―if he would just make one more comic strip, but without Hobbes, Calvin would be cured.
Calvin and Susie (is she real?) and Hobbes (he can't be real, can he?) set out on a dangerous trek across frozen Lake Erie to track down Watterson." (Amazon)
Chemistry by Weike Wang (Romance)
"At first glance, the quirky, overworked narrator of Weike Wang's debut novel seems to be on the cusp of a perfect life: she is studying for a prestigious PhD in chemistry that will make her Chinese parents proud (or at least satisfied), and her successful, supportive boyfriend has just proposed to her. But instead of feeling hopeful, she is wracked with ambivalence: the long, demanding hours at the lab have created an exquisite pressure cooker, and she doesn't know how to answer the marriage question. When it all becomes too much and her life plan veers off course, she finds herself on a new path of discoveries about everything she thought she knew. Smart, moving, and always funny, this unique coming-of-age story is certain to evoke a winning reaction." (Amazon)
"In her graphic memoirs, New York Times-best selling cartoonist Lucy Knisley paints a warts-and-all portrait of contemporary, twentysomething womanhood, like writer Lena Dunham (Girls). In the next installment of her graphic travelogue series, Displacement, Knisley volunteers to watch over her ailing grandparents on a cruise. (The book's watercolors evoke the ocean that surrounds them.) In a book that is part graphic memoir, part travelogue, and part family history, Knisley not only tries to connect with her grandparents, but to reconcile their younger and older selves. She is aided in her quest by her grandfather's WWII memoir, which is excerpted. Readers will identify with Knisley s frustration, her fears, her compassion, and her attempts to come to terms with mortality, as she copes with the stress of travel complicated by her grandparents' frailty." (Goodreads)
"Twelve-year-old Fee is a shy Korean American boy and a newly named section leader of the first sopranos in his local boys' choir. But when Fee learns how the director treats his section leaders, he is so ashamed he says nothing of the abuse, not even when Peter, his best friend, is in line to be next. When the director is arrested, Fee tries to forgive himself for his silence. But when Peter takes his own life, Fee blames only himself. In the years that follow he slowly builds a new life, teaching near his hometown. There he meets a young student who is the picture of Peter and is forced to confront the past he believed was gone." (Amazon)
"Megan Hunter's debut is a searing original, a modern-day parable of rebirth and renewal, of maternal bonds, and the instinct to survive and thrive in the absence of all that's familiar.
As London is submerged below floodwaters, a woman gives birth to her first child, Z. Days later, she and her baby are forced to leave their home in search of safety. They head north through a newly dangerous country seeking refuge from place to place. The story traces fear and wonder as the baby grows, thriving and content against all the odds.
The End We Start From is an indelible and elemental first book―a lyrical vision of the strangeness and beauty of new motherhood, and a tale of endurance in the face of ungovernable change." (Amazon)
"Children have always disappeared under the right conditions; slipping through the shadows under a bed or at the back of a wardrobe, tumbling down rabbit holes and into old wells, and emerging somewhere… else.
But magical lands have little need for used-up miracle children.
Nancy tumbled once, but now she's back. The things she's experienced… they change a person. The children under Miss West's care understand all too well. And each of them is seeking a way back to their own fantasy world.
But Nancy's arrival marks a change at the Home. There's a darkness just around each corner, and when tragedy strikes, it's up to Nancy and her new-found schoolmates to get to the heart of things.
No matter the cost." (Amazon)
"Anne Fadiman is–by her own admission–the sort of person who learned about sex from her father's copy of Fanny Hill, whose husband buys her 19 pounds of dusty books for her birthday, and who once found herself poring over her roommate's 1974 Toyota Corolla manual because it was the only written material in the apartment that she had not read at least twice.
This witty collection of essays recounts a lifelong love affair with books and language." (Amazon)
"In this rousing new prose and poetry collection, Nikita Gill gives Once Upon a Time a much-needed modern makeover. Through her gorgeous reimagining of fairytale classics and spellbinding original tales, she dismantles the old-fashioned tropes that have been ingrained in our minds. In this book, gone are the docile women and male saviors. Instead, lines blur between heroes and villains. You will meet fearless princesses, a new kind of wolf lurking in the concrete jungle, and an independent Gretel who can bring down monsters on her own.
Complete with beautifully hand-drawn illustrations by Gill herself, Fierce Fairytales is an empowering collection of poems and stories for a new generation." (Amazon)
The Fifth Risk by Michael Lewis (Nonfiction)
"Michael Lewis's brilliant narrative takes us into the engine rooms of a government under attack by its own leaders. In Agriculture the funding of vital programs like food stamps and school lunches is being slashed. The Commerce Department may not have enough staff to conduct the 2020 Census properly. Over at Energy, where international nuclear risk is managed, it's not clear there will be enough inspectors to track and locate black market uranium before terrorists do….
If there are dangerous fools in this book, there are also heroes, unsung, of course. They are the linchpins of the system―those public servants whose knowledge, dedication, and proactivity keep the machinery running. Michael Lewis finds them, and he asks them what keeps them up at night." (Amazon)
Fox 8 by George Saunders (Fiction)
"Fox 8 has always been known as the daydreamer in his pack, the one his fellow foxes regard with a knowing snort and a roll of the eyes. That is, until he develops a unique skill: He teaches himself to speak "Yuman" by hiding in the bushes outside a house and listening to children's bedtime stories. The power of language fuels his abundant curiosity about people—even after "danjer" arrives in the form of a new shopping mall that cuts off his food supply, sending Fox 8 on a harrowing quest to help save his pack." (Amazon)
The Friend by Sigrid Nunez (Fiction)
"When a woman unexpectedly loses her lifelong best friend and mentor, she finds herself burdened with the unwanted dog he has left behind. Her own battle against grief is intensified by the mute suffering of the dog, a huge Great Dane traumatized by the inexplicable disappearance of its master, and by the threat of eviction: dogs are prohibited in her apartment building.
While others worry that grief has made her a victim of magical thinking, the woman refuses to be separated from the dog except for brief periods of time. Isolated from the rest of the world, increasingly obsessed with the dog's care, determined to read its mind and fathom its heart, she comes dangerously close to unraveling. But while troubles abound, rich and surprising rewards lie in store for both of them.
Elegiac and searching, The Friend is both a meditation on loss and a celebration of human-canine devotion." (Amazon)
"Her life at a crossroads, a young woman goes home again in this funny and inescapably moving debut from a wonderfully original new literary voice.
Freshly disengaged from her fiancé and feeling that life has not turned out quite the way she planned, thirty-year-old Ruth quits her job, leaves town and arrives at her parents' home to find that situation more complicated than she'd realized. Her father, a prominent history professor, is losing his memory and is only erratically lucid. Ruth's mother, meanwhile, is lucidly erratic. But as Ruth's father's condition intensifies, the comedy in her situation takes hold, gently transforming all her grief.
Told in captivating glimpses and drawn from a deep well of insight, humor, and unexpected tenderness, Goodbye, Vitamin pilots through the loss, love, and absurdity of finding one's footing in this life." (Amazon)
The Grownup by Gillian Flynn (Mystery)
"A canny young woman is struggling to survive by perpetrating various levels of mostly harmless fraud. On a rainy April morning, she is reading auras at Spiritual Palms when Susan Burke walks in. A keen observer of human behavior, our unnamed narrator immediately diagnoses beautiful, rich Susan as an unhappy woman eager to give her lovely life a drama injection. However, when the "psychic" visits the eerie Victorian home that has been the source of Susan's terror and grief, she realizes she may not have to pretend to believe in ghosts anymore. Miles, Susan's teenage stepson, doesn't help matters with his disturbing manner and grisly imagination. The three are soon locked in a chilling battle to discover where the evil truly lurks and what, if anything, can be done to escape it. " (Amazon)
"First published in 1959, Shirley Jackson's The Haunting of Hill House has been hailed as a perfect work of unnerving terror. It is the story of four seekers who arrive at a notoriously unfriendly pile called Hill House: Dr. Montague, an occult scholar looking for solid evidence of a "haunting"; Theodora, his lighthearted assistant; Eleanor, a friendless, fragile young woman well acquainted with poltergeists; and Luke, the future heir of Hill House. At first, their stay seems destined to be merely a spooky encounter with inexplicable phenomena. But Hill House is gathering its powers—and soon it will choose one of them to make its own." (Amazon)
Heart Berries by Terese Marie Mailhot (Memoir)
"Heart Berries is a powerful, poetic memoir of a woman's coming of age on the Seabird Island Band in the Pacific Northwest. Having survived a profoundly dysfunctional upbringing only to find herself hospitalized and facing a dual diagnosis of post traumatic stress disorder and bipolar II disorder; Terese Marie Mailhot is given a notebook and begins to write her way out of trauma. The triumphant result is Heart Berries, a memorial for Mailhot's mother, a social worker and activist who had a thing for prisoners; a story of reconciliation with her father―an abusive drunk and a brilliant artist―who was murdered under mysterious circumstances; and an elegy on how difficult it is to love someone while dragging the long shadows of shame.
Mailhot trusts the reader to understand that memory isn't exact, but melded to imagination, pain, and what we can bring ourselves to accept. Her unique and at times unsettling voice graphically illustrates her mental state. As she writes, she discovers her own true voice, seizes control of her story, and, in so doing, reestablishes her connection to her family, to her people, and to her place in the world." (Amazon)
"In Her Body and Other Parties, Carmen Maria Machado blithely demolishes the arbitrary borders between psychological realism and science fiction, comedy and horror, fantasy and fabulism. While her work has earned her comparisons to Karen Russell and Kelly Link, she has a voice that is all her own. In this electric and provocative debut, Machado bends genre to shape startling narratives that map the realities of women's lives and the violence visited upon their bodies." (Amazon)
"Understanding someone who belongs to another species can be transformative. No one knows this better than author, naturalist, and adventurer Sy Montgomery. To research her books, Sy has traveled the world and encountered some of the planet's rarest and most beautiful animals. From tarantulas to tigers, Sy's life continually intersects with and is informed by the creatures she meets.
This restorative memoir reflects on the personalities and quirks of thirteen animals—Sy's friends—and the truths revealed by their grace. It also explores vast themes: the otherness and sameness of people and animals; the various ways we learn to love and become empathetic; how we find our passion; how we create our families; coping with loss and despair; gratitude; forgiveness; and most of all, how to be a good creature in the world." (Amazon)
"A trans artist explores how masculinity was imposed on her as a boy and continues to haunt her as a girl–and how we might reimagine gender for the twenty-first century.
Vivek Shraya has reason to be afraid. Throughout her life she's endured acts of cruelty and aggression for being too feminine as a boy and not feminine enough as a girl. In order to survive childhood, she had to learn to convincingly perform masculinity. As an adult, she makes daily compromises to steel herself against everything from verbal attacks to heartbreak.
Now, with raw honesty, Shraya delivers an important record of the cumulative damage caused by misogyny, homophobia, and transphobia, releasing trauma from a body that has always refused to assimilate. I'm Afraid of Men is a journey from camouflage to a riot of colour and a blueprint for how we might cherish all that makes us different and conquer all that makes us afraid." (Amazon)
"Phoebe Lin and Will Kendall meet in their first month at prestigious Edwards University. Phoebe is a glamorous girl who doesn't tell anyone she blames herself for her mother's recent death. Will is a misfit scholarship boy who transfers to Edwards from Bible college, waiting tables to get by. What he knows for sure is that he loves Phoebe.
Grieving and guilt-ridden, Phoebe is drawn into a secretive cult founded by a charismatic former student with an enigmatic past. When the group commits a violent act in the name of faith, Will finds himself struggling to confront a new version of the fanaticism he's worked so hard to escape. Haunting and intense, The Incendiaries is a fractured love story that explores what can befall those who lose what they love most." (Amazon)
"Killing and Dying is a stunning showcase of the possibilities of the graphic novel medium and a wry exploration of loss, creative ambition, identity, and family dynamics. With this work, Adrian Tomine (Shortcomings, Scenes from an Impending Marriage) reaffirms his place not only as one of the most significant creators of contemporary comics but as one of the great voices of modern American literature. His gift for capturing emotion and intellect resonates here: the weight of love and its absence, the pride and disappointment of family, the anxiety and hopefulness of being alive in the twenty-first century." (Amazon)
Kitchen by Banana Yoshimoto (Fiction)
"With the publication of Kitchen, the dazzling English-language debut that is still her best-loved book, the literary world realized that Yoshimoto was a young writer of enduring talent whose work has quickly earned a place among the best of contemporary Japanese literature. Kitchen is an enchantingly original book that juxtaposes two tales about mothers, love, tragedy, and the power of the kitchen and home in the lives of a pair of free-spirited young women in contemporary Japan. Mikage, the heroine, is an orphan raised by her grandmother, who has passed away. Grieving, Mikage is taken in by her friend Yoichi and his mother (who is really his cross-dressing father) Eriko. As the three of them form an improvised family that soon weathers its own tragic losses, Yoshimoto spins a lovely, evocative tale with the kitchen and the comforts of home at its heart." (Amazon)
"Humanity has nearly destroyed its world through global warming, but now an even greater evil lurks. The indigenous people of North America are being hunted and harvested for their bone marrow, which carries the key to recovering something the rest of the population has lost: the ability to dream. In this dark world, Frenchie and his companions struggle to survive as they make their way up north to the old lands. For now, survival means staying hidden—but what they don't know is that one of them holds the secret to defeating the marrow thieves." (Amazon)
"In her comic, scathing essay, "Men Explain Things to Me," Rebecca Solnit took on what often goes wrong in conversations between men and women. She wrote about men who wrongly assume they know things and wrongly assume women don't, about why this arises, and how this aspect of the gender wars works, airing some of her own hilariously awful encounters.
This updated edition with two new essays of this national bestseller book features that now-classic essay as well as "#YesAllWomen," an essay written in response to 2014 Isla Vista killings and the grassroots movement that arose with it to end violence against women and misogyny, and the essay "Cassandra Syndrome." This book is also available in hardcover." (Amazon)
"From [Daniel] Mallory Ortberg comes a collection of darkly mischievous stories based on classic fairy tales. Adapted from the beloved 'Children's Stories Made Horrific' series, 'The Merry Spinster' takes up the trademark wit that endeared Ortberg to readers of both The Toast and the best-selling debut Texts From Jane Eyre. The feature has become among the most popular on the site, with each entry bringing in tens of thousands of views, as the stories proved a perfect vehicle for Ortberg's eye for deconstruction and destabilization. Sinister and inviting, familiar and alien all at the same time, The Merry Spinster updates traditional children's stories and fairy tales with elements of psychological horror, emotional clarity, and a keen sense of feminist mischief." (Amazon)
"The book is divided into four chapters, and each chapter serves a different purpose. Deals with a different pain. Heals a different heartache. Milk and Honey takes readers through a journey of the most bitter moments in life and finds sweetness in them because there is sweetness everywhere if you are just willing to look." (Amazon)
"The feeling of not fitting in is universal. The Misfit's Manifesto is for misfits around the world—the rebels, the eccentrics, the oddballs, and anyone who has ever felt like she was messing up. It's Lidia Yuknavitch's love letter to all those who can't ever seem to find the "right" path. She won't tell you how to stop being a misfit—quite the opposite. In her charming, poetic, funny, and frank style, Lidia will reveal why being a misfit is not something to overcome, but something to embrace. Lidia also encourages her fellow misfits not to be afraid of pursuing goals, how to stand up, how to ask for the things they want most. Misfits belong in the room, too, she reminds us, even if their path to that room is bumpy and winding. An important idea that transcends all cultures and countries, this book has created a brave and compassionate community for misfits, a place where everyone can belong." (Amazon)
Nutshell by Ian McEwan (Fiction)
"Trudy has been unfaithful to her husband, John. What's more, she has kicked him out of their marital home, a valuable old London town house, and in his place is his own brother, the profoundly banal Claude. The illicit couple have hatched a scheme to rid themselves of her inconvenient husband forever. But there is a witness to their plot: the inquisitive, nine-month-old resident of Trudy's womb.
As Trudy's unborn son listens, bound within her body, to his mother and his uncle's murderous plans, he gives us a truly new perspective on our world, seen from the confines of his. McEwan's brilliant recasting of Shakespeare lends new weight to the age-old question of Hamlet's hesitation, and is a tour de force of storytelling." (Amazon)
"The Only Harmless Great Thing is a heart-wrenching alternative history by Brooke Bolander that imagines an intersection between the Radium Girls and noble, sentient elephants.
In the early years of the 20th century, a group of female factory workers in Newark, New Jersey slowly died of radiation poisoning. Around the same time, an Indian elephant was deliberately put to death by electricity in Coney Island.
These are the facts.
Now these two tragedies are intertwined in a dark alternate history of rage, radioactivity, and injustice crying out to be righted. Prepare yourself for a wrenching journey that crosses eras, chronicling histories of cruelty both grand and petty in search of meaning and justice." (Amazon)
"Late in 2004, Maggie Nelson was looking forward to the publication of her book Jane: A Murder, a narrative in verse about the life and death of her aunt, who had been murdered thirty-five years before. The case remained unsolved, but Jane was assumed to have been the victim of an infamous serial killer in Michigan in 1969.
Then, one November afternoon, Nelson received a call from her mother, who announced that the case had been reopened; a new suspect would be arrested and tried on the basis of a DNA match. Over the months that followed, Nelson found herself attending the trial with her mother and reflecting anew on the aura of dread and fear that hung over her family and childhood–an aura that derived not only from the terrible facts of her aunt's murder but also from her own complicated journey through sisterhood, daughterhood, and girlhood.
The Red Parts is a memoir, an account of a trial, and a provocative essay that interrogates the American obsession with violence and missing white women, and that scrupulously explores the nature of grief, justice, and empathy." (Amazon)
A Single Man by Christopher Isherwood (Fiction)
"Welcome to sunny suburban 1960s Southern California. George is a gay middle-aged English professor, adjusting to solitude after the tragic death of his young partner. He is determined to persist in the routines of his former life. A Single Man follows him over the course of an ordinary twenty-four hours. Behind his British reserve, tides of grief, rage, and loneliness surge―but what is revealed is a man who loves being alive despite all the everyday injustices." (Amazon)
Sisters by Lily Tuck (Fiction)
"In her singular new novel Sisters, Tuck gives a very different portrait of marital life, exposing the intricacies and scandals of a new marriage sprung from betrayal.
Tuck's unnamed narrator lives with her new husband, his two teenagers, and the unbanishable presence of his first wife―known only as she. Obsessed with her, our narrator moves through her days presided over by the all-too-real ghost of the first marriage, fantasizing about how the first wife lives her life. Will the narrator ever equal she intellectually, or ever forget the betrayal that lies between them? And what of the secrets between her husband and she, from which the narrator is excluded? The daring and precise build up to an eerily wonderful denouement is a triumph of subtlety and surprise.
With Sisters, Lily Tuck delivers riveting psychological portrait of marriage, infidelity, and obsession; charting with elegance and insight love in all its phases." (Amazon)
Skim by Mariko and Jillian Tamaki (YA Graphic Novel)
"'Skim' is Kimberly Keiko Cameron, a not-slim, would-be Wiccan goth who goes to a private girls' school in the early '90s. When her classmate Katie Matthews is dumped by her boyfriend, who then kills himself — possibly because he's (maybe) gay — the entire school goes into mourning overdrive. It's a weird time to fall in love, but that's what happens to Skim when she starts meeting secretly with her neo-hippie English teacher, Ms. Archer. But then Ms. Archer abruptly leaves the school, and Skim has to cope with her confusion and isolation while her best friend, Lisa, tries to pull her into 'real' life by setting up a hilarious double-date for the school's semi formal. Suicide, depression, love, homosexuality, crushes, cliques of popular, manipulative peers — the whole gamut of teen life is explored in this poignant glimpse into the heartache of being 16." (Amazon)
"When it comes to crime, it's not always a question of 'who dunnit?' Sometimes there's more mystery in the why or the how. And what about the clever few who carry out what appears to be the perfect crime? Or whose most essential selves are changed by the crimes they commit? And what about those who know the identity of the murderer but keep the information to themselves? These are some of the questions that these six stories begin to unlock as they draw us into the inner workings—the thoughts and emotional machinations, the recollections and rationalizations, the dreams and desires—behind both murderous cause and effect. And no one gets inside the head of a perpetrator—or makes it a peerlessly thrilling and entertaining read—like the incomparable P. D. James." (Amazon)
The Strange Library by Haruki Murakami, translated by Ted Goossen (Fiction)
"Opening the flaps on this unique little book, readers will find themselves immersed in the strange world of best-selling Haruki Murakami's wild imagination. The story of a lonely boy, a mysterious girl, and a tormented sheep man plotting their escape from a nightmarish library, the book is like nothing else Murakami has written. Designed by Chip Kidd and fully illustrated, in full color, throughout, this small format, 96 page volume is a treat for book lovers of all ages." (Amazon)
"When her corgis stray into a mobile library parked near Buckingham Palace, the Queen feels duty-bound to borrow a book. Discovering the joy of reading widely (from J. R. Ackerley, Jean Genet, and Ivy Compton-Burnett to the classics) and intelligently, she finds that her view of the world changes dramatically. Abetted in her newfound obsession by Norman, a young man from the royal kitchens, the Queen comes to question the prescribed order of the world and loses patience with the routines of her role as monarch. Her new passion for reading initially alarms the palace staff and soon leads to surprising and very funny consequences for the country at large." (Amazon)
The Vegetarian by Han King, translated by Deborah Smith (Fiction)
"Before the nightmares began, Yeong-hye and her husband lived an ordinary, controlled life. But the dreams—invasive images of blood and brutality—torture her, driving Yeong-hye to purge her mind and renounce eating meat altogether. It's a small act of independence, but it interrupts her marriage and sets into motion an increasingly grotesque chain of events at home. As her husband, her brother-in-law and sister each fight to reassert their control, Yeong-hye obsessively defends the choice that's become sacred to her. Soon their attempts turn desperate, subjecting first her mind, and then her body, to ever more intrusive and perverse violations, sending Yeong-hye spiraling into a dangerous, bizarre estrangement, not only from those closest to her, but also from herself." (Amazon)
"Eden Malcom lies in a bed, unable to move or to speak, imprisoned in his own mind. His wife Mary spends every day on the sofa in his hospital room. He has never even met their young daughter. And he will never again see the friend and fellow soldier who didn't make it back home–and who narrates the novel. But on Christmas, the one day Mary is not at his bedside, Eden's re-ordered consciousness comes flickering alive. As he begins to find a way to communicate, some troubling truths about his marriage–and about his life before he went to war–come to the surface. Is Eden the same man he once was: a husband, a friend, a father-to-be? What makes a life worth living? A piercingly insightful, deeply felt meditation on loyalty and betrayal, love and fear, Waiting for Eden is a tour de force of profound humanity." (Amazon)
We Are Okay by Nina LaCour (YA Fiction)
"Marin hasn't spoken to anyone from her old life since the day she left everything behind. No one knows the truth about those final weeks. Not even her best friend Mabel. But even thousands of miles away from the California coast, at college in New York, Marin still feels the pull of the life and tragedy she's tried to outrun. Now, months later, alone in an emptied dorm for winter break, Marin waits. Mabel is coming to visit and Marin will be forced to face everything that's been left unsaid and finally confront the loneliness that has made a home in her heart." (Amazon)
"In this personal, eloquently-argued essay—adapted from the much-admired TEDx talk of the same name—Chimamanda Ngozi Adichie offers readers a unique definition of feminism for the twenty-first century, one rooted in inclusion and awareness. Drawing extensively on her own experiences and her deep understanding of the often masked realities of sexual politics, here is one remarkable author's exploration of what it means to be a woman now—and an of-the-moment rallying cry for why we should all be feminists." (Amazon)
"Henry Worsley was a devoted husband and father and a decorated British special forces officer who believed in honor and sacrifice. He was also a man obsessed. He spent his life idolizing Ernest Shackleton, the nineteenth-century polar explorer, who tried to become the first person to reach the South Pole, and later sought to cross Antarctica on foot. Shackleton never completed his journeys, but he repeatedly rescued his men from certain death, and emerged as one of the greatest leaders in history.
Worsley felt an overpowering connection to those expeditions. He was related to one of Shackleton's men, Frank Worsley, and spent a fortune collecting artifacts from their epic treks across the continent. He modeled his military command on Shackleton's legendary skills and was determined to measure his own powers of endurance against them. He would succeed where Shackleton had failed, in the most brutal landscape in the world.
In 2008, Worsley set out across Antarctica with two other descendants of Shackleton's crew, battling the freezing, desolate landscape, life-threatening physical exhaustion, and hidden crevasses. Yet when he returned home he felt compelled to go back." (Amazon)
"Britain's best-known classicist Mary Beard, is also a committed and vocal feminist. With wry wit, she revisits the gender agenda and shows how history has treated powerful women. Her examples range from the classical world to the modern day, from Medusa and Athena to Theresa May and Hillary Clinton. Beard explores the cultural underpinnings of misogyny, considering the public voice of women, our cultural assumptions about women's relationship with power, and how powerful women resist being packaged into a male template.
With personal reflections on her own experiences of the sexism and gendered aggression she has endured online, Mary asks: if women aren't perceived to be within the structures of power, isn't it power that we need to redefine?" (Amazon)