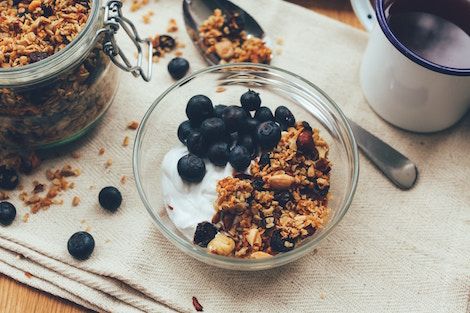 Lists
What Best-Seller Should You Read Based on What You Ate for Breakfast
This content contains affiliate links. When you buy through these links, we may earn an affiliate commission.
This is a guest post from Laura Diaz de Arce. Laura is a South Florida based writer with a penchant for KDramas and cat memes. She is one half of Smoking Mirror Press and an avid collector of old books bought at discount. She also makes a pretty good chocolate souffle. Follow her on Twitter @QuetaAuthor.
---
You can't judge a book by it's cover, but you can judge the reader by what they choose to eat first thing in the morning. It's science!(1) If you've been scanning though last year's best-seller lists unsure of what to pick up at your local library, I have got you covered! Pick your breakfast of choice to get what you should be reading.
You're the type of person who wakes up and doesn't want a lot of fuss. In books and as far as breakfasts go, you want something that you know is good and is good for you. Just get yourself a bowl of Cheerios, maybe Special K with Almonds if you're feeling particularly adventurous, and enjoy Ng's intimately painted work about family, race and class in the suburbs. It's a book that will draw you in AND make you think. Bonus!
Sugary Cereal:

Warcross by Marie Lu
There is nothing wrong with satisfying the kid in you my Lucky Charm–eating friend! We both know that it's not that you're immature, it's that you know that as a grown person YOU get to define adulthood. And sometimes adulthood likes a bowl of Coco Puffs and a refreshing YA novel. Lu's Warcross is like Neuromancer mixed with The Glass Throne novels. Hacker Assassins? I'm here for it.
Health Food Breakfast: Leonardo Da Vinci by Walter Isaacson
A book about a go-getter for a go-getter. To you, food is fuel, so when you get up it needs to be something protein-rich, like an egg white omelet, or nutritious, like a kale smoothie. But all this is a means to an end, to get you to your goals. Some might paint you as a health-addict, but really, you just want to make things count. Take a little inspiration from the original Renaissance man, and with Isaacson's penchant for drama, you won't be bored. Get yourself the audio book to listen on the treadmill.
Maybe it's oatmeal topped with a sliced banana and honey or blueberry cream of wheat; you're the sensitive type. You like a little whimsy and warmth. Lucky for you Haddish's memoir isn't just hilarious, it's a touching journey. Haddish's retelling of her hustle is handled with humor and no-frills honesty. It's a true story that will warm you up like a bowl porridge. Curl up with a nice cup of tea and her experience breaking into Hollywood.
No Breakfast: Sleeping Beauties by Stephen King and Owen King
We'll just throw all the rules out of the window at this point. I mean, if you're willing to skip the most important meal of the day and are two steps from starting your own hunger-induced fight club then we'll just have to turn you over to the Kings. Let's pair you with story about violence and a lack of sleep for good measure. The least you could do is have a cup of coffee while trying to decipher the mysterious sickness taking hold in Sleeping Beauties.
(1) It's not actually science.