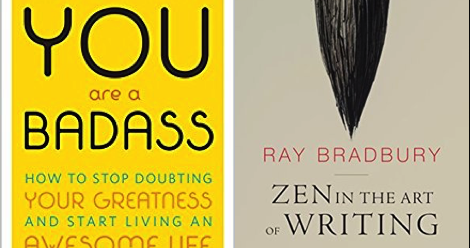 Nonfiction
Get in the New Year's Spirit with the Best Self-Help Books
This content contains affiliate links. When you buy through these links, we may earn an affiliate commission.
I'll admit it – I'm a self-help junkie. I think that one of the most exhilarating things about being alive is that there are ways to change ourselves. Certainly there are serious systemic issues that keep certain people trapped in their situations. However, the best self-help books seem to make it possible to see a new way to live within our daily challenges.
I don't settle for self-help books that aren't actionable, that tell me things I already know, or that make me feel like the author cannot relate to a regular or difficult life. Instead, I look for the best self-help books that specifically gave someone a boost, created a benefit. Some of the following books were recommended by other Rioters, and some are my personal favorites, but I believe they all have something to offer their own target audiences.
You Are a Badass: How to Stop Doubting Your Greatness and Start Living an Awesome Life by Jen Sincero
This book is perfect for making sure your self-affirmations are on point. Rather than trying to make you a better person, this one counters the tendency among women to doubt and downgrade themselves. Start the New Year remembering what makes you wonderful.
Tiny Beautiful Things by Cheryl Strayed
This collection of Dear Sugar advice columns combines real talk with encouragement and is actually perfect for anyone, not just women. It doesn't sugar coat the hard things in life, but instead tries to emphasize what is beautiful even amongst a lot of pain at times.
If you want to be empowered by a person who has actually done a TON of things, Rhimes' book is a great way to remind yourself that you could be saying yes to things more often. Her commitment to try things outside her comfort zone will have you also looking for ways to find your edge too.
The Art of Asking by Amanda Palmer
Being unwilling to ask for help doesn't just hold us back; it sometimes curtails what is even possible! Palmer is a living testament to the power of asking people to be a part of your story, and she demonstrates how both her life and the lives of others were enriched by her choices.
This is How by Augusten Burroughs
I wouldn't have pegged Burroughs, author of Running with Scissors and other harrowing memoirs, as a self-help guru, until I thought about it: he's been through a lot of the tough struggles and life events that self-help books seek to assist! Burroughs never resorts to clichés but instead tries to turn his own inner turmoil into actionable behaviors in a world that can sometimes be hard to shake. Real talk.
Works Well with Others: An Outsider's Guide to Shaking Hands, Shutting Up, Handling Jerks, and Other Crucial Skills in Business That No One Ever Teaches You by Ross McCammon
McCammon really puts a magnifying lens up to some of the most absurd social norms that make business function but which are never discussed. If you want to try to see business from an insider's view so that you yourself can swim in those stormy seas a little easier, check out this book.
Little Victories: Perfect Rules for Imperfect Living by Jason Gay
Gay's book is a meditation on a simple truth that we'd all do better to ponder: small things make us happy, so we're better off accumulating a lot of small things (little victories) than we are putting all our hope in a single monolithic goal. Use this book to split up some of those lofty resolutions into daily positives you can note and enjoy.
Best Self-Help books for Writers
Zen In The Art of Writing by Ray Bradbury
Bradbury may be old school, but he sure loved to write. His advice is worth trying if only because he lived a life inside a lot of stories. Many are inspired to make their life more writing centric just because of the way he makes such a life sound.
The Desire Map by Danielle Laporte
Wanting to write is a simple goal. If you want a more clear goal that will follow the intentions you really have, check out LaPorte on the topic. You'll get to know what goals to make, which makes you much more likely to achieve them.
Big Magic by Elizabeth Gilbert
Gilbert's attitude toward writing falls squarely between those who are very anxious about it and those who are constantly doing it, and that makes her writing so relatable. Gilbert will remind you why you want to keep trying to write.
Making a Literary Life: Advice for Writers and Other Dreamers by Carolyn See
Writers who care about community and who want to know how to put their thoughts and feelings in the world will love this book. Being inspired to not only write more but to take more risks in your writing is part of a great writerly New Year's Resolution.

Best Self-Help Audiobooks
Happier at Home by Gretchen Rubin
Rubin set out to make her home a place that she really wanted to be by figuring out what makes a place feel like "home." Listening to this audiobook as you go about your many home-related chores can remind you of the big picture.
Duckworth's research takes some of the pressure to be smart off. It turns out, the willingness to stick with a problem or persist in a difficult situation may be a bigger indicator of success. In a world that changes too fast for rote solutions, the people who keep trying to find creative paths forward seem to be having their way.
The Checklist Manifesto by Atul Guwande
You probably didn't know that your lowly checklist is actually an essential method for managing modernity; this book will make you feel like you are accomplishing something seriously world-changing as you work through your daily to-dos.
Retire Inspired by Chris Hogan
While many money books focus on the things that money can buy, this version of retirement seems to make sense. Hogan made me feel like saving now is actually building the income that I'll need in retirement. It seems far away, but is closer than I probably think. It's not a bad way to start a new financial year, when new choices are possible.
Best Self-Help Books for Teens
So Good They Can't Ignore You by Cal Newport
So many people tell you to follow your passion or your dream, even when you may not feel like you have a particular one. This book flips that advice in a relieving way. Do what you are great at, what you've repeatedly done well, and what you can keep improving upon. From there, you may discover a passion, but this book emphasizes that the path to success is playing to your own strengths.
Feeling vulnerable and unusual can be a crippling fear as a teenager… or at any age! Brown's book points out how leveraging our feelings of vulnerability to get to great breakthroughs is not just good, its necessary. Reading this book will put bravery behind a lot of the scary choices you have in the near future.
The One Week Budget by Tiffany Aliche
It is never too soon to know about how to handle money. Aliche was doing it before age 21, and you can be good at personal finance early on too. Make this the year that you learn what it means to manage money well.
How to Be Alone by Sara Maitland
You've grown up with technology either at your fingertips or all around your environment. Do you know what it takes to be truly disconnected and comfortable with yourself? This book explores that opportunity. Even if you still want to text friends afterwards, having this skill makes you ready to face the world in a more complete way.
Free Self-Help Books
One easy source of self-help books I've found is the application Hoopla. If your library subscribes to this service, you have access to downloadable media, including audiobooks. Their range of self-help books is very wide; many books from this list are available!
Other sources of free self-help books include your local branch of the public library and other eBook applications like Overdrive. That being said, many modern self-help bloggers have created eBooks that are available for download from their websites. Keep an eye out as you search for online content as well.
---
Still want to feed your self-help urge as you make those resolutions? Check out Entertaining Self Help Books that Actually Help and Rioter's Favorite Self Help Books. If you aren't quite in the mood, check out one Rioter's take on When Self-Help Books Aren't Enough.
What do you think are the best self-help books?