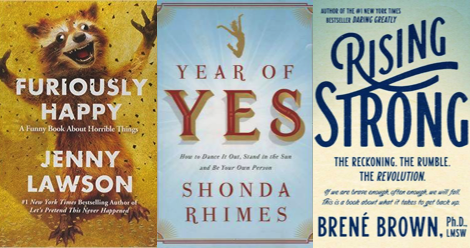 Lists
The Best Self-Help Books for Anxiety
This content contains affiliate links. When you buy through these links, we may earn an affiliate commission.
Anxiety can be a debilitating and all-consuming mental illness, and self-help books can be a huge help in learning how to rewire your brain and alleviate your intrusive thoughts. This is a list of the best self-help books for anxiety, keeping in mind that the best thing to do when you're struggling with your mental health is seeing a doctor. These books are for a pick-me up, rather than providing a set-in-stone cure.
With that being said, when I was diagnosed with generalized anxiety disorder, reading about people who suffered with similar issues while I was getting to grips with psychiatric and therapeutic treatment was incredibly validating and helpful. Sometimes, anxiety got in the way of reading which was incredibly frustrating (if this is you, here are some tips on how to deal with that) but I always found that if I could see my feelings in the book I was reading, along with some guidelines on how to make myself feel better, I was able to focus more.
This list is a mixture of books I found helpful in my own journey of grappling with anxiety through pratical advice and books that would snap me out of disassociation by reminding me these feelings are common and can be negotiated.
Brené Brown doens't talk about anxiety specifically, but her writing about vulnerability and being afraid to fail really spoke to me. I realized a lot of my anxiety was due to the stories I tell myself, rather than the reality I am dealing with (intrusive thoughts, anyone?). Her other books, Daring Greatly and Braving the Wilderness are also eye-opening.
This one is more about becoming more functional while your brain is all over the place. Cuddy talks about her own experiences and how she overcame anxiety through presence. It's a practical, yet empathetic guide to improve yourself even through mental blocks.
I think it's really important to read perspectives of people who have been there and have succeeded through it all. Rhymes talks about her anxiety disorder and discusses ways to cope in her memoir.
One of the impact anxiety had on my life was finding out I am a highly sensitive person–and that highly sensitive people are more prone to mental illness. This book really resonated with me and explained a lot of my behavior and reactions that sometimes seemed disproportionate. This book also contains some coping mechanisms, but never underestimate the power of being able to name why you feel a certain way.
I have found workbooks generally helpful to rewire my brain and train myself to reject or stop intrusive thoughts. Warning: it's difficult and it's different for each person, so don't take this as your only form of therapy.
Women in Clothes by Heidi Julavits, Leanne Shapton, Sheila Heti
Sometimes, my anxiety is linked to how I see my body and my self-esteem. This book is part memoir, part field-study and includes a myriad of women's thoughts about bodies, self-esteem and mental illness. It's not specifically for anxiety–but it could address some of the issues lying underneath your mental illness.
This is a good book for chaotic people (like me) because it includes daily practices to structure your healing time. I am a fan of this kind of thing because I can often forget to meditate and having a daily task to do is easier than deciding for myself what meditation is more appropriate for my mood.
Lawson writes about her lifelong battles with her mental illness (anxiety and depression) but still embracing happiness despite it.
This book is full of no-bullshit coping mechanisms. The tone is conversational and amicable, so it can be a comforting read, as well as a practically useful one.
An Unquiet Mind: A Memoir of Moods and Madness by Kay Jamison
A personal account of struggles against mental illness and the journey to available treatments.
I don't know about anyone else but Cheryl Strayed's writing really soothes me. She has a way of breaking down problems into digestible pieces and making everything seem simple. It's one of the best self-help books for anxiety, and will help you understand how much we all struggle–it will make you feel less alone.
This is another workbook that challenges you to rewire your brain. Questionnaires will help you identify and track your mood changes, and instructions will lead you step-by-step on how to improve your mood and your life.

Samantha Irby is brutally honest and laugh-out-loud hilarious about her struggles with anxiety. Reading this book really helped me to start laughing at my anxiety–and surprisingly, laughing at how silly my intrusive thoughts are deprived them of power. Irby is one of my favorite writers and I can't recommend this book enough.
What do you think are the best self-help books for anxiety?