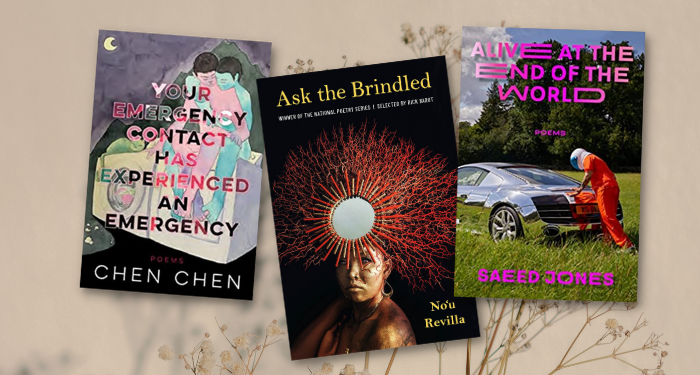 Lists
10 of the Best Poetry Collections of 2022
This content contains affiliate links. When you buy through these links, we may earn an affiliate commission.
To the joy of my poem-adoring heart, so many widely anticipated poetry collections published this year. Just a sampling of my 2022 preorders included Akwaeke Emezi's Content Warning: Everything, Jenny Xie's The Rupture Tense, Ocean Vuong's Time is a Mother, and Yanyi's Dream of the Divided Field. Especially around new-book days, I checked my mailbox eee-ing with delight.
While compiling this list, I pondered why certain books move us. Countless details imbue our reading experience: mood, weather, place, season, hunger, the moon. Perhaps a poem hushed chatter, easing your mind and heart, on a packed plane. Or a collection kept your bedside lamp blazing, kept you awake past midnight. While in the life of a poem, maybe the clouds parted and the sun warmed your face, and whenever you happen upon that piece, you feel heat in your cheekbones.
Recently, a dear friend asked me in our group chat how much of what I read is for work versus pleasure. Gratefully, much of it overlaps and reflects my interests, obsessions, passions, and tastes. Lacking a short answer to the wonderful question, I knew one thing with my whole heart. Since graduate school, every book I reread belongs in the for-pleasure column. So, this list of ten titles consists of collections I have revisited.
The Best Poetry Collections of 2022
---
In this year of standout poetry collections, I'm honored to have passed hours with these books, and I'm eager to reread more. To name several on my mind, Best Barbarian by Roger Reeves, Customs by Solmaz Sharif, A Shiver in the Leaves by Luther Hughes, and The World Keeps Ending, and the World Goes On by Franny Choi. Also, about those 2022 titles on my TBR list and those I have yet to discover: I'm electric with excitement for future-me.
If you want more poetry in your literary life, check out The Best Black Poets To Read (And Listen To!) Right Now, Indigenous Poets You Should Know, and 20 Must-Read Queer Poetry Collections.