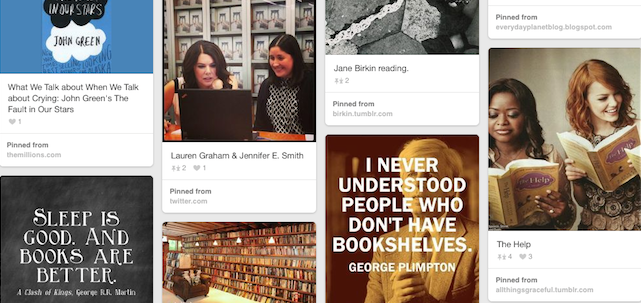 Pinterest is full of recipes, outfits, and intense Pinterest-y craft projects. But it's also full of books.
Here's a list of just some of the best Pinterest boards for us bookish types.
PUBLISHERS ON PINTEREST:
Random House has more than a million followers on Pinterest, and it's because their boards are awesome.
Random House, Marvel Entertainment, Penguin Teen, Alfred A. Knopf, Penguin Books USA, Macmillan Kids, Penguin Books UK, Touchstone Books, Riverhead Books, Vintage Books & Anchor Books, Chronicle Books, Dutton Books, Workman Publishing, Gotham Books, Avery and Viking Studio, Fodor's Travel, St. Martin's Press, At Random, Grand Central Publishing, Usborne Publishing, Crown Publishing, Scholastic, Viking, Penguin Group, Simon & Schuster, HarperCollins Children's, Little, Brown, and LB Kids.
BOOKSTORES ON PINTEREST:
Bookstores are great in real life and also on Pinterest.
Strand Book Store, Waterstones, Barnes & Noble, Open Books, and Powell's Books.
AUTHORS ON PINTEREST:
Authors of every stripe can be found on Pinterest; writers of novels, cookbooks, memoirs, self help, and craft books.
Elizabeth Gilbert, Emma Straub, Janice Macleod, Sophie Uliano, E. Lockhart, Katie Higgins, Ali Sweeney, Austin Kleon, Jon Acuff, Martha Stewart, David Lebovitz, Ann Voskamp, Giada De Laurentiis, Holly Becker, Kris Carr, Elsie Larson, Ree Drummond, Alicia Paulson, Gretchen Rubin, Diane Keaton, Emily Freeman, Emily Giffin, and Rainbow Rowell.
BOOK RIOTERS ON PINTEREST:
Book Riot is on Pinterest, & so are a whole bunch of Book Riot contributors.
Bookish Love | Rachel Manwill
My Reading Life | Nikki Steele
The Book Worm Life | Rah Carter
Bookishness | Kate Scott
Books Worth Reading | Jessica Woodbury
Book Bound | Kim Udall
Readers | Becky Cole
Just for Books | Kristina Pino
Bookish | Christy Childers
MORE BOOKISH BOARDS ON PINTEREST:
Some of the best bookish boards on Pinterest aren't from publishers or bookstores or authors, but from readers.
Book by it's Cover | sfgirlbybay / Victoria Smith
Stationery and Office | Joy Cho / Oh Joy!
Literary | Jodi Harris
Bookshops | Book Patrol
Good Reads | sfgirlbybay / Victoria Smith
Pride and Prejudice | Jodi Harris
Boeken | Suzanne Zwaan
Covers | Olga Grlic
And 15 Fabulous Bookish Pinterest Boards found by Becky Cole.
I'm sure there are heaps more I'm missing, so do add your favorites in the comments…
Happy bookish pinning!
____________________
Book Riot Live is coming! Join us for a two-day event full of books, authors, and an all around good time. It's the convention for book lovers that we've always wanted to attend. So we are doing it ourselves.
Save