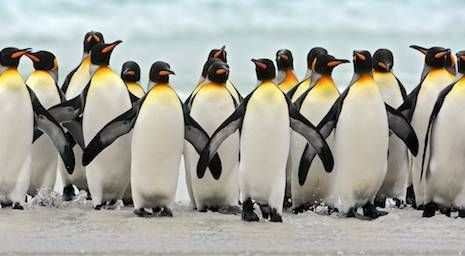 Children's
Best Picture Books for Penguin Awareness Day
This content contains affiliate links. When you buy through these links, we may earn an affiliate commission.
To avoid thinking of another event that will go unnamed that is happening today, I've turned to things that make me happy. And since today is Penguin Awareness Day, I thought it was a perfect opportunity to create a list of the best penguin picture books. Of course, thinking about penguins makes me think about global climate change which makes me think about the destruction of penguin habitats, but there's only so much disaster one can contemplate at any given second. So instead, enjoy these penguin picture book recommendations. I have a feeling we'll need all the cute animals we can get in these next four years.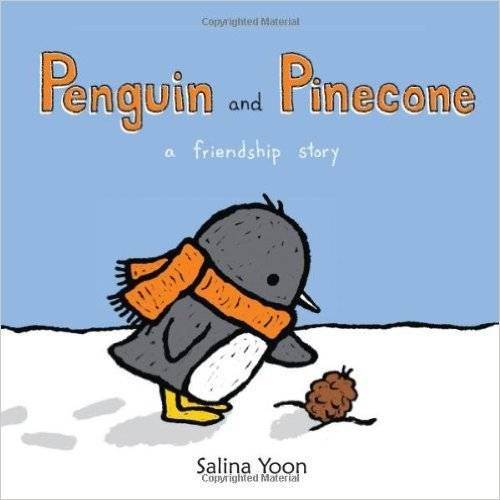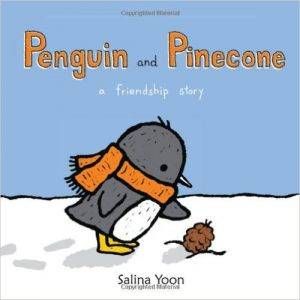 Penguin and Pinecone by Salina Yoon
When Penguin finds a lost pinecone one day, an unlikely friendship blooms. But Grandpa reminds Penguin that pinecones can't live in the snow―they belong in the warm forest far away. Though he will miss his friend, Penguin returns Pinecone to his home, dreaming of the day they can reunite. And when he finally returns to the forest to check on his friend, Penguin discovers that love only grows over time―and so do little pinecones! Prolific author/illustrator Salina Yoon's spare text and bright, energetic illustrations bring to life this endearing story celebrating friendships lost and found and overcoming the odds to be with the one you love.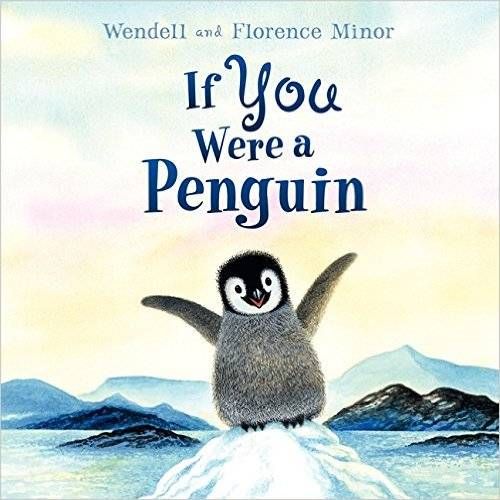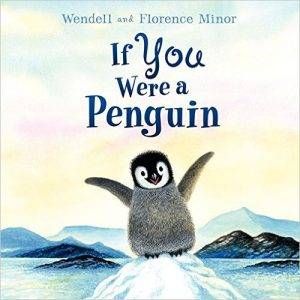 If You Were a Penguin by Florence Minor and Wendell Minor
If you were a penguin . . .
You could swim really fast and toboggan on ice.
Sing a happy duet, once or twice.
You could live on land but dive under the sea.
There's a lot penguins can do, just like you and me!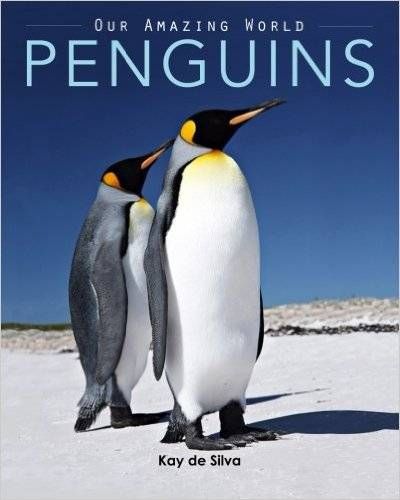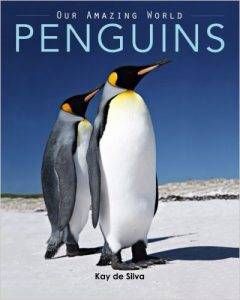 Penguins: Amazing Pictures & Fun Facts on Animals in Nature by Kay de Silva
The book uses captivating illustrations, and carefully chosen words to teach children about the 'social birds'. This series is known for its beautiful full-color images. The description in large text is simple enough for young readers or for a parent to guide a child through. There are also picture captions that provide more information to talk about with your child. Alternatively, a child of any age (even the child in you) can just look at the images and appreciate their beauty. This book depicts the wonder of the world of Penguins in all its glory. Children are given a well-rounded understanding of these beautiful animals: their anatomy, feeding habits, and behavior.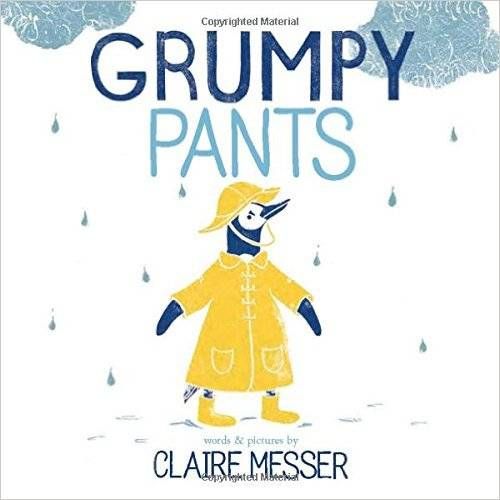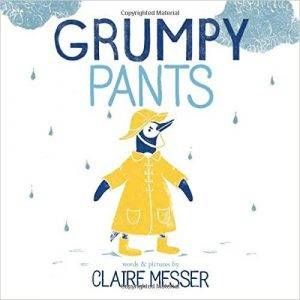 Grumpy Pants by Claire Messer
Have you ever had a grumpy day and not known why? Penguin is having a grumpy day like that. No matter what he does, he just can't shake it! Sometimes the only thing left to do is wash the grumpy day away and start over. The simple text and lively illustrations are the perfect cure for even the grumpiest of days.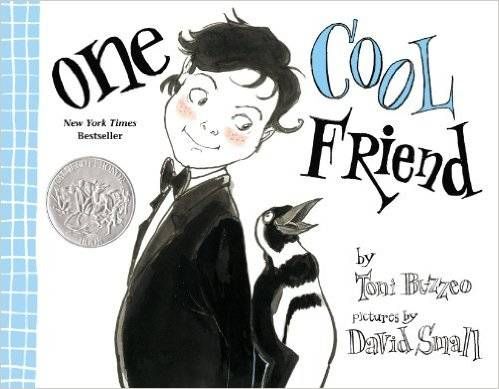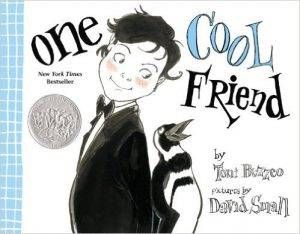 One Cool Friend by Toni Buzzeo, illustrated by David Small
When well-mannered Elliot reluctantly visits the aquarium with his distractible father, he politely asks whether he can have a penguin–and then removes one from the penguin pool to his backpack. The fun of caring for a penguin in a New England Victorian house is followed by a surprise revelation by Elliot's father.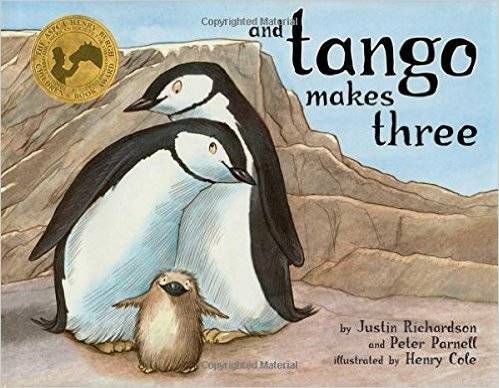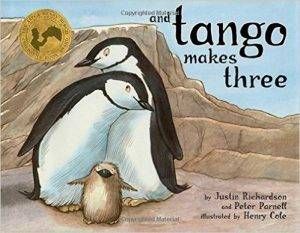 And Tango Makes Three by Justin Richardson and Peter Parnell, illustrated by Henry Cole
At the penguin house at the Central Park Zoo, two penguins named Roy and Silo were a little bit different from the others. But their desire for a family was the same. And with the help of a kindly zookeeper, Roy and Silo get the chance to welcome a baby penguin of their very own.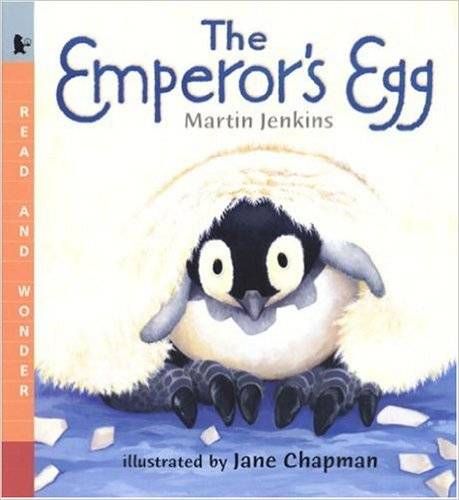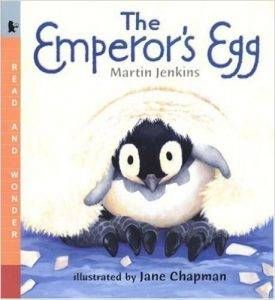 The Emperor's Egg by Martin Jenkins, illustrated by Jane Chapman
Can you imagine spending the winter outdoors in Antarctica without anything to eat? That's just what the male Emperor penguin does. While his mate is off swimming and catching loads of fish, he stands around in the freezing cold with an egg on his feet for two whole months, keeping it warm and waiting for it to hatch. Welcome to the story of the world's most devoted dad!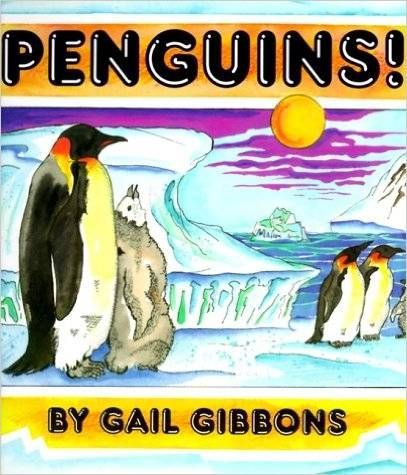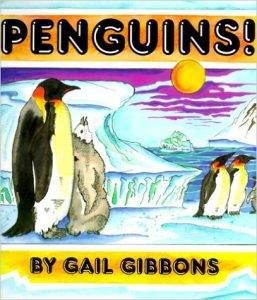 Penguins! by Gail Gibbons
With her trademark directness and simplicity, Gibbons introduces those irresistibly appealing birds, the penguins. As her pen-and-ink and watercolor paintings reveal, these nonflyers share a basic body shape, but lined up alongside each other across the pages, they are seen to possess distinctive feathering that distinguishes the 17 species from each other. A color-coded map of the Southern Hemisphere pinpoints where each type of penguin resides, and depictions of the birds at sea and aboard ice floes accompany facts about their food, predators, and lifestyle. Perhaps one of the most intriguing aspects of the emperor penguins is their brooding habit: the male guards the female's single egg in his brood pouch. After generating interest about the penguins and their lifestyles, Gibbons concludes by alerting readers to the environmental hazards that threaten the birds' well-being. Ellen Mandel, Booklist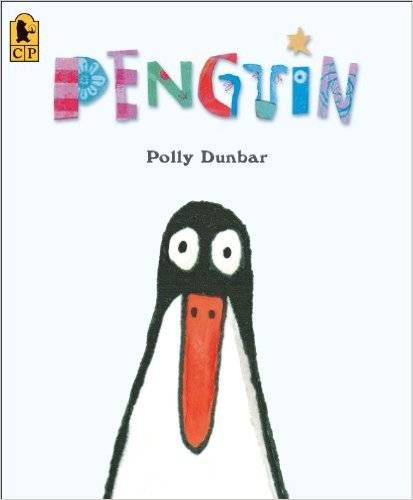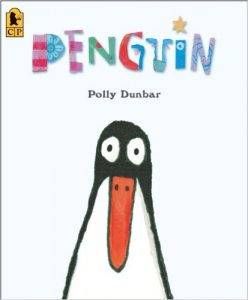 Penguin by Polly Dunbar
Ben rips open his present and finds a penguin inside. "Hello, Penguin!" he says. "What shall we play?" But Penguin says nothing. Even when Ben tickles its belly, does a dizzy dance, and sticks out his tongue, Penguin makes no response. What will it take for Penguin to say something — or for Ben to understand what Penguin has to say? Spare illustrations bring whimsy to this offbeat tale, in which a little boy gets his heart's desire.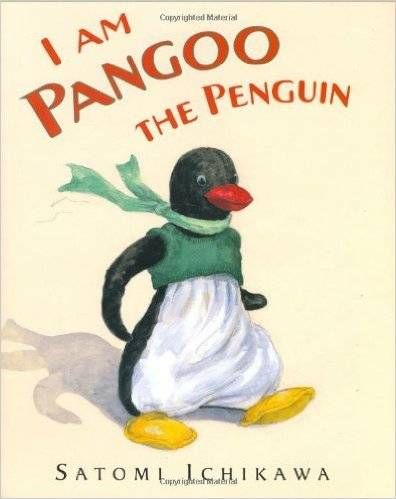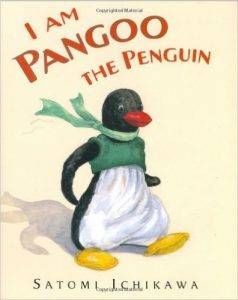 I Am Pangoo the Penguin by Satomi Ichikawa
Pangoo is a stuffed penguin, but he and his boy Danny are best friends. They love to do everything together, especially visit the Central Park zoo. But when Danny gets newer stuffed animals for his birthday, Pangoo is left behind, wondering where he belongs… is it with the real penguins he sees with Danny every Saturday, swimming at the zoo?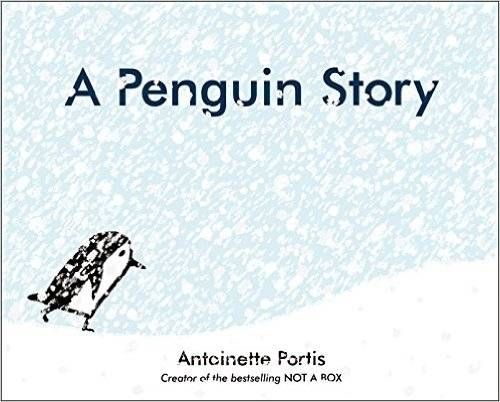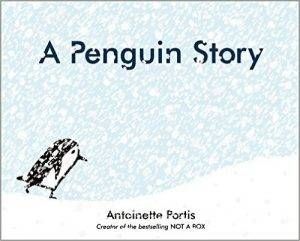 A Penguin Story by Antoinette Portis
Edna the penguin only knows the three colors that surround her: white ice, black night, and blue sea. She is convinced there is something more out there. So she sets out on a quest—a quest for color. When she finally finds what she's been looking for, it's everything she hoped for and more. But that doesn't mean she will ever stop looking.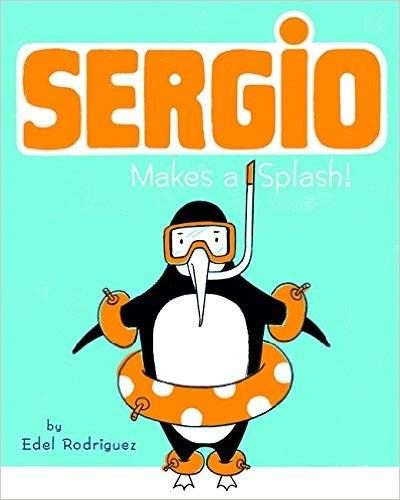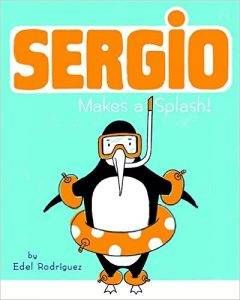 Sergio Makes a Splash by Edel Rodriguez
Sergio is a penguin. He loves fish, soccer, and water. He loves drinking water, bathing in water, spraying water, just about anything with water! But he has one big problem; he can't swim. So when his class takes a field trip to the ocean, Sergio must decide whether he should face his fear or avoid something he loves.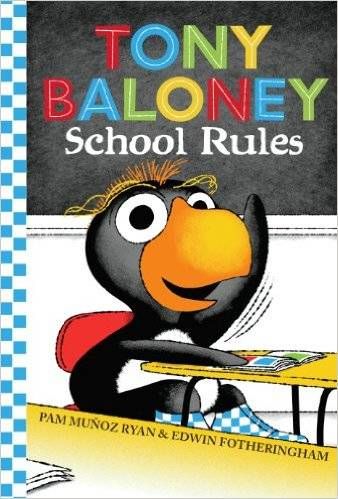 Tony Baloney by Pam Muñoz Ryan, illustrated by Edwin Fotheringham
Tony Baloney is finally free from the tyranny of his many sisters only to face a new challenge–SCHOOL RULES! How will Tony ever follow them all? True to his resilient spirit, he discovers a first day of school filled with new friends, good fun, a few foibles, and some fantastic surprises!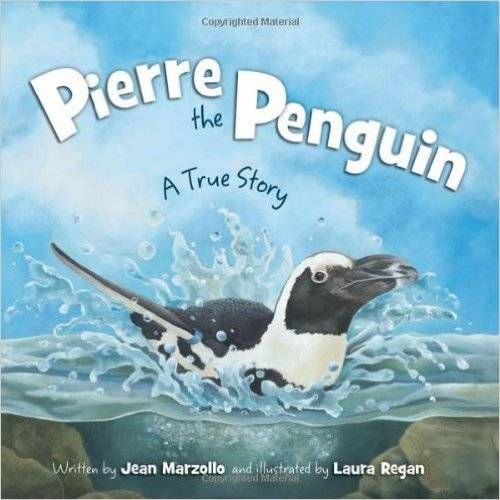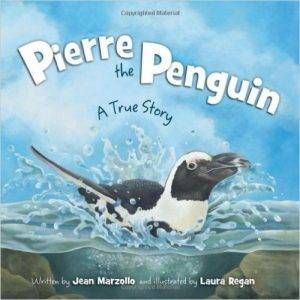 Pierre the Penguin by Jean Marzollo, illustrated by Laura Regan
When Pierre, an African penguin living at the California Academy of Sciences, begins to lose his feathers, the zoo staff is at a loss as to what to do. The lack of feathers causes Pierre to lose warmth, making him afraid to swim in the zoo pool. And the other penguins start to shy away, giving Pierre the "cold" shoulder. Unfortunately, heaters and medications fail to correct the situation. But one rainy day, inspiration strikes a biologist named Pam. While walking her dog in the rain, Pam notes that her pet wears a raincoat. Could a "raincoat," or wet suit, help Pierre? A tiny neoprene wet suit is designed especially for Pierre. But will it work?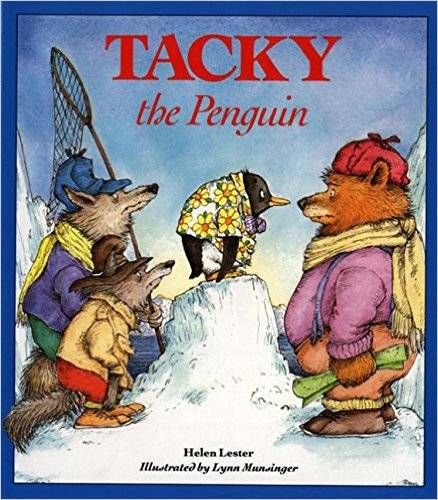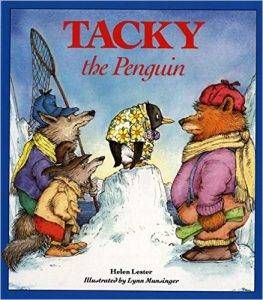 Tacky the Penguin (series) by Helen Lester, illustrated by Lunn Munsinger
Tacky's perfect friends find him annoying until his odd behavior saves the day.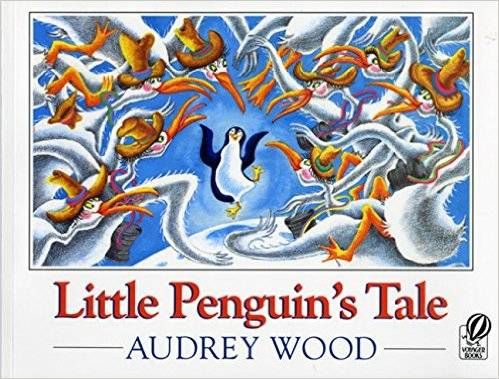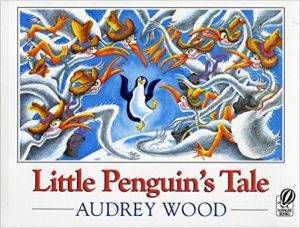 Little Penguin's Tale by Audrey Wood
Just as in the story that Grand Nanny Penguin is telling, Little Penguin slides down hills, dances with wild, silly, goony birds, and almost gets eaten by a whale. "The deep greens, bright yellows, and glacial blues depict a northern world of fun and frolic that is warm and appealing."–Booklist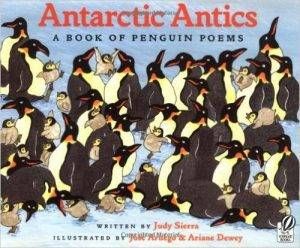 Antarctic Antics by Judy Sierra
Dive, swim, and glide with this delightful pack of penguins as they slip and slide through their icy world. Judy Sierra, Jose Aruego, and Ariane Dewey invite you into the world of an Emperor penguin family and their wild, slip-sliding, rhyming fun.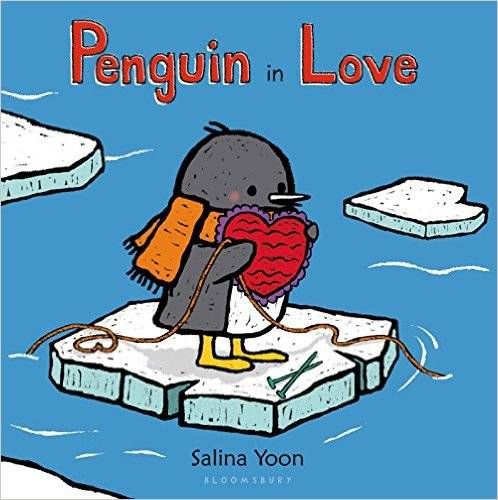 Penguin in Love by Salina Yoon
When Penguin finds a lost mitten on the ice one day, he wonders who it belongs to―after all, every mitten has a mate! Prolific author/illustrator Salina Yoon's spare text and bright, energetic illustrations bring to life this endearing story celebrating love in its many forms, reminding us that the greatest adventure begins when you find your other half.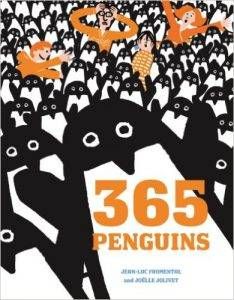 365 Penguins by Jean-Luc Fromental
A family find a penguin mysteriously delivered to their door every day of the year. At first they're cute, but with every passing day the penguins pile up, along with the family's problems. Who on earth is sending these kwaking critters?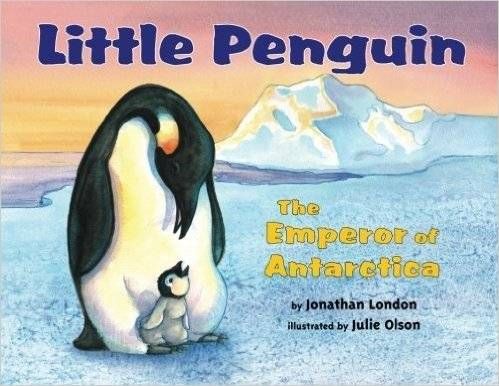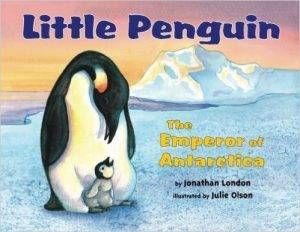 Little Penguin: The Emperor of Antartica by Jonathon London, illustrated by Julie Olson
From the time the little penguin crawls out of his cracked egg, cradled on his father s feet, until the day when he goes off to live at sea alone, he is a majestic figure in an extraordinary setting the emperor of Antarctica. He faces natural predators and the struggles of survival in a challenging climate. Then one day, he cradles his own little penguin on his feet. Jonathan London s moving text is perfectly matched with Julie Olson s vibrant and adorable artwork in pencil, watercolor, and digital media.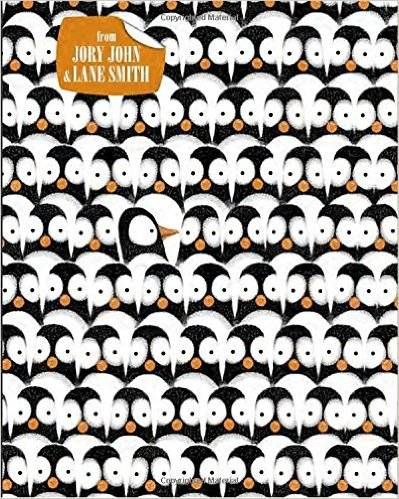 Penguin Problems by Jory John, illustrated by Lane Smith
Have you ever considered running away to Antarctica? Of course you have! Because it's a land free of worries and responsibilities! All of your problems will surely be blown away by the icy winds of that lawless paradise! . . . Won't they?
Think again, my friend. This penguin has come to tell you that his life down there is no more a picnic than yours is here. For starters, it is FREEZING. Also, penguins have a ton of natural predators. Plus, can you imagine trying to find your mom in a big ol' crowd of identical penguins? No, thank you.
Yes, it seems there is no escaping the drudgery of your daily grind, whatever it might be. Or perhaps we've just learned that grumps are everywhere. . . .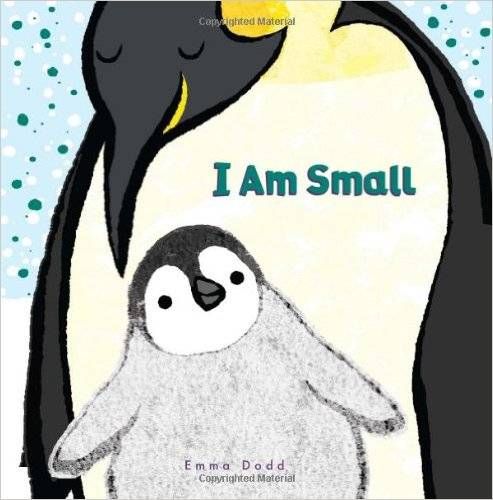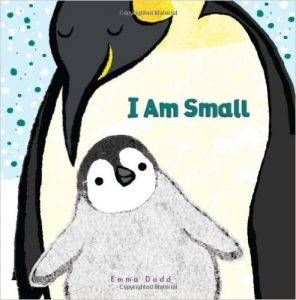 I Am Small by Emma Dodd
From the eyes of a baby penguin the world is a great big place. The sky so high, the ocean so deep, and the mountains so steep–all these things are magnificent from it's point of view. But in the eyes of it's mother–this little penguin is the biggest, most important thing in the world! This beautiful story is highlighted with foil on the cover and throughout.