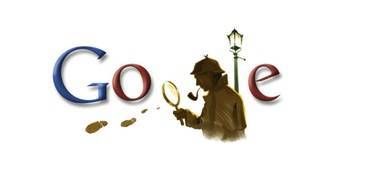 Best of Literary Google Doodles
Who doesn't get excited when there's a great Google Doodle, especially when it's book related? Here's a roundup of some of the literary Google Doodles.
First, a look back at literary Doodles throughout the United States, from oldest to most recent:

How about this celebratory Doodle in honor of James Joyce's birthday and Bloomsday way back in 2004?

National Library Week gets a nice shout out in this 2005 Doodle.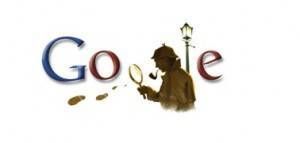 Back in 2006, Google celebrated the 147th birthday of Sir Arthur Conan Doyle with his most famous creation: Sherlock Holmes.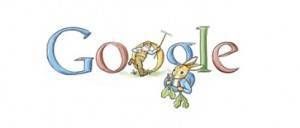 When we get back to 2008, there's a celebration for a female literary icon, and it's in honor of Beatrix Potter's birthday. (Interesting side note: this is the only Doodle honoring a female in the US to date)

What better way to celebrate the 105th birthday of the iconic Dr. Seuss but with a Doodle that features his most well-known characters?

Science fiction writer H. G. Wells's birthday was celebrated with an out-of-this-world Doodle.

Had Hans Christian Andersen been around for his 205th birthday, he'd likely enjoy seeing his Thumbelina captured in this way.

Surely this one is recognizable as an homage Robert Louis Stevenson's Treasure Island, created in celebration of the author's 160th birthday.

Google Doodle celebrates Will Eisner's 94th birthday in early 2011.
Anyone who knows picture books — or who has been a kid and had picture books read to them — probably would recognize this tribute to Richard Scarry's 92nd birthday.

In celebration of what would have been his 165th birthday, this Doodle features an image readers would easily associate with Mark Twain.
Can you identify all of the iconic characters in this Doodle celebrating Charles Dickens's 200th birthday? If you need some help, the team's got you covered.
In December 2012, the Doodle paid tribute to the 200th anniversary of Grimm's Fairy Tales.

There's a whale of a creation to celebrate the 161st anniversary of Moby Dick's first publishing. It's well-worth reading the development of this particular Doodle and how it evolved from concept to finished design.

For a "Happy 165th Birthday," Bram Stoker was remembered for his legendary villain Dracula.
Don't panic and carry a towel. This Doodle celebrates Douglas Adams's 61st birthday, in early May this year. This one is also interactive, so have at it.

Maurice Sendak's 85th birthday gets a celebratory Doodle on June 10, complete with animation.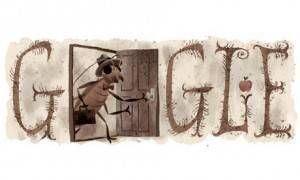 July 3, 2013 would have been Franz Kafka's 130th birthday, and they celebrated with an homage to his best-known short story "The Metamorphosis."
It's well worth your time to peruse the "Literature" tag on Google Doodle to check out the art done throughout the rest of the world, too. Here are a handful of knock outs from other countries celebrating literature:
Wislawa Syzmborska's 90th birthday was celebrated with this Google Doodle in Poland.


In France and Germany, the 90th birthday of Antoine de Saint-Exupery was celebrated with this image straight out of The Little Prince.

Of course, there was a celebratory Doodle in honor of Fyodor Dostoevsky's 190th birthday in Russia.


In Spain, there was a celebration for the 300th anniversary of Spain's National Library.

Agatha Christie's 120th birthday is celebrated throughout other parts of the world with this great Doodle.
Who or what would you like to see honored in a Google Doodle? I know I'd love to see a little love for J. K. Rowling and Harry Potter. Since Google's not featured many of our great ladies of literature, she'd be an excellent pick, as would others like Jane Austen, Emily Dickinson, Maya Angelou, or Virginia Woolf, to name a few.
____________________________
Sign up for our newsletter to have the best of Book Riot delivered straight to your inbox every two weeks. No spam. We promise.
To keep up with Book Riot on a daily basis, follow us on Twitter, like us on Facebook, , and subscribe to the Book Riot podcast in iTunes or via RSS. So much bookish goodness–all day, every day.