Uncategorized
Best of Book Riot: Books That I Wish Had Been Better, 2011
This week we're running some of our favorite and most popular posts from our first three months.
__________________________
In this season of "Best of" lists, I want to take this opportunity to talk about the also-rans, the books that would have been amazing, except for that one thing that just drove you crazy. It's the one thing that kept the book from blowing you away. In fact, it made you angry. You wanted to love it, but it let you down. I present three books from the past year that had that effect on me. These are the books that I desperately wanted to fix. I know it is not that simple, but a girl can dream, can't she?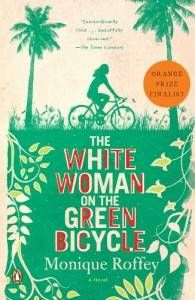 The White Woman on the Green Bicycle by Monique Roffey
When this novel was released in the UK in 2009, it got a lot of attention. It was even shortlisted for the Orange Prize. The potential for greatness is there. She has familiar character types involved in political unrest in an exotic locale. That formula has a lot going for it. Find the right combination of people and places, and it becomes a compelling historical narrative. In this case, Roffey chooses George and Sabine, British expats living in Trinidad during the small country's fight for independence from Britain. Through it all, they choose to stay. That's impressive.
What doesn't work, though, is the narrative shift that occurs not quite halfway through the story. The rest of the book is devoted to back story and the narrator is…weak. Had the book started with that section, then I probably wouldn't have finished it. I kept hoping that I would return to the greatness that I saw in those first 200 pages. I was still hoping that when I closed it at the end. Incorporating some of that last part of the book as flashbacks throughout would have worked better for me. This is an approach that has often proven successful when working with two different time lines. Completely changing gears, though, makes me want to change books.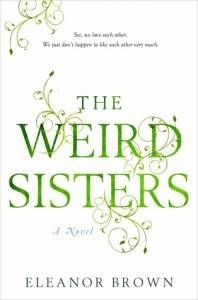 The Weird Sisters by Eleanor Brown
I really, really liked this book. I almost did not finish it, though. I was listening to it in the car on my daily commute, and I thought I was hearing a mistake. The third person omniscient narrator said "we," as if it were a character in the story. I was completely confused. I had just started to get my head around the three "weird" sisters, Rose, Bean, and Cordy. Who was this fourth sister trying to get in on the action? I got home, did a little research, chatted up a few people on Twitter, and it was explained to me that the narrator was kind of like the spirit of their sisterhood. Yeah. I'm not sure that I buy that. I know that, while I managed to get past it eventually, I cringed every time I heard that "we." Maybe it's the English teacher in me. I'm not sure. If I had a hard copy, I would probably have to go through and correct every offensive "we" with my mean red pen. I don't think that I could live with myself if I didn't.
As you may have noticed, I have issues with organization and narrative voice. This novel actually bothered me on both counts. It's a complicated love story that begins nearly 200 years in the past and continues through the present day. There is mystery, magic, and a surprise at every corner. Sounds like a good ride, right? But then, about half way through, one of the characters – the one who is truly frightening – steps in to tell his story. It's important to the plot, but it is also insanely long. It goes on for multiple chapters. It could have been told more concisely or presented differently, and I would have been happy. I hated leaving the other characters and their story unattended for so long, though. I like Adair's story. I just felt like I was reading another book, and it took a while for me to remember what was happening when it the story came back to Lanore. I was also a bit put off by the shift from Lanore's first person narrative to the third person in this portion of the novel, but since it seems as Lanore was still the one telling the story, I got over it. It made sense.
Have you ever found a book that you wanted to love, and would, if only you could fix it?
__________________________
Cassandra Neace teaches college students how to write essays and blogs about books and book-related goodness at Indie Reader Houston. Follow her on Twitter: @CassandraNeace