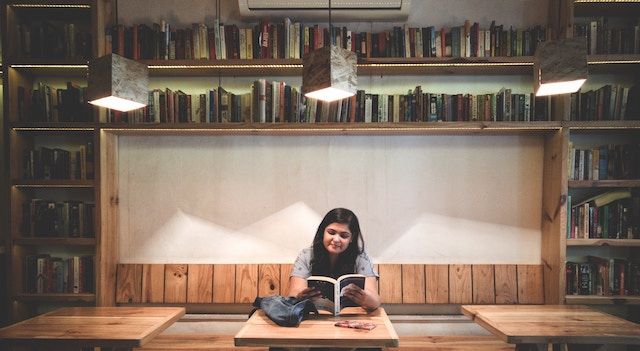 Children's
25 of the Best Middle School Books for Today's Readers
This content contains affiliate links. When you buy through these links, we may earn an affiliate commission.
Middle grade is a rapidly growing and always evolving age category, and it continues to become broader. As the world changes rapidly for today's young readers, the best middle school books are keeping pace. Read on for 25 of the best middle school books for today's readers, ranging in topics from friendship and sisterhood to immigration, xenophobia, and racism, and as always, just figuring yourself, and the world, out.
The Best Middle School Books
Amal lives a quiet life in her Pakistani village, hoping to become a teacher one day, but after an encounter with her village's landlord, she's sent to work off her family's debt as a servant in his household. As Amal becomes more aware of the danger the family poses and crimes they've committed to maintain their station, she realizes she'll have to ally with others if she wants to escape not only her servitude but the tyrannical rule of the landlord and one day achieve her dreams.
Clean Getaway by Nic Stone (January 7, 2020)
In Dear Martin author Nic Stone's middle grade debut, Scoob Lamar (he's black) heads on a road trip with his grandmother (she's white), joining her in her attempt to finish the road trip she started with the grandfather Scoob never met. On their trip, Scoob begins to learn more about his grandparents' past, their interracial relationship, the ways the world has changed, and the ways it has not. But as they go, Scoob begins to think his grandmother, who's never been known for her "normalcy," is acting even stranger than usual.
Blended by Sharon Draper
Isabella is biracial—her mother is white, her father is black—and she's spent her life answering questions about who she is. It's worse now that her parents are divorced and she's shuffling between their homes—and their lives—all the time. Now she has to not only navigate switching homes but also switching nicknames and identities, making it harder than ever to figure out who she is.
When her parents got divorced, Sweet Pea wasn't sure what to expect, but she didn't expect them to move onto the same street. Besides adjusting to switching houses, she also must adjust to the loss of her best friend, Keira, only made bearable by her new friend Oscar. When Sweet Pea's neighbor, famous local advice columnist Flora Mae, goes on a trip and asks Sweet Pea to forward her letters for her column, Sweet Pea recognizes the handwriting in one of the letters and finds herself in trouble as she decides what to do with it.
After immigrating to the United States, Mia Tang and her family struggled for years before finding work at the Calivista Motel, working for the exploitative Mr. Yao. Despite their cruel boss, the Tangs tackle the challenges of the motel with determination and kindness, aspiring writer Mia running the front desk while her parents service the rooms. And it's not only guests Mia and her family are taking care of but also other immigrants in a worse position than they are, who they hide in the empty rooms without Mr. Yao knowing.
In the spirit of The Hate U Give, 7th grader Shayla has always followed the rules. She prefers to keep her head down and not make waves, but after her first protest experience, alongside her older sister, Shayla realizes there are some rules worth breaking and starts wearing a black armband to show her support to Black Lives Matter.
A child born during a hurricane is said to be unlucky, and 12-year-old Caroline has had plenty of bad luck already. Everyone at her school hates her, she can see things no one else can, and her mother has abandoned her. Caroline's luck begins to turn when she meets new student Kalinda. She also seems to have visions no one else does, and she becomes Caroline's only friend—and her first crush. Now Caroline has to find a way to brave her feelings for Kalinda, a spirit haunting her island, and a hurricane, so she can find her mother and face the reason she left her.
Brie's big plans for 8th grade at her Catholic school are: convincing her parents to enroll her in a performing arts high school and landing the lead role in the school play. Her plans do not include her mom catching her looking at some probably inappropriate photos of her favorite actress. When Brie panics and announces that she's been chosen to crown Mary in the May Crowning ceremony, she successfully distracts her mother. But she hasn't actually been chosen, and she's got no chance of it either, so she turns to the classmate who everyone thinks will actually be chosen, the same classmate who Brie has a crush on.
After a tornado tears through their home, Ivy and her family are displaced. And more than coping with the storm's aftermath, Ivy's notebook of secret drawings (some of girls holding hands) has also gone missing. But then her drawings start to reappear, encouraging her to open up about her identity, and Ivy begins to hope that the person giving them back is a classmate she's developed a crush on.
Twelve-year-old Lalani lives on the island of Sangalita, bordered on one side by a mountain that could bury her island at any moment and by a fog that swallows up anyone who enters it. On her island, Lalani knows where her future lies: in mending, just like the other women, living in fear of contracting the deadly mender's disease, contracted from the needles used to mend fishing nets. When Lalani's mother falls ill, Lalani leaves her mother, her island, and her best friend to embark on a journey that not even grown men have returned home from.
When a great white shark is captured in the bay, Lucy's quiet summer begins to take a turn. Lucy's mother, a shark biologist, died of a brain aneurysm when Lucy was seven, and it's just been Lucy and her dad, a police diver, ever since. When a fisherman reels in a great white in the bay, Lucy's quiet summer working on a field guide with her best friend takes a turn, bringing up feelings of grief for Lucy again. When tragedy strikes again, Lucy has to find a way to cope again by delving into her mom's research.
In this new book from Jason Reynolds, kids walk back home from school. Each of the ten stories covers a different journey home, with the kids in each of them facing their own unique challenges. Like the kid who's afraid of dogs and plotting a way to avoid one on his route home, or the girl with sickle-cell disease who's been out of school for awhile.
Picking up with Raymie Nightingale's Louisiana Elefante, this story finds Louisiana being spirited away on another of her granny's whims. Though Louisiana at first thinks this might just be like her granny's other spontaneous ideas, she soon realizes her granny doesn't mean for either of them to come back. Leaving behind her friends Raymie and Beverly, Louisiana ends up in a small town in Georgia, trying to find a way back home.
In this modern graphic novel adaptation of Little Women, the March family is a blended one struggling to make ends meet in Brooklyn. With their dad serving overseas, the sisters all have to work overtime to make ends meet, and their challenges—from boy troubles to school problems to just sorting out who they are—can only be solved if the sisters lean on each other.
If you want more Little Women, Hena Khan, author of Amina's Voice, has a new story inspired by Louisa May Alcott's original, about a family of four Muslim American girls growing up in Georgia. Jameela's excited to get a job writing for the school paper, but less excited when she realizes the editor-in-chief keeps shooting down all her ideas. When her dad has to take a job overseas, Jameela decides to write an article that will make him proud, but her little sister's illness throws Jameela off her axis.
New Kid by Jerry Craft
Though Jordan wants nothing more than to go to art school where he can perfect his cartoon drawings, his parents have other ideas. Instead, Jordan's sent to an upscale prep school where he's one of only a few kids of color. Struggling to fit in with his new classmates, and to maintain his friendships with his neighborhood friends, Jordan must find a way to remain true to himself as he straddles the line between two worlds.
In 1947, a newly-independent India has been separated into two countries: Pakistan and India, and tensions are rising between Hindus and Muslims. When 12-year-old Nisha's father decides they must leave their homeland, Nisha and her family begin a long and difficult journey. As Nisha struggles with leaving behind her home, she writes to the mother she lost as a baby in her diary.
When things in her home country of Syria become too dangerous, Jude and her mother come to the United States. As Jude adjusts to life in America, she also has to adjust to find herself again in a new place, especially when some of the people don't seem to like that she's there.
One summer, Candice finds a letter in the attic. It's addressed to her grandmother, who left their town of Lambert, South Carolina, in shame. Candice isn't sure she should read it. But when she does, the letter describes a mysterious young woman, a decades-old injustice, a mysterious letter-writer, and a fortune awaiting the person who can decipher the letter and solve its clues. With the help of Brandon, the quiet boy across the street, Candice gets to work, and their investigation leads them deep into Lambert's forgotten history.
Written in a hybrid style similar to Diary of a Wimpy Kid, Pie in the Sky follows Jingwen, new to America and embarking on a secret baking enterprise with his younger brother. Though their mom says they can't turn the oven on when she isn't there, Jingwen is determined to bring to life all the cakes his dad put on the menu of his dream bakery, Pie in the Sky, before he unexpectedly died.
When the quirky and imaginative Moon moves next door, Christine doesn't expect the two of them to become friends, especially not best friends. But it happens, despite some bumps in the road, and Moon even confides in Christine a secret: that she sees celestial beings who tell her that Earth isn't really where she belongs.
Told through emails and letters, this modern epistolary story follows Bett and Avery, who live across the country from one another. They've got nothing in common except both are being raised by their single, gay dads. When their dads fall in love, Bett and Avery are sent to the same sleep-away camp in the hopes that they'll click and become friends (and one day, maybe sisters).
Margaret's been the only child on the island for as long as she can remember. When another child finally arrives, it's not long before they're sent away, and Margaret is alone again—until Eleanor arrives. And it's not long before Margaret realizes Eleanor isn't just anyone but Eleanor of Albion, whose sister has seized the throne and banished Eleanor to languish on the island. As Eleanor and Margaret become friends, Margaret begins to unravel the island's true purpose and her own history and must decide between helping her new friend or helping herself.
Since her mom and sisters died five years ago, Coyote and her dad have crisscrossed the country in a school bus. But when Coyote learns that the park where she, her mother, and sisters buried a beloved memory box is soon to be demolished, she hatches a plan to get her dad to return to their home state…without him realizing it.
After a raid leaves him separated from his family, wolf cub Swift has to find his own way alone, battling danger and starvation the whole way. Partially based on OR-7, a lone wolf in Oregon whose 100-mile journey was tracked by naturalists, it also includes thorough back matter on wolves.