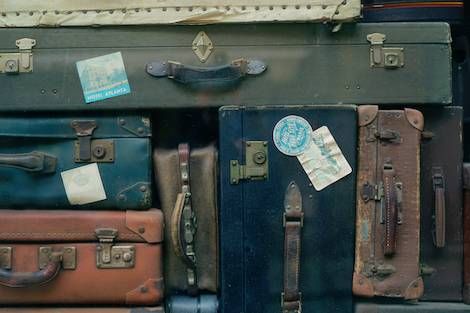 Children's
6 Middle Grade Books on the Immigrant Experience
This content contains affiliate links. When you buy through these links, we may earn an affiliate commission.
Alya has been sneaking books in everywhere since she was a child—class, parties, work, you name it—so naturally she should find herself with an M.A. in English specializing in Children's Literature from San Diego State University. When she isn't busy editing, chasing her son around the house, or experimenting in the kitchen, you can find her nose in a book or her fingers scavenging for a new one. She also miraculously finds time to write once in a while too, and you can find her ramblings at https://marvellist.wordpress.com.
Twitter Handle: SimplyAlya
---
Nicola Yoon wrote the truth when she said, "For most immigrants, moving to the new country is an act of faith." Despite the picture certain political figures like to paint of immigrants, they are neither animals, lazy, nor selfishly stealing all of our jobs. The majority of immigrants arrive here guided by a basic hope that life will be better; sometimes all they have in hand is that little bit of faith, and they work tirelessly to make it happen.
I'm especially appalled by the treatment of children of undocumented immigrants being torn from their parents and sent to live in centers. These are predominantly young children who desperately need their parents, love, safety and stability. My parents immigrated to this country decades ago so that their future children could have that kind of stability and access to opportunity. It's horrifying to think that the uninformed public could fall for the ploy that immigrants are here for dastardly purposes and allow children to suffer like this. People should stay connected and committed to understanding the hearts and minds of refugees and immigrants. Their stories deserve to be told, shared, and acknowledged, so that the general public gains empathy and understanding, and the immigrant communities, especially the children, can find themselves in our cultural fabric.
With that in mind, I've compiled this short list of middle grade immigrant stories that remind me of the humanity and soulfulness of all kinds of communities. I'm a firm believer that stories can generate empathy and thoughtfulness, and children should read such stories as early as possible in order the break the cycle of ignorance, fear, and false superiority.
Middle Grade Books about the Immigrant Experience
Inspired loosely by her husband's escape and migration to America, N.H. Senzai writes a tender and powerful story about a young boy reeling from his sister getting left behind during his family's escape from war-torn Afghanistan. The story traces Fadi and his family trying to adjust to living in the Bay Area just as the events of September 11th occur, taking readers into the challenging and at times heartbreaking world of refugees in America. The story is also filled with hope and love, as Fadi devises a plan to find his sister by winning a photography competition with an extraordinary grand prize. Senzai writes with such tenderness for her characters, that even while we know the prospects of success are slim, we are rooting for Fadi all the way.
Senzai's other works focus on other immigrant and refugee experiences, including Ticket to India, and most recently, Escape from Aleppo, a timely and necessary read to unravel the complexities of the Syrian crisis.
This book follows a young girl as her family flees Vietnam in the midst of war, leaving behind everything they have ever known for the alienness of America. Winner of the National Book Award for its vibrant poems and poignant imagery, Inside Out & Back Again evokes the author's own experience of escaping Vietnam for the topsy-turvy world of America and demonstrates how difficult fitting in can be, especially for 10-year-old Hà.
Zomorod Yousefzadeh has moved around over and over with her family since they left Iran. Finally settling in Newport, California, Zomorod finds herself tired of being the quite new kid from a foreign country, so she renames herself "Cindy." This book is full of love and laughter, but also depicts the struggles of a community that faces discrimination when world events strike home, in this case the Iranian Revolution and Iran hostage crisis. Zomorod and her family must worry about their relatives back home and cope with the ramifications of being Persian at such a highly charged moment in history. The challenges they face are easily reminiscent of what people from many countries face today.
Kira-Kira by Cynthia Kadohata
Set in the 1950s and '60s, this novel focuses on Katie, a first-generation Japanese American girl who moves with her family from a Japanese community in Iowa to the Deep South in Georgia for work. The amount of hardships and discrimination they face in the post World War II era showcases how much vitriol people still felt for Japanese Americans, as well as the economic burdens felt by large swaths of society (reflective of the poor economy in many southern states now). The book evolves with Katie, as her family faces the onset of her sister's growing illness and they flail to hold on to hope. The book glitters with love and hope, and is a vital piece of the immigrant puzzle, bringing readers into an experience and time period largely left unexplored.
This books stands out from the rest because it is actually a pre-immigrant story; by the end of the book, the family has still not made their move to Minneapolis. Instead, this delicate tale focuses on the young boy who dreads uprooting (for the sake of his parents' graduate education). As moving day looms closer, Aref's anxiety grows larger, as he desperately grapples with saying goodbye to his memories, his friends, his home, and most importantly, his grandfather, Siddi. This book offers a special glimpse into immigrant life, showing that even if the move isn't motivated by danger from war or oppression, the trauma of the move can be just as high, as the pieces we leave behind are fragments of our hearts. But it's also a book about moving forward while looking back, and the relationship with Aref and Siddi is heartwarming and uplifting. A reminder that the immigrant experience is intrinsically universal.
If one needed to understand why people from Mexico and South and Central America would choose to come here illegally, this is the book to turn to. The novel follows two cousins who must make the terrible choice between getting caught in the powerful gang overtaking their village Guatemala and trying to cross into New Mexico. Diaz handles the treacherous journey and the children's experiences with a deft hand, maintaining an age-appropriate perspective while also relentlessly showing the reader the traumas that immigrants face in these harrowing circumstances. She does not hold back in documenting the reality of being an undocumented youth, what that means in terms of sacrifice and turmoil, and why it occurs in the first place.