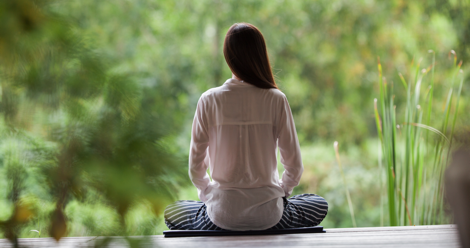 Lists
21 Mindfulness and Meditation Books for Beginners
This content contains affiliate links. When you buy through these links, we may earn an affiliate commission.
I have a confession to make. I've been trying (with varying levels of success, depending on my mood) to develop a meditation practice for the past several years. For the uninitiated, meditation can seem like it comes so easy to those who do it regularly, and yet for us normal people it's almost like magic (i.e. it seems really cool but also impossible). I have a group I meet with once a week (in theory…I often make excuses to not go because my life is just "SO BUSY"), but finding the time for a home practice is especially daunting. There are Book Riot articles to write, cats to pet, impending deadlines to fret over and do nothing about…the list of other things to do endless, rather than turning off one's mind completely.
So, with all of this in mind, it is for entirely selfish reasons that I have chosen to compile this list of mindfulness and meditation books for beginners. And yet! I know I'm not alone out there. I know there are several of you reading this who also want to find easy, practical ways to work meditation and mindfulness into your everyday routines. We all have our varying reasons for needing meditation in our lives, so I have tried to include books below that address myriad approaches to meditation and mindfulness.
From the spiritual to the practical to the scientific, one of these meditation books will work for you.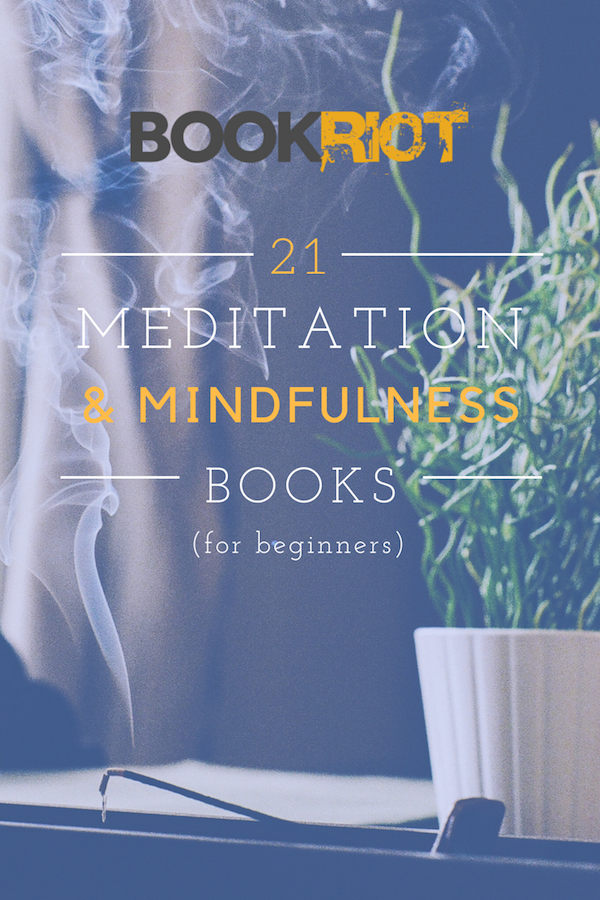 The Miracle of Mindfulness shows up on a lot of lists for meditation books, and for good reason. In this book, Thich Nhat Hanh offers practical suggestions and accessible anecdotes to help anyone learn to practice mindfulness. With a healthy mixture of spirituality and practicality, this book offers practices for every part of your life, from eating a tangerine to washing the dishes.
You don't get more straightforward than a book entitled How to Meditate, and this book is pretty straightforward. Author Kathleen MacDonald is a Western Buddhist nun with plenty of experience teaching and practicing meditation, and in this book she offers an easy and approachable guide to meditation. How should you sit? What should you think about? MacDonald has the answers to all of your burning meditation questions.
Author Chögyam Trungpa is a meditation master, teacher, and an artist. For those interested in the more spiritual side of meditation, Trungpa explores Buddhist philosophy and the ways in which our daily routines and preconceptions can chain us to unhealthy repetitive patterns. The concept of spiritual materialism might at first seem a bit advanced for a newbie meditator, but Trungpa's approach is clear and approachable.
If you're turning to meditation to deal with grief, anger, stress, or addictive behavior, this workbook is here to help. Stop postponing your healing by numbing the pain with drugs and alcohol. Stop using life to distract yourself from what's truly bothering you. Author Williams is a clinical psychologist specializing in addiction and recovery from mental illness, so she is coming at mindfulness and meditation from a less spiritual and more psychological perspective.
Chödrön is the author of a few popular books about meditation, including When Things Fall Apart: Heart Advice for Difficult Times. I would recommend any of them, but I specifically chose How to Meditate (the second book on the list with this title) for this list because it's a great one for beginners. In this comprehensive guide, Chödrön breaks down the practice of meditation into easy-to-follow steps so that you can develop your own longterm practice.
This book is exactly what the title says it is, an simple guide to mindfulness in plain easy-to-understand English. Gunaratana is a Sri Lankan Theravada Buddhist monk who has done missionary work in India, so his approach is highly spiritual in a friendly and approachable way.
Meditation for Beginners is a quick (like, under 100 pages) and dirty guide to meditation so that you can get started on your practice right away. This book comes with a CD of guided meditations, and as a beginner, I have to say guided meditations are so helpful for keeping focus and really dedicating yourself to the full practice without any interruptions.
The cover of this book is reminiscent of Google's lettering, which gives you an idea of the type of reader author Chade-Meng Tan is attempting to reach with this guide to meditation. Tan actually works with Google as one of the company's earliest engineers, and he has also worked to spread mindfulness as an important practice for other Google employees in the workplace and beyond. Now readers can gain the same mindfulness techniques as those at Google. So if you're looking to build a practice perfect for a busy person in the technological age, this book is for you.
So you've tried to start a meditation practice before and you've been underwhelmed or even frustrated by the results. In this book, Wellings explores the reasons why a successful meditation practice can be so hard to maintain in the modern age. This book directly addresses all of the roadblocks standing between you and developing/maintaining a successful meditation practice.
A lot of these books encourage you to develop a practice that involves committing to 20-ish minutes a day. Not so with Davich's 8 Minute Meditation, which, you guessed it, suggests you can gain a lot from meditating from just 8 minutes a day. I don't know about you, but that sounds a lot more doable to me. The book includes clear step-by-step instructions to setting aside 8 minutes per day to clear your mind and destress. This could be a good first step before tackling more ambitious guides.
If short meditations are your thing, Reninger's Meditation Now is full of 10 minute meditations for beginners. These meditations cover ways to practice mindfulness in all sorts of situations from traffic jams to presentations. In addition to this, the guide includes 3 focused 28-day meditations plans, guidelines for overcoming typical roadblocks in your practice, and much more.
Sakyong Mipham has made a career out of presenting Buddhist principles in a way that Western audiences can easily understand. This introduction to meditation is a clear example of Mipham's ability to infuse Eastern ideals with Western sensibilities. The author's explanations of every aspect of meditation are detailed and yet never overwhelming.
This book is full of little vignettes about Zen meditation and practice. Suzuki was a Sōtō Zen monk and teacher who helped popularize Zen Buddhism in the United States, so hearing about Zen Buddhism in his own words through his personal stories and words of advice is enlightening.
Salzberg's book is a practical 28-day program to developing a meditation and mindfulness practice. This book's approach does not focus on the spiritualism of meditation but rather looks at meditation as an exercise. Salzberg covers the basics of posture, breath, scheduling, blocking out distractions, and so on. Furthermore, this book gets into the details of not only how to meditate but also the scientific and practical reasons behind why meditation works.
Here's another beginner's guide that comes with a guided meditation CD. In this book, Loori covers the basics of meditation from where to sit and how to posture the body to the whats and whys of Zen meditation practice. The included CD has guided meditations lasting from 10 to 30 minutes and a brief talk by the author about the benefits of meditation.
This book is Dan Harris's personal journey to discovering meditation and mindfulness. Nightline anchor Dan Harris had a televised panic attack, and that's when he realized he had to make major changes to his lifestyle. This book is perfect for meditation skeptics, as Harris was once skeptical himself, thinking that meditation was either useless or impossible, if not both. In a tone both humorous and informative, Harris chronicles his development of his meditation practice and covers the scientifically-backed benefits of meditation that even the most skeptical skeptic cannot deny.
Jon Kabat-Zin is internationally known for his work as a scientist, writer, and meditation teacher, and in this book, his goal is to bring meditation as a practice to mainstream Western society. This book covers the ideals of mindfulness without getting to deep into the spiritual side of things that might turn some Western readers off. If you're looking for something that's less of a step-by-step practical guide to meditation and more of an examination of the principles behind mindfulness, get this book.
Rinpoche is a Tibetan Buddhist meditation master, and in this novel, the author examines typical problems people run into with their meditation practice and how to overcome them. This book isn't just a how-to, though. In this book, Rinpoche recounts his own spiritual journey as he renounced his monastic vows to get married and start a family of his own. Balancing the needs of the heart and one's spiritual needs is central to the author's journey, and there's a lot to learn from the ways Rinpoche finds to bridge the gap between the modern world and the ancient Tibetan Buddhist teachings.
More hearts! In A Fierce Heart, Spring Washam includes personal stories, stories from her family/ancestors, and anecdotes from people around the world to express the teachings of the Dharma to the widest audience possible. This book is a nice mixture of stories and practical advice, both with the intention of leading the reader towards mindfulness, wisdom, loving kindness, and compassion.
One more book with "heart" in the title. Noah Levine is writing about meditation and mindfulness for young, cool, punk rock readers (clearly I'm not punk rock enough, because someone who was truly punk rock would never describe themselves in this way). This book is very much rooted in the teachings of Buddha, but Levine writes about Buddhism in a way that will interest even those who are the most disinterested in any form of organized religion.
Are you more of a Zen meditator or a Vipassana meditator? Did you even know there was a difference, because I'm not sure I did before I picked up this book? Every person's meditation practice is different, and so of course there's more than one way to meditate. In this book, Decker covers 10 different methods of meditating to help kickstart a 10-day meditation practice. This book encourages journaling your experiences as you work through the meditations, and it includes daily prompts to record your insights on your own meditation practice.
---
These are the 21 meditation books I would start with when beginning your meditation practice, but if 21 books aren't enough for you, there's more where that came from. Check out these Book Riot articles: 9 Books for Those Looking to Master Mindfulness and Perhaps Ascend to a Higher Plane and Books for Building a Mindful Habit.
Namaste.