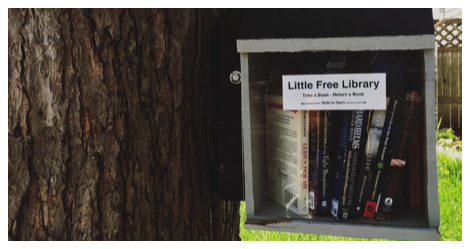 Little Free Libraries are the one of the best things to ever happen to me. They're cute, they're full of books, and they add adventure to every walk. They entice me to drop off books instead of hoarding them. They even make me talk to my neighbors … sometimes.
They tell the story of the yard or neighborhood or city they're in. Some are cookie-cutter libraries, others are handmade works of art. Some are covered in stickers and glitter. Some have landscaping around them. Some have walking paths, some have step stools to help kiddos reach inside. Some are painted to match the home they guard. Some are organized, some are haphazard collections. Some have little notes stuck in the window.
They're all perfect. I keep a photo collection of every one I find.
And when you do a thing like have an online collection of your favorites, you become the Little Free Library Gal (which is 100 percent a title I accept). Every wedding, every family phone call, every lunch with old pals ends up with at least one mention of "those little book birdhouses."
What I'm saying is that Little Free Libraries are fabulous. Here are some of my favorites from my travels over the last two years. Here's hoping in the next two years I own property and can have my very own Little Free Library.
https://www.instagram.com/p/BTXLhJBjVCi/
If you haven't found any Little Free Libraries, don't fret. There's a handy-dandy map of registered libraries on the official website.