Audiobooks
30 Of the Best Kindle Unlimited Audiobooks Available in 2018
This content contains affiliate links. When you buy through these links, we may earn an affiliate commission.
Kindle Unlimited Audiobooks have basically saved my life. Let me explain.
Recently, I discovered an uncomfortable truth about myself: I've been paying too much for audiobooks. As a voracious audiobook listener, I go through several audiobooks a month, and my wallet can't keep up with this habit any longer. What's more, I'm a person who often likes to switch back and forth between reading an actual book and listening to the audiobook, depending on what else I have going on any particular day. That often meant I would end up buying the same text in book and audiobook form. This is insanity.
With Kindle Unlimited, you get a (duh) unlimited number of audiobooks/ebooks per month, and you can easily switch back and forth between reading the ebook version and listening to the audiobook version at no extra cost. And the selection of audiobooks available is pretty great, too. Here are 30 of the best Kindle Unlimited audiobooks available right now.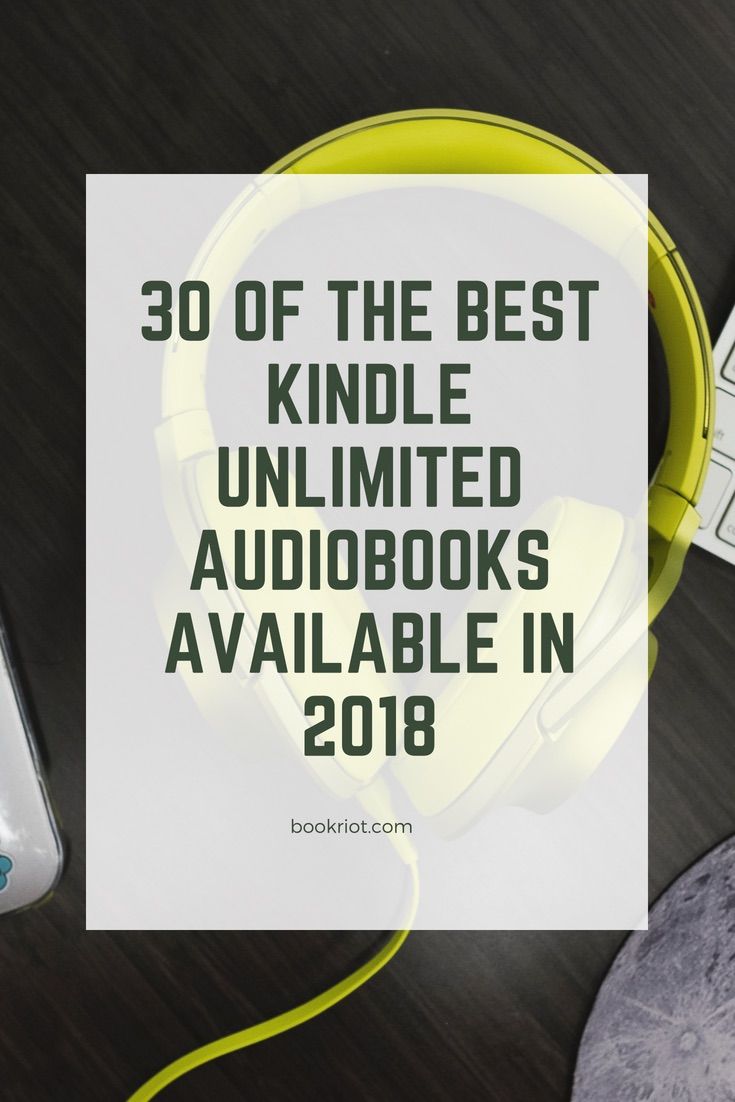 best kindle unlimited audiobooks — Fiction
To his fans, Édouard Bresson is the greatest comic standing—charismatic, adored, unmatched, and aiming ever higher for the unpredictable. To his ex-wife, he fulfilled all expectations, except as a husband and a lover. To his brother, he's a hero. And to his estranged son, Arthur, he's always been a mystery. Never more so than now…
After the performance of a lifetime at the sold-out Stade de France, Édouard decides to vanish. Très drôle.
Arthur isn't laughing. Édouard has sent him a letter and instructions to a puzzle—a treasure hunt for the son he ignored and misses and loves. If Arthur is willing to find out everything there is to know about his father and to understand the choices he made, all he has to do is put the pieces together.
As the trail of clues winds its way through the past—reflected in the memories of both father and son—what unfolds is a surprising journey of forgiveness, family, and self-discovery.
Key West, 1936. Headstrong, accomplished journalist Martha Gellhorn is confident with words but less so with men when she meets disheveled literary titan Ernest Hemingway in a dive bar. Their friendship—forged over writing, talk, and family dinners—flourishes into something undeniable in Madrid while they're covering the Spanish Civil War.
Martha reveres him. The very married Hemingway is taken with Martha—her beauty, her ambition, and her fearless spirit. And as Hemingway tells her, the most powerful love stories are always set against the fury of war. The risks are so much greater. They're made for each other.
With their romance unfolding as they travel the globe, Martha establishes herself as one of the world's foremost war correspondents, and Hemingway begins the novel that will win him the Nobel Prize for Literature. Beautiful Exiles is a stirring story of lovers and rivals, of the breathless attraction to power and fame, and of one woman—ahead of her time—claiming her own identity from the wreckage of love.
As the daughter of one of Turkey's last Ottoman pashas, Selva could win the heart of any man in Ankara. Yet the spirited young beauty only has eyes for Rafael Alfandari, the handsome Jewish son of an esteemed court physician. In defiance of their families, they marry, fleeing to Paris to build a new life.
But when the Nazis invade France and begin rounding up Jews, the exiled lovers will learn that nothing—not war, not politics, not even religion—can break the bonds of family. For after they learn that Selva is but one of their fellow citizens trapped in France, a handful of brave Turkish diplomats hatch a plan to spirit the Alfandaris and hundreds of innocents, many of whom are Jewish, to safety. Together, they must traverse a war-torn continent, crossing enemy lines and risking everything in a desperate bid for freedom. From Ankara to Paris, Cairo, and Berlin, Last Train to Istanbul is an uplifting tale of love and adventure from Turkey's beloved bestselling novelist Ayşe Kulin.
ten women by marcela serrano
For nine Chilean women, life couldn't be more different. There is the teenage computer whiz confronting her sexual identity. A middle-aged recluse who prefers the company of her dog over that of most humans. A housekeeper. A celebrity television personality. A woman confronting the loneliness of old age.
Of disparate ages and races, these women represent the variety of cultural and social groups that Chile comprises. On the surface, they seem to have nothing in common…except for their beloved therapist, who brings them together. Yet as different as they all are, each woman has a story to share.
As the women tell their stories, unlikely common threads are discovered, bonds are formed, and lives are transformed. Their stories form an intricate tale of triumph, heartache, and healing that will resonate with women from all walks of life.
Jhumpa Lahiri's Interpreter of Maladies established this young writer as one the most brilliant of her generation. Her stories are one of the very few debut works—and only a handful of collections—to have won the Pulitzer Prize for fiction. Among the many other awards and honors it received were the New Yorker Debut of the Year award, the PEN/Hemingway Award, and the highest critical praise for its grace, acuity, and compassion in detailing lives transported from India to America. In The Namesake, Lahiri enriches the themes that made her collection an international bestseller: the immigrant experience, the clash of cultures, the conflicts of assimilation, and, most poignantly, the tangled ties between generations. Here again Lahiri displays her deft touch for the perfect detail—the fleeting moment, the turn of phrase—that opens whole worlds of emotion.
The Namesake takes the Ganguli family from their tradition-bound life in Calcutta through their fraught transformation into Americans. On the heels of their arranged wedding, Ashoke and Ashima Ganguli settle together in Cambridge, Massachusetts. An engineer by training, Ashoke adapts far less warily than his wife, who resists all things American and pines for her family. When their son is born, the task of naming him betrays the vexed results of bringing old ways to the new world. Named for a Russian writer by his Indian parents in memory of a catastrophe years before, Gogol Ganguli knows only that he suffers the burden of his heritage as well as his odd, antic name. Lahiri brings great empathy to Gogol as he stumbles along the first-generation path, strewn with conflicting loyalties, comic detours, and wrenching love affairs. With penetrating insight, she reveals not only the defining power of the names and expectations bestowed upon us by our parents, but also the means by which we slowly, sometimes painfully, come to define ourselves. The New York Times has praised Lahiri as "a writer of uncommon elegance and poise." The Namesake is a fine-tuned, intimate, and deeply felt novel of identity.
Aruna is an epidemiologist dedicated to food and avian politics. One is heaven, the other earth. The two passions blend in unexpected ways when Aruna is asked to research a handful of isolated bird flu cases reported across Indonesia. While it's put a crimp in her aunt's West Java farm, and made her own confit de canard highly questionable, the investigation does provide an irresistible opportunity.
It's the perfect excuse to get away from corrupt and corrosive Jakarta and explore the spices of the far-flung regions of the islands with her three friends: a celebrity chef, a globe-trotting "foodist," and her coworker Farish.
From Medan to Surabaya, Palembang to Pontianak, Aruna and her friends have their fill of local cuisine. With every delicious dish, she discovers there's so much more to food, politics, and friendship. Now, this liberating new perspective on her country—and on her life—will push her to pursue the things she's only dreamed of doing.
As a Korean student in a Japanese high school, Sugihara has had to defend himself against all kinds of bullies. But nothing could have prepared him for the heartache he feels when he falls hopelessly in love with a Japanese girl named Sakurai. Immersed in their shared love for classical music and foreign movies, the two gradually grow closer and closer.
One night, after being hit by personal tragedy, Sugihara reveals to Sakurai that he is not Japanese—as his name might indicate.
Torn between a chance at self-discovery that he's ready to seize and the prejudices of others that he can't control, Sugihara must decide who he wants to be and where he wants to go next. Will Sakurai be able to confront her own bias and accompany him on his journey?
Born in sixteenth-century Argentina, Francisco Maldonado da Silva is nine years old when he sees his father, Don Diego, arrested one harrowing afternoon because of his beliefs. Raised in a family practicing its Jewish faith in secret under the condemning eyes of the Spanish Inquisition, Francisco embarks on a personal quest that will challenge, enlighten, and forever change him.
He completes his education in a monastery; he reads the Bible; he dreams of reparation; he dedicates his life to science, developing a humanistic approach and becoming one of the first accredited medical doctors in Latin America; and most of all, he longs to reconnect with his father in Lima, Perú, the City of Kings.
So begins Francisco's epic journey to fight for his true faith, to embrace his past, and to draw from his father's indomitable strength in the face of unimaginable persecution. But the arm of the Holy Inquisition is an intractable one. As it reaches for Francisco, he sheds his mask to defend his freedom. Against seemingly insurmountable odds, he will prove that while the body can be broken, the spirit fights back, endures, and survives.
For his whole life, the boy has lived underground, in a basement with his parents, grandmother, sister, and brother. Before he was born, his family was disfigured by a fire. His sister wears a white mask to cover her burns.
He spends his hours with his cactus, reading his book on insects, or touching the one ray of sunlight that filters in through a crack in the ceiling. Ever since his sister had a baby, everyone's been acting very strangely. The boy begins to wonder why they never say who the father is, about what happened before his own birth, about why they're shut away.
A few days ago, some fireflies arrived in the basement. His grandma said, There's no creature more amazing than one that can make its own light. That light makes the boy want to escape, to know the outside world. Problem is, all the doors are locked. And he doesn't know how to get out…
On the big screen, Mia plays a woman in love. But in real life, she's an actress in need of a break from her real-life philandering husband—the megastar who plays her romantic interest in the movies. So she heads across the English Channel to hide in Paris behind a new haircut, fake eyeglasses, and a waitressing job at her best friend's restaurant.
Paul is an American author hoping to recapture the fame of his first novel. When his best friend surreptitiously sets him up with Mia through a dating website, Paul and Mia's relationship status is "complicated."
Even though everything about Paris seems to be nudging them together, the two lonely ex-pats resist, concocting increasingly far-fetched strategies to stay "just friends." A feat easier said than done, as fate has other plans in store. Is true love waiting for them in a postscript?
best kindle unlimited audiobooks — non-Fiction
The case was closed, but for journalist Nancy Rommelmann, the mystery remained: What made a mother want to murder her own children?
On May 23, 2009, Amanda Stott-Smith drove to the middle of the Sellwood Bridge in Portland, Oregon, and dropped her two children into the Willamette River. Forty minutes later, rescuers found the body of four-year-old Eldon. Miraculously, his seven-year-old sister, Trinity, was saved. As the public cried out for blood, Amanda was arrested, convicted, and sentenced to thirty-five years in prison.
Embarking on a seven-year quest for the truth, Rommelmann traced the roots of Amanda's fury and desperation through thousands of pages of records, withheld documents, meetings with lawyers and convicts, and interviews with friends and family who felt shocked, confused, and emotionally swindled by a woman whose entire life was now defined by an unspeakable crime. At the heart of that crime: a tempestuous marriage, a family on the fast track to self-destruction, and myriad secrets and lies as dark and turbulent as the Willamette River.
Half Korean, half Japanese, Masaji Ishikawa has spent his whole life feeling like a man without a country. This feeling only deepened when his family moved from Japan to North Korea when Ishikawa was just thirteen years old, and unwittingly became members of the lowest social caste. His father, himself a Korean national, was lured to the new Communist country by promises of abundant work, education for his children, and a higher station in society. But the reality of their new life was far from utopian.
In this memoir translated from the original Japanese, Ishikawa candidly recounts his tumultuous upbringing and the brutal thirty-six years he spent living under a crushing totalitarian regime, as well as the challenges he faced repatriating to Japan after barely escaping North Korea with his life. A River in Darkness is not only a shocking portrait of life inside the country but a testament to the dignity—and indomitable nature—of the human spirit.
Christiana Mara Coelho was born into extreme poverty in Brazil. After spending the first seven years of her life with her loving mother in the forest caves outside São Paulo and then on the city streets, where they begged for food, she and her younger brother were suddenly put up for adoption. When one door closed on the only life Christiana had ever known and on the woman who protected her with all her heart, a new one opened.
As Christina Rickardsson, she's raised by caring adoptive parents in Sweden, far from the despairing favelas of her childhood. Accomplished and outwardly "normal," Christina is also filled with rage over what she's lost and having to adapt to a new reality while struggling with the traumas of her youth. When her world falls apart again as an adult, Christina returns to Brazil to finally confront her past and unlock the truth of what really happened to Christiana Mara Coelho.
A memoir of two selves, Never Stop Walking is the moving story of the profound love between families and one woman's journey from grief and loss to survival and self-discovery.
Cinelle Barnes was barely three years old when her family moved into Mansion Royale, a stately ten-bedroom home in the Philippines. Filled with her mother's opulent social aspirations and the gloriously excessive evidence of her father's self-made success, it was a girl's storybook playland. But when a monsoon hits, her father leaves, and her mother's terrible lover takes the reins, Cinelle's fantastical childhood turns toward tyranny she could never have imagined. Formerly a home worthy of magazines and lavish parties, Mansion Royale becomes a dangerous shell of the splendid palace it had once been.
In this remarkable ode to survival, Cinelle creates something magical out of her truth—underscored by her complicated relationship with her mother. Through a tangle of tragedy and betrayal emerges a revelatory journey of perseverance and strength, of grit and beauty, and of coming to terms with the price of family—and what it takes to grow up.
In the pantheon of serial killers, Belle Gunness stands alone. She was the rarest of female psychopaths, a woman who engaged in wholesale slaughter, partly out of greed but mostly for the sheer joy of it. Between 1902 and 1908, she lured a succession of unsuspecting victims to her Indiana "murder farm." Some were hired hands. Others were well-to-do bachelors. All of them vanished without a trace. When their bodies were dug up, they hadn't merely been poisoned, like victims of other female killers. They'd been butchered.
Hell's Princess is a riveting account of one of the most sensational killing sprees in the annals of American crime: the shocking series of murders committed by the woman who came to be known as Lady Bluebeard. The only definitive book on this notorious case and the first to reveal previously unknown information about its subject, Harold Schechter's gripping, suspenseful narrative has all the elements of a classic mystery—and all the gruesome twists of a nightmare.
best kindle unlimited audiobooks — young adult
Prepare to be swept into a world of breathless fairy-tale romance, swoon-worthy characters, glittering gowns, and fierce intrigue perfect for readers who loved Divergent, Delirium, or The Wrath & the Dawn.
For thirty-five girls, the Selection is the chance of a lifetime. The opportunity to escape a rigid caste system, live in a palace, and compete for the heart of gorgeous Prince Maxon. But for America Singer, being Selected is a nightmare. It means turning her back on her secret love with Aspen, who is a caste below her, and competing for a crown she doesn't want.
Then America meets Prince Maxon—and realizes that the life she's always dreamed of may not compare to a future she never imagined.
Winning means fame and fortune. Losing means certain death. The Hunger Games have begun…
In the ruins of a place once known as North America lies the nation of Panem, a shining Capitol surrounded by twelve outlying districts. The Capitol is harsh and cruel and keeps the districts in line by forcing them all to send one boy and one girl between the ages of twelve and eighteen to participate in the annual Hunger Games, a fight to the death on live TV.
Sixteen-year-old Katniss Everdeen regards it as a death sentence when she steps forward to take her sister's place in the Games. But Katniss has been close to dead before-and survival, for her, is second nature. Without really meaning to, she becomes a contender. But if she is to win, she will have to start making choices that weigh survival against humanity and life against love.
Ceony Twill arrives at the cottage of Magician Emery Thane with a broken heart. Having graduated at the top of her class from the Tagis Praff School for the Magically Inclined, Ceony is assigned an apprenticeship in paper magic despite her dreams of bespelling metal. And once she's bonded to paper, that will be her only magic…forever.
Yet the spells Ceony learns under the strange yet kind Thane turn out to be more marvelous than she could have ever imagined—animating paper creatures, bringing stories to life via ghostly images, even reading fortunes. But as she discovers these wonders, Ceony also learns of the extraordinary dangers of forbidden magic.
An Excisioner—a practitioner of dark, flesh magic—invades the cottage and rips Thane's heart from his chest. To save her teacher's life, Ceony must face the evil magician and embark on an unbelievable adventure that will take her into the chambers of Thane's still-beating heart—and reveal the very soul of the man.
From the imaginative mind of debut author Charlie N. Holmberg, The Paper Magician is an extraordinary adventure both dark and whimsical that will delight readers of all ages.
Eight-year-old Murgatroyd Floyd doesn't fit in—not as a blue-eyed blonde living in Singapore, not in school, and certainly not with his aloof expatriate parents, who seem determined to make his life even harder. Unbeknownst to him, there's a reason why he's always the odd boy out: he is an Oddfit, a rare type of human with access to the More Known World, a land invisible to most people. Yet unfortunate circumstances keep Murgatroyd stranded in the Known World, bumbling through life with the feeling that an extraordinary something is waiting for him just beyond reach.
Seventeen years later, that something finally arrives when a secret organization dedicated to exploring the More Known World invites Murgatroyd on a mission. But as the consummate loser begins to grow into the Oddfit he was meant to be, the Known World becomes bent on exterminating him. For once in his underachieving life, will Murgatroyd Floyd exceed expectations and outsmart those trying to thwart his stupendous destiny?
A toxic river divides nineteen-year-old Violet Bates's world by gender.
Women rule the East. Men rule the West.
Welcome to the lands of Matrus and Patrus.
Ever since the disappearance of her beloved younger brother, Violet's life has been consumed by an anger she struggles to control. Already a prisoner to her own nation, now she has been sentenced to death for her crimes.
But one decision could save her life.
To enter the kingdom of Patrus, where men rule and women submit.
Everything about the patriarchy is dangerous for a rebellious girl like Violet. She cannot break the rules if she wishes to stay alive. But abiding by rules has never been her strong suit, and when she is thrust into more danger than she could have ever predicted, Violet is forced to sacrifice many things in the forbidden kingdom…including forbidden love.
best kindle unlimited audiobooks — classics
The Handmaid's Tale is a novel of such power that the reader will be unable to forget its images and its forecast. Set in the near future, it describes life in what was once the United States and is now called the Republic of Gilead, a monotheocracy that has reacted to social unrest and a sharply declining birthrate by reverting to, and going beyond, the repressive intolerance of the original Puritans. The regime takes the Book of Genesis absolutely at its word, with bizarre consequences for the women and men in its population.
The story is told through the eyes of Offred, one of the unfortunate Handmaids under the new social order. In condensed but eloquent prose, by turns cool-eyed, tender, despairing, passionate, and wry, she reveals to us the dark corners behind the establishment's calm facade, as certain tendencies now in existence are carried to their logical conclusions. The Handmaid's Tale is funny, unexpected, horrifying, and altogether convincing. It is at once scathing satire, dire warning, and a tour de force. It is Margaret Atwood at her best.
After the sinking of a cargo ship, a solitary lifeboat remains bobbing on the wild blue Pacific. The only survivors from the wreck are a sixteen-year-old boy named Pi, a hyena, a wounded zebra, an orangutan—and a 450-pound royal bengal tiger. The scene is set for one of the most extraordinary and beloved works of fiction in recent years.
The first volume in J.R.R. Tolkien's epic adventure: One Ring to rule them all, One Ring to find them, One Ring to bring them all and in the darkness bind them.
In ancient times the Rings of Power were crafted by the Elven-smiths, and Sauron, the Dark Lord, forged the One Ring, filling it with his own power so that he could rule all others. But the One Ring was taken from him, and though he sought it throughout Middle-earth, it remained lost to him. After many ages it fell into the hands of Bilbo Baggins, as told in The Hobbit. In a sleepy village in the Shire, young Frodo Baggins finds himself faced with an immense task, as his elderly cousin Bilbo entrusts the Ring to his care. Frodo must leave his home and make a perilous journey across Middle-earth to the Cracks of Doom, there to destroy the Ring and foil the Dark Lord in his evil purpose.
1984 by george orwell
In 1984, London is a grim city in the totalitarian state of Oceania where Big Brother is always watching you and the Thought Police can practically read your mind. Winston Smith is a man in grave danger for the simple reason that his memory still functions. Drawn into a forbidden love affair, Winston finds the courage to join a secret revolutionary organization called The Brotherhood, dedicated to the destruction of the Party. Together with his beloved Julia, he hazards his life in a deadly match against the powers that be.
Lionel Trilling said of Orwell's masterpiece, "1984 is a profound, terrifying, and wholly fascinating book. It is a fantasy of the political future, and like any such fantasy, serves its author as a magnifying device for an examination of the present." Though the year 1984 now exists in the past, Orwell's novel remains an urgent call for the individual willing to speak truth to power.
best kindle unlimited audiobooks — Suspense/thriller
For estranged friends Ashley, Natalie, and Lauren, it's time to heal the old wounds between them. Where better to repair those severed ties than on a girls' getaway to the beautiful paradise of Tulum, Mexico? But even after they're reunited, no one is being completely honest about the past or the secrets they're hiding. When Ashley disappears on their girls' night out, Natalie and Lauren have to try to piece together their hazy memories to figure out what could have happened to her, while also reconciling their feelings of guilt over their last moments together.
Was Ashley with the man she'd met only days before? Did she pack up and leave? Was she kidnapped? Or worse—could Natalie or Lauren have snapped under the weight of her own lies?
As the clock ticks, hour by hour, Natalie and Lauren's search rushes headlong into growing suspicion and dread. Maybe their secrets run deeper and more dangerous than one of them is willing—or too afraid—to admit.
Near an isolated mansion lies a beautiful garden.
In this garden grow luscious flowers, shady trees…and a collection of precious "butterflies"—young women who have been kidnapped and intricately tattooed to resemble their namesakes. Overseeing it all is the Gardener, a brutal, twisted man obsessed with capturing and preserving his lovely specimens.
When the garden is discovered, a survivor is brought in for questioning. FBI agents Victor Hanoverian and Brandon Eddison are tasked with piecing together one of the most stomach-churning cases of their careers. But the girl, known only as Maya, proves to be a puzzle herself.
As her story twists and turns, slowly shedding light on life in the Butterfly Garden, Maya reveals old grudges, new saviors, and horrific tales of a man who'd go to any length to hold beauty captive. But the more she shares, the more the agents have to wonder what she's still hiding…
Mary Olivia Pentecost, known as Mop, was born into one of the wealthiest families in the country—and one of the most guarded. Now, two years after her mother's mysterious death, Mop is seeking closure on the disquieting tragedy by returning to the New England seaside estate of her cloistered Aunty Liv—once her closest relative and confidante.
But behind the walls of the isolated estate, the shadows of the past are darker than Mop imagined. The puzzles of the family history are not to be shared, but unearthed. With each revelation comes a new, foreboding threat—and for Mop, the grave suspicion that to discover Aunty Liv's secrets is to become a prisoner of them.
How well do we know the people we love? How well do we want to know them? The answers are as twisted as a tangle of vines in this throat-clutching novel of psychological suspense.
Se7en meets The Silence of the Lambs in this dark and twisting novel from the author Jeffery Deaver called "a talented writer with a delightfully devious mind."
Two days to save her…
For over five years, the Four Monkey Killer has terrorized the residents of Chicago. When his body is found, the police quickly realize he was on his way to deliver one final message, one which proves he has taken another victim who may still be alive.
One day…
As the lead investigator on the 4MK task force, Detective Sam Porter knows that even in death, the killer is far from finished. When he discovers a personal diary in the jacket pocket of the body, Porter finds himself caught up in the mind of a psychopath, unraveling a twisted history in hopes of finding one last girl, all while struggling with personal demons of his own.
Zero.
With only a handful of clues, the elusive killer's identity remains a mystery. Time is running out as the Four Monkey Killer taunts from beyond the grave in this masterfully written fast-paced thriller.
On the day Nora discovered that her husband, Hugh, had gotten another woman pregnant, she made a vow: I will come back to life no matter how long it takes…
It's taken Nora three years. With the help of her best friend, she fled New York City for a small resort town, snagged a job as the advice columnist for the local paper, and is cautiously letting a new man into her life. But when Hugh and his perfect new family move into a house nearby, Nora backslides. Coping with jealousy, humiliation, and resentment again is as hard as she feared. It's harder still when Hugh and his wife are shot to death in their home.
If only Nora could account for the night of the murders. Unfortunately, her memories have gone as dark as her fantasies of revenge. But Nora's not the only one with a reason to kill—and as prime suspect in the crime, she'd better be able to prove it.
Kat and Doug felt like Aurora Village was the perfect community. Minutes from the city, affluent without pretension, low crime with a friendly vibe—it's everything Kat never had, and that she's determined to provide for her infant daughter. Snagging a nice bungalow in this exclusive enclave was worth all the sacrifice. But everything changes overnight when Kat finds a scrawled note outside their front door.
That wasn't very neighborly of you.
As increasingly sinister and frighteningly personal notes arrive, each one stabs deeper into the heart of Kat's insecurities, paranoia, and most troubling, her past. When the neighbors who seemed so perfect reveal their open secret, the menace moves beyond mean notes. Someone's raising the stakes.
As suspicious as she is of every smiling face and as terrified as she's become of being found out, Kat is still unprepared for the sharp turn that lies just ahead of her on Bayberry Lane.
You can try Kindle Unlimited for free for thirty days. Whether you're an audiobook addict or just thinking about trying them out without the pressure of committing to an audiobook-only subscription, Kindle Unlimited Audiobooks might be the answer for you.