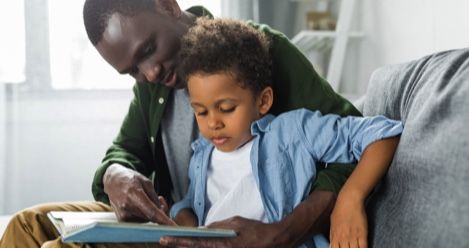 Children's
Be Loud: 28 Best Kindergarten Read Aloud Books
This content contains affiliate links. When you buy through these links, we may earn an affiliate commission.
Reading books to kids is the best. You can be loud, silly, or even just read it as regular ol' stoic you and they'll love it. I don't have any kids of my own, but as a library professional at a public library, I've been reading to children for years and seeing a child discover a new favourite is always rewarding. It's also super important that parents enjoy the book along with the kid, given that you'll be reading it like 27 more times in a row. I'm aiming my suggestions for read aloud books to kindergarten people, as that can be a tricky age to suss out – something a bit more complex story-wise, but still have right, eye-catching illustrations. I've added a few chapter books at the end, simple ones to easily share between you.
1. Gaston by Kelly DiPucchio and Christian Robinson
This book is an adorable lesson in diversity. Gaston doesn't exactly look like his poodle siblings: Fi-Fi, Foo-Foo, and Ooh-La-La. While at the park, he meets a family of dogs that he does resemble, and they happen to have a poodle that matches his family. The mismatched puppies switch, but something doesn't feel right.
This book is delightfully interactive, as a bored rabbit is convinced to write a story with a dastardly wolf. It's a great lesson in narrative for little ones, and they will delight as our rabbit-y narrator eventually turns the tables on the wolf.
3. Stuck by Oliver Jeffers
This is my favourite read aloud book ever. A young boy gets his kite stuck in a tree; in an effort to get it down, he launches into the leaves an increasingly ridiculous series of objects and animals. A whale ends up in the tree! Then there are English firemen thrown up there! No one can withstand the wacky cuteness of this book! No one, I swear!
4. The One Day House by Julia Durango and Bianca Diaz
A young boy named Wilson longs to help his friend make her house better. Wilson and his friend Gigi are a lovely example of friendship between an elderly neighbour and a young boy, and the story tells a beautiful story about a community pulling together to do something kind. The mixed media art is wonderful.
5. King Pig by Nick Bland
King Pig, ruler of a land of sheep, can make his subjects do whatever he wants. Despite that, none of them like him. Frustrated, he comes up with a way to make the sheep happier. Hilarious.
A concept most kids can get behind. Two sneaky kids don't like going to sleep, so they write a note that proclaims 'bedtime is cancelled'! The note goes public via the news and it creates a lot of shenanigans – kids stay up and exhaust their parents, parents can't work, society is crumbling! Eventually the kids come to accept that bedtime is a necessary part of life.
Sam is number one at racing until his best friend Maggie manages to beat him one day. Struck by a new feeling of insecurity, Sam needs to win the next race.
8. Maybe Something Beautiful by F. Isabel Campoy, Theresa Howell and Rafael López
A thoughtful, gloriously illustrated story about a young girl who wants to use art to make her neighbourhood less grey. Based on the true story of the creation of the Urban Art Trail in San Diego, California, it's really an inspiring story.
The monster is cute, the colours are gorgeous and I love the clever, fun rhymes! A little boy named Sid blames an imaginary monster for all the trouble he causes, but then Kevin the monster turns out to be real. The story takes a cute shift to teach Sid a lesson about selfishness, lying and friendship.
The rhyme scheme in this book is delightful, and the illustrations are wonderful. Tiny Ada Twist has more questions than her parents can handle. Initially overwhelmed, they begin to realize that she's actually a super curious scientist kid who shouldn't be stifled! The other two titles in this series are equally lovable: Iggy Peck, Architect and Rosie Revere, Engineer.
11. Wolfie the Bunny by Ame Dyckman and Zachariah Ohora
This book is great for teaching siblings to appreciate each other. Dot Bunny has a new sibling – a wolf! Her parents can't get enough of cute little Wolfie, but Dot knows that there must be something nefarious going on. The repetitive refrain makes this an unbeatable kindergarten read aloud.
12. Extra Yarn by Mac Barnett and Jon Klassen
This story is so good. On a grey day in a small town, Annabelle finds a box of bright, soft yarn. She knits a cozy sweater for herself and then magically the yarn box replenishes itself and she can knit items for all her friends. The art is cozy and funny and perfect, while the story has a wonderful message about being kind and considerate.
I read this during a story time once and it was a real win-win-win. Kids were giggling, parents were chuckling, and I had a real ego boost about my ability to read to children.
This is an adorably simple book about an owl attempting to catch a meal by dressing up in sneaky disguises. Kids will laugh at Hoot Owl's silly disguises.
It never ceases to amaze me how all-in kids are when it comes to book participation. Ask them to follow along with a series of wacky actions and they are 150% here for it. All of Thomas's books are great for this; I just especially like this one.
This is a story time classic. It has all the hits: animal sounds, wacky illustrations and a twist ending. Puppy dog George won't bark and his mom is confused about why not. He seems to have no problem with mooing, quacking and meowing, so why won't he just bark?
17. Flo by Kyo Maclear and Jay Fleck
Flo is a little and very cute panda. The littlest and cutest, actually. She's also the slowest, though, and sometimes that makes the other pandas impatient. Maclear's prose is excellent even in its simplicity, and kids will definitely understand how it feels to be little and not as fast as others.
Emily is very serious and Duck is, well, not. He keeps turning up in wacky accessories, which Emily knows Ducks aren't supposed to wear. Not too complex, and kids will love Duck's oddness.
19. Mice Skating by Annie Silvestro and Teagan White
Lucy, a mouse, loves ice-skating. Her friends, unfortunately, just want to stay inside where it's warm and cheese is easily accessible. Can she get them to join her for some winter-y fun? The story is cute, the art is gorgeous and the pages have plenty of cheese-y puns (you'll see).
This picture book really knows how to build tension. A bunch of hapless warrior dudes have a plan. It's not a very well thought out one, and mostly just involves creeping around after a bird. Lots of repetition, which kids will want to help you with. They especially dig joining in on the shhhhhing.
A real back to school classic in the making. Mr. Stricter lets his students choose a tadpole to keep, but it turns out to actually be a giant class-destroying creature. A real whirligig of hijinks ensues! I loved this weird, silly book and so will your favourite kindergartner.
This one won a Caldecott Medal and definitely deserved it. This is a sweet, endearing ode to friendship. On a magical island, Beekle is waiting to be chosen as the imaginary friend of a real child. He keeps getting passed over though, and decides to take matters into his own hands by going into the city and finding a friend of his own.
This book is a celebration of following your own tune and appreciating that noise is a valid part of a child's learning. A great read for kids who love music.
This one is awesome for kids and their big people. A young cowboy is trying to figure out what a horse is, but he has to learn the hard way by asking creature after creature. A funny, silly twist brings it home.
This is adorably illustrated and tells a very basic story – Bear has a hat for every circumstance that accompanies his leaving the house. Kids will love the weird moments that follow Bear and guessing which hat comes next. A total crowd-pleaser.
26. The Princess in Black by Shannon Hale, Dean Hale and LeUyen Pham
This early chapter book series is full of fun, bright illustrations and has a crime-fighting princess heroine to boot.
Anna Hibiscus lives in Africa, and this wonderful story is split into four shorter tales. It falls under a more realistic fiction style, as Anna goes on holiday, deals with visiting family and sees snow for the first time. There's a whole series of books that follow her story.
28. JUANA and lucas by Juana Medina
A young Columbian girl wants to learn how to read English. Probably a fun book to read together if you're trying to help your little one learn some Spanish, and it might be a good way to introduce some new English phrases to them too.
So there they are, my personal picks for great kindergarten read aloud books. I hope you found some that appeal to you, and I'd love to hear your suggestions for read-aloud books in the comments if you have some.