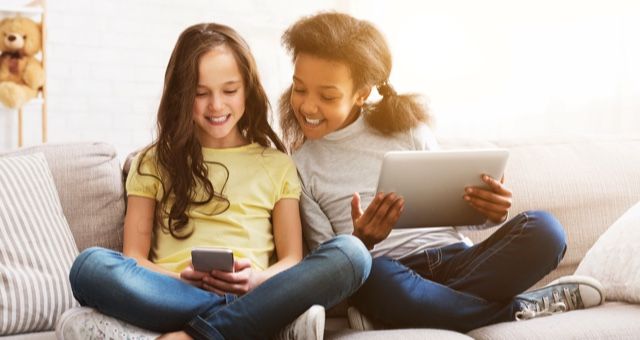 Children's
31 Of The Best Kid's Book Subscriptions
This content contains affiliate links. When you buy through these links, we may earn an affiliate commission.
When I first started collecting children's books for my daughter, it was overwhelming. So many choices, and how to know what's good! (That's partly why a fellow Rioter and I decided to start our own children's book review website.) Kid's book subscriptions are a great option to discover new children's books, and children love receiving books in the mail. My toddler daughter yells "Books! Books!" every time a box is delivered. The following kid's book subscriptions offer a range of choices to meet any need. I had no idea there were so many! I was surprised to find that, despite there being so many, my dream kidlit book box doesn't exist: one to two books, small accompanying toy to go along with the book, and a bookish wearable. I mainly just want more bookish clothes for my daughter.
As a side note, I decided not to include a few that insisted on assigning a gender. One book subscription service that I won't name gave as an example box Frozen books for girls and truck books for boys. I'll have you know, my one-year-old knows the difference between an excavator, loader, and bulldozer. Trucks and Frozen are things that can be enjoyed by any child, regardless of gender. I did end up including two gendered subscription boxes, for very specific purposes, which I've listed.
31 Of The Best Kid's Book Subscriptions
Bookroo was founded by three sisters-in-law who all had a love for kid lit. Bookroo has a lot of customization options. You can choose from three book clubs: board book (ages 0–3), picture book (ages 3–6), and chapter book (ages 7–10). You can choose how often you want to receive books (monthly, every three months, or every six months) and the books come wrapped, so it's like a present every time a child receives one. They developed the world's largest children's book review platform to help find the best books to include in their boxes. Plans start at $16.95 a box. As a bonus, all materials they use are recyclable, and the company donates books to Reach Out & Read.
So I took this title literally and thought the books would all be about bugs. Nope! They're children's books across multiple interests and age levels, chosen by the booksellers at The Reading Bug, an independent bookstore located in San Carlos, California. What makes this book box unique is that it caters to each individual child's interest and reading level. You add a note telling the booksellers about your child's current obsessions, and they'll cater to it. It has plans for babies all the way to 13-year-olds, and you can also sign up for a Reading Bug Box for two, to customize orders between two children. It comes with at least three books and usually a toy or activity as well. Plans start at $18.
There are lots of really great options with this one. My favorite is the Imagination Box, which includes at least three books with a toy or a craft, and the box itself can be colored. This plan starts at $30 a month. There's also a book of the month option, which sends a single book for only $14.99. The YA Artist's subscription includes a YA book and an art medium and the YA Writer's subscription includes writing supplies and prompts plus a YA book. These range from $34.99–44.99. Owl Post is one of the most versatile for ages. Plans go from babies all the way to 18-year-olds.
Representation of diverse authors and characters is pretty bleak in the UK. According to recent research by BookTrust, fewer than 2% of children's book creators are POC, while 13% of the British population is POC. Moreover, the number of books published by diverse authors and illustrators is actually decreasing in recent years. That's why children's book boxes like this one are so important.
Little Box of Books focuses on inclusive and diverse children's books in the UK, from gender equality to racial and cultural diversity to disability representation. Plans start at £18.99 and are also highly customizable. Choose from two to four books in each box, and one, three, and six-month subscriptions. Right now they have two age categories to choose from, 0–3 and 4–7, but they're currently working on an 8–11 option.
This is a great option if you want a book for yourself too! And of course you do, even if it means hiding in the bathroom to read it. Sign up for six options: Children 3–7, Children 8–12, Women's Fiction, Mystery, Nonfiction, or YA. And then choose a bonus book in the same categories. It also comes with one or two small gifts. Plans start at $36.95.
This book subscription ensures children will love their books by having an initial reading preference questionnaire, followed by feedback after the initial box. Each box contains four books, making it one of the more bountiful subscriptions. They also have extras you can add for an additional cost, from Where the Wild Things Are onesies to Harry Potter tees. They have options for children ages 0–4, 4–8, and 8–14. Plans are $34.99 a month and you can customize how often you want to receive the box. I love that for every ten subscriptions purchased by parents at the same school, they donate a book box to the school library. They also offer a 15% discount for siblings.
This one focuses on diverse children's books, and their example books are some of my recent favorites: My Heart Fills with Happiness by Monique Gray Smith, Mommy's Khimar by Jamilah Thompkins-Bigelow, Little Night/Nochecita by Yuyi Morales. Though in their founding year, this is an excellent subscription service. They send out a box every three months with one to five books in it, and you can choose from three age categories: the Sunshine Box (Ages 0–2), the Rainbow Box (Ages 2–5), and the Treehouse Box (Ages 5–8). Plans start at $13.99 a box. They have a team of teachers, academics, librarians, and experts choosing the books. Alli Harper founded Our Shelves when she and her wife had trouble finding books for their daughter that represented her family.
This box has so many additional goodies. It's geared toward children ages 8–12 and includes a middle grade book, exclusives from the author, and three to five additional related goodies. I want this one for myself! Each box has a theme as well. September's theme is Legends of the Deep. Month by month plans are $27.99, but customers receive a small discount for paying for multiple months ahead of time. Another way that OwlCrate is unique is that the books they choose have been released within 45 days of the box being mailed. That means you're unlikely to have already read the book.
The mission of Brown Toy Box is to "normalize Black excellence and create prosperous career pathways for Black children through STEAM education, cultural representation and educational play." Each box includes a book about a Black trailblazer, a toy that centers around a specific STEAM theme, and a hands-on activity. The boxes cost $34.99. There are three age categories starting at age 4 and going up to age 12. They also have curriculum sets for teachers. Founder Terri-Nichelle Bradley's vision for the company is inspiring: "We will create a world where Black children see themselves positively represented throughout the spaces they experience and that they know they can be and do anything they set their minds to doing and becoming."
Each box includes two books that are guaranteed to be both fun and educational, as well as a parent guide. Pick from a board book, picture book, and family package. Starting at $14.99, it's one of the cheaper plans on the list, and I'm seeing some family favorites on their previous book lists, like Little Owl's 123 and Chu's Day.
Want your child to cook and serve you dinner? Then this is the box for you. Each adorable box comes with a picture book, recipe, baking tools, and other goodies. Boxes are $29.95 a month.
Amazon's children's subscription box includes two picture books or four board books and allows customers to decide if they want the box to be a surprise, or if they'd like to tailor the books on the list. They have options for one, two, and three-month subscriptions, and four age categories between birth and age 12. It's priced at $19.99 a box.
Jambo Book Club sends two children's books featuring diverse characters from all cultures in every box. Choose from five different age categories or mixed ages. Plans start at $24.99 a month. The box itself is really gorgeous. Runako and Mijha founded Jambo after having two daughters and realizing how difficult it could be to find wonderful and diverse children's books. With only 10% of children's books featuring African American characters in 2018, no wonder they had trouble.
TOO ADORABLE ALERT. Each box includes a hardcover book, costume (multiple pieces), costume accessories, arts and crafts, playing cards, and a game so that a child can fully interact with each book. These costumes make it the cutest option on the list, and the one I'm considering putting on my LO's Christmas list, even though we're drowning in books. Subscriptions start at $32.99 (which seems really good for a costume too!) and you can also purchase individual boxes instead of a subscription. They're good for ages 3–7. One critique: they separate out each box by gender, as if a little girl wouldn't enjoy dressing up as a carpenter and a little boy wouldn't enjoy being a butterfly. All children enjoy these things. Butterflies and carpenters are NOT GENDERED! A better option would be letting children pick between two choices each box.
Each box comes with three to four books, an activity book, and a special little something for the parent (sanity?). This one has five age categories to choose from, from birth to age 12, and they have a separate YA book subscription option called My YA Reading Club. Plans start at $16.99 a box. They've partnered with 147 Team, a Christian charity focused on helping needy children across the United States, and if you enter Help147 during checkout, you get 10% off.
The name WAM! comes from the phrase "windows and mirror," meaning that books need to serve as mirrors for diverse children to see themselves in, and as windows that help children see into the lives of children who are different from them. Each book bundle contains three to four books featuring diverse characters, as well as parental or educational guides, depending on which package you sign up for. Bundles are $27.99 with many categories to choose from for ages 3–10. It's founded by two sisters, one an educator who noticed her children responded so much more eagerly to diverse children's books, and the other a mom of three and an entrepreneur. It all started with an Instagram account.
In this book box, you'll receive seven to 11 items, including books, experiments, and activities, all personalized to each child. Their goal is to enrich the learning process of children at home, and all products are diverse, enriching, researched, and teacher-approved. This one is set up by grade (K–6) and after choosing a child's grade, the customer fills out a questionnaire about the child's interest. The crates are $29.99.
These boxes are gorgeous, and another favorite of mine on this list. Each box comes with a new release picture book as well as a collection of arts and crafts that go along with the book. Kits that include a book and an art kit start at $29.99 a month, with discounts for purchasing multiple months at a time, and include all the art supplies needed. The target age group is 3–8 years old, and they accept international orders.
Elephant Books focuses on younger children ages 0–6. Each package contains two to three children's books, either board books or picture books depending on the plan, along with a personalized message and activities, like bookplates, pretend library cards, and reading tips. Prices start at $17.99.
This box features bilingual and Spanish children's books and starts at $27.95 for at least two books, and some plans include activity books. If you're a teacher or run a daycare, they also have package deals to stock your classrooms with seven to nine books. They have boxes for babies all the way up high schoolers, and there's an option to choose your Spanish fluency. It can be really time-consuming to find bilingual and Spanish children's books, and this is the perfect way to have them come to your door every month, or every three or six months.
Murphy's is a used bookstore in Dayton, Ohio. Each box comes with five used books, and there are four options to choose from: board books, bedtime books, level 1 readers, and level 2 readers. I also work in a used bookstore, and this is a fantastic idea. It's only $15 for five books, making it the cheapest plan on the list. The booksellers aim to include books in like-new or very good condition.
Lillypost boxes contain three to four board books, picture books, or a mix of both depending on the plan, as well as stickers and a nameplate for one of the boxes. For every box they send, they donate one book to a child in need. To date, they've donated more than 90,000 books! Plans start at $15.95 a month, making it one of the more affordable plans. They serve children ages 0–7.
Each book box contains whimsical reads and they ship worldwide. Choose between board books, picture books, or a sibling package that contains both. Each box contains three to four books and starts at $22.99. A portion of sales from each box is donated to 826LA, a nonprofit that provides tutoring and writing classes to underserved youth.
These book boxes come with two to three books, and follow a child each year they age all the way up to 12. Boxes start at $15.95 a month. You can also buy individual boxes and book recommendations for only $5 a month. You can choose your child's preferences so each box is geared toward their interests.
So I know I said I wasn't going to include subscription services that divided boxes between boys and girls, but here's another exception. The Black Butterfly Box empowers black girls and boys by providing a book with black characters and swag from black-owned businesses. The girl boxes are called Butterfly, and the boy's Dragonfly (cue eye roll). I'm making an exception here because these are truly great boxes and I love that they support black-owned businesses. I also like this box because they have special subscriptions all the way to age 19. It's also run by teen entrepreneur Journi D'Khaos Prewitt. Wow! Boxes start at $34.99.
Just Like Me! sends two to three books featuring black characters a month, plus educational tools and a fun gift. It starts from newborn to age 12 and plans range from $24–28 a box. Their hope is to help support black creators and encourage everyone to read books by about black people.
GiftLit serves readers of all ages, from birth to adult. It's the most customizable option on the list. You can choose themes, choose the books you want included for each theme, build your own from scratch. They start at $59.95 for three months. The children's books often come with stuffed animals, too.
A feminist-themed book box, these books are empowering and diverse. Choose between three age categories from newborn to 9. Each box comes with two paperbacks (or board books) or one hardback, a bookmark, discussion questions, and an activity idea. Plans start at $19 a month. You can also add little feminist gifts.
This one has a unique set up. You receive five books a month, and you have one week to keep the books. You can then decide to buy the books you like, and return the rest. This is an interesting concept to me, since a week in my daughter's hands can make a book look thoroughly used. Each box also comes with artwork by famous illustrators and personalized surprises. Plan memberships are $9.95 a month, plus any books you decide to keep. They have five different age categories from birth to age 12.
This one is free! I love Dolly Parton, but I'm from Tennessee and she's a hero around here. The Imagination Library sends free books around the world based on location. They don't serve all locations, but it's easy to check and see. We receive our free book about every three months. It serves children from birth to age five.
The PJ Library sends free books to Jewish families across five continents, from 6 months to age 8. Once a child is 9, they can sign up for PJ Our Way, which gives books to children from 9–12.
---
Book Riot also offers its own book subscription service, TBR, though it does not currently include children. If you're looking for even more adult subscription services, check out these lists of book subscription boxes and book subscription services.