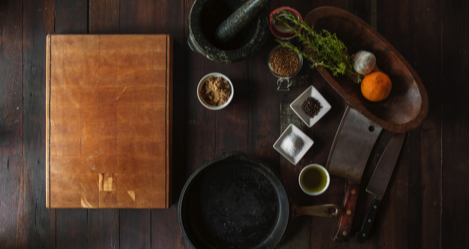 Nonfiction
5 Fantastic Keto Cookbooks for People Who Love to Eat Good Food
This content contains affiliate links. When you buy through these links, we may earn an affiliate commission.
If you're looking for the best keto cookbooks, this is where to start.
[Ed.'s Note: This post discusses weight loss.]
Why I eat keto
I came to keto in October 2014. I was a new college graduate living in a new city. I was at my heaviest, looking for employment, and consequently, depressed. And I knew I had to make a change. I learned about "eating keto." Essentially, this meant eating low carb, moderate protein, and high fat.
After a brief period known as the "keto flu," I was suddenly not only feeling more energetic and clear-headed, but was also seriously shedding pounds. In the first year, I lost fifty pounds (most of which fell off in the first four months). Unlike other methods I'd tried, eating keto didn't make me miserable. I enjoyed—and still do—bacon on a regular basis (though vegans have made keto work for them, too!). I was feeling fuller, faster, and I was happier.
Of course, I'm not a doctor. If you're considering a keto lifestyle, always (always) talk with your physician first and know that it doesn't work for everyone.
The best keto cookbooks
If you're new to keto and want some ideas of where to start, try one of these excellent keto cookbooks.
I've flipped through a lot of keto cookbooks in the last few years, and I have to say this is my favorite. Vogel really breaks down the keto lifestyle so it's not only understandable, but basically fool proof. The Keto Diet is not just a great cookbook with plenty of excellent and innovative recipes, but also a stellar reference work with several different plans to find the best fit for your body and life. I honestly can't say enough good things about this book—if you're going to pick just one to try out, this is it. (But read on, because libraries are now adding keto cookbooks to their collection in bulk, so you'll want to check out the rest of this list, too!
One of the worst things about dieting or a lifestyle change is the prospect of giving up things you love. Food bloggers Megha Barot and Matt Gaedke remove that struggle with this cookbook, which provides keto-friendly recipes for the food you love. Make and enjoy pizza, fish tacos, and even chocolate chip cookies (and more!). Recipes marked with a "foolproof" icon designate easy-to-make food for beginners while "Quick Reference Icons" point out dairy-free, egg-free, nut-free, and vegetarian options. Barot and Gaedke also include tips and tricks for success with keto, ensuring you'll get the most out of your new lifestyle.
Kicking off her collection of recipes with an introduction to slow cooking, Slajerova splits her dishes into five chapters: homemade basics and staples, satisfying and nourishing soups, one-pot and skillet meals, savory stews, roasts and casseroles, and desserts. Cooks will find old favorites like green bean casserole alongside more unique meals such as pumpkin and chorizo meatball soup. Slajerova ends each recipe with the nutritional information and almost all recipes are accompanied by an image to make sure you're getting things picture perfect.
Like many keto cookbooks, Quick & Easy starts with the basics of what keto is and how to use the cookbook to its greatest effect. With this collection, you'll learn about key and staple ingredients, useful kitchen utensils, keto hacks, meal planning, and more. Find comfort food like Philly Cheesesteak Roll-Ups, Slow Cooker "Butter" Chicken with Naan, and Classic Deviled Eggs. Along with an indication of potential allergens and whether or not they are optional to a given recipe, Emmerich provides nutritional information and a meter that indicates how a "recipe ranks on the keto 'scale': high, medium, or low."
Pitre describes her own challenges with weight loss and subsequent success with a ketogenic diet before a quick how-to on using an Instant Pot. Dishes are divided into five categories: eggs and vegetables, soups, seafood and poultry, beef and pork, and desserts. (Yes, desserts are possible on keto!) Pitre puts an emphasis on Mexican and Asian (particularly Indian and Thai) cuisine with recipes like Carne Adovada and Quick Indian Creamy Eggplant. American palates will find more familiar options, too, including Cauliflower Mac and Cheese and Easy Lobster Bisque. Each recipe also includes nutritional information, macro content, and other useful details.
---
What are your favorite keto cookbooks? Hit the comments to share your favorites! Looking for more cookbooks? We got you.